AR-C155858
MCT1 and MCT2 inhibitor
Sample solution is provided at 25 µL, 10mM.
Publications citing ApexBio Products
Quality Control
Quality Control & MSDS
View current batch:
Chemical structure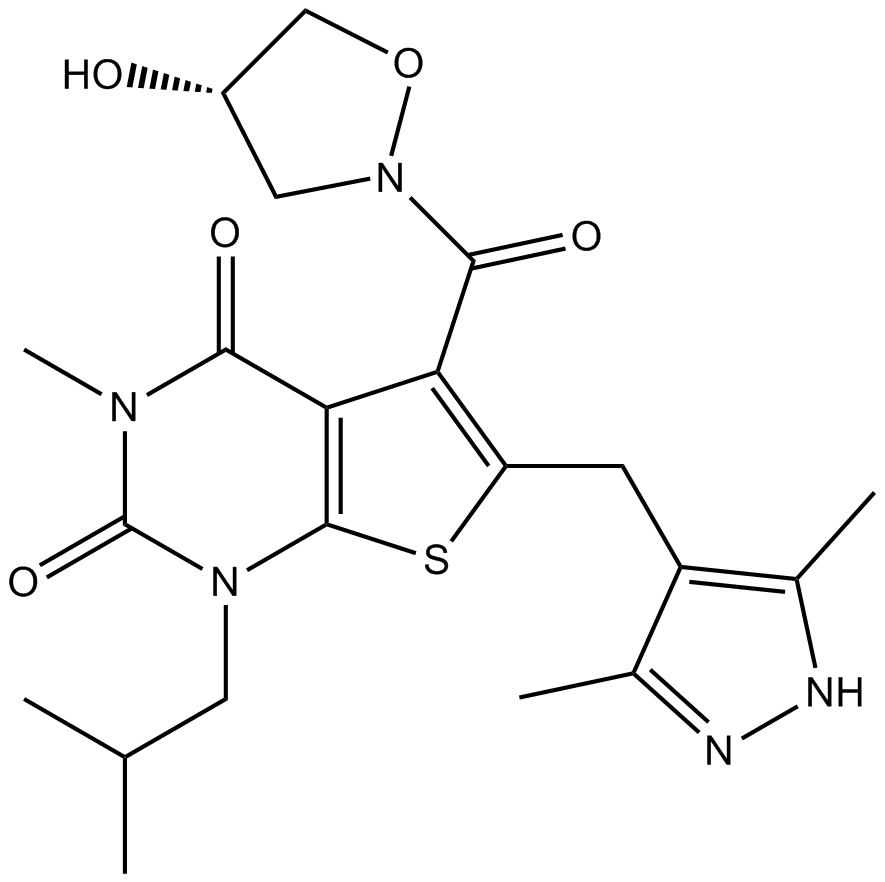 Chemical Properties
Cas No.
496791-37-8
SDF
Download SDF
Synonyms
AR C155858
Chemical Name
6-[(3,5-dimethyl-1H-pyrazol-4-yl)methyl]-5-[(4S)-4-hydroxy-1,2-oxazolidine-2-carbonyl]-3-methyl-1-(2-methylpropyl)thieno[2,3-d]pyrimidine-2,4-dione
Canonical SMILES
CC1=C(C(=NN1)C)CC2=C(C3=C(S2)N(C(=O)N(C3=O)C)CC(C)C)C(=O)N4CC(CO4)O
Formula
C21H27N5O5S
M.Wt

461.53

Solubility
Soluble in DMSO > 10 mM
Storage
Store at -20°C
General tips
For obtaining a higher solubility , please warm the tube at 37 ℃ and shake it in the ultrasonic bath for a while.Stock solution can be stored below -20℃ for several months.
Shipping Condition
Evaluation sample solution : ship with blue ice
All other available size: ship with RT , or blue ice upon request
Background
AR-C155858 is a potent and selective inhibitor of monocarboxylate transporters MCT1 and MCT2 with Ki values of 2.3nM and less than 10 nM, respectively [1].
MCT is a monocarboxylate transporter family with 14 members. Among these transporters, MCT1 and MCT2 are worked for the uptake and efflux of lactic acid. As a selective inhibitor of MCT1 and MCT2, AR-C155858 can be used to probe MCTs' roles in the metabolic studies. Besides that, AR-C155858 was found to have immunosuppressive activity and can inhibit the proliferation of T-lymphocytes. The binding site of MCT1 for AR-C155858 contains transmembrane helices 7-10 in C-terminal domain. The two residues Phe360 and Ser364 play important roles in the binding [1 and 2].
In rat erythrocytes in which the AE1 mediated lactate transport had been blocked, AR-C155858 inhibited endogenous MCT1 mediated L-lactate uptake dose-dependently. AR-C155858 showed to be a tight-binding non-competitive inhibitor with Ki value of 2.3±1.4 nM and Kcat value of 12.2±1.1 s-1.In Xenopus oocytes expressing MCT1, MCT2 or MCT4, AR-C155858 at concentration of 100 nM showed 100% inhibition of MCT1 mediated lactate uptake. For MCT2, AR-C155858 at 10 nM showed 70% inhibition. AR-C155858 had no significant effect against MCT4 even at concentration up to 10 μM. In addition, it has been found that the inhibition of MCTs caused by AR-C155858 can be affected by the co-expression of ancillary proteins. The presence of embigin reduced the sensitivity of MCT2 against AR-C155858's inhibition. AR-C155858 potently suppressed the uptake of lactic acid in Ras-transformed fibroblast CCL39 cells via inhibiting MCT1 and MCT2 but no MCT4. The suppression subsequently resulted in significant decrease of glycolysis [1, 3 and 4].
In nude mice implanted with Ras-transformed CCL39 fibroblasts, the administration of AR-C155858 at dose of 30 mg/kg twice daily resulted in significant tumor growth suppression [4].
References:
[1] Ovens MJ, Davies AJ, Wilson MC, Murray CM, Halestrap AP. AR-C155858 is a potent inhibitor of monocarboxylate transporters MCT1 and MCT2 that binds to an intracellular site involving transmembrane helices 7-10. Biochem J. 2010 Jan 15;425(3):523-30.
[2] Nancolas B, Sessions RB, Halestrap AP. Identification of key binding site residues of MCT1 for AR-C155858 reveals the molecular basis of its isoform selectivity. Biochem J. 2015 Feb 15;466(1):177-88.
[3] Ovens MJ, Manoharan C, Wilson MC, Murray CM, Halestrap AP. The inhibition of monocarboxylate transporter 2 (MCT2) by AR-C155858 is modulated by the associated ancillary protein. Biochem J. 2010 Oct 15;431(2):217-25.
[4] Le Floch R, Chiche J, Marchiq I, Naiken T, Ilc K, Murray CM, Critchlow SE, Roux D, Simon MP, Pouysségur J. CD147 subunit of lactate/H+ symporters MCT1 and hypoxia-inducible MCT4 is critical for energetics and growth of glycolytic tumors. Proc Natl Acad Sci U S A. 2011 Oct 4;108(40):16663-8.