Anacardic acid
HAT inhibitor
Sample solution is provided at 25 µL, 10mM.
Publications citing ApexBio Products
Related Compound Libraries
Quality Control
Quality Control & MSDS
View current batch:
Chemical structure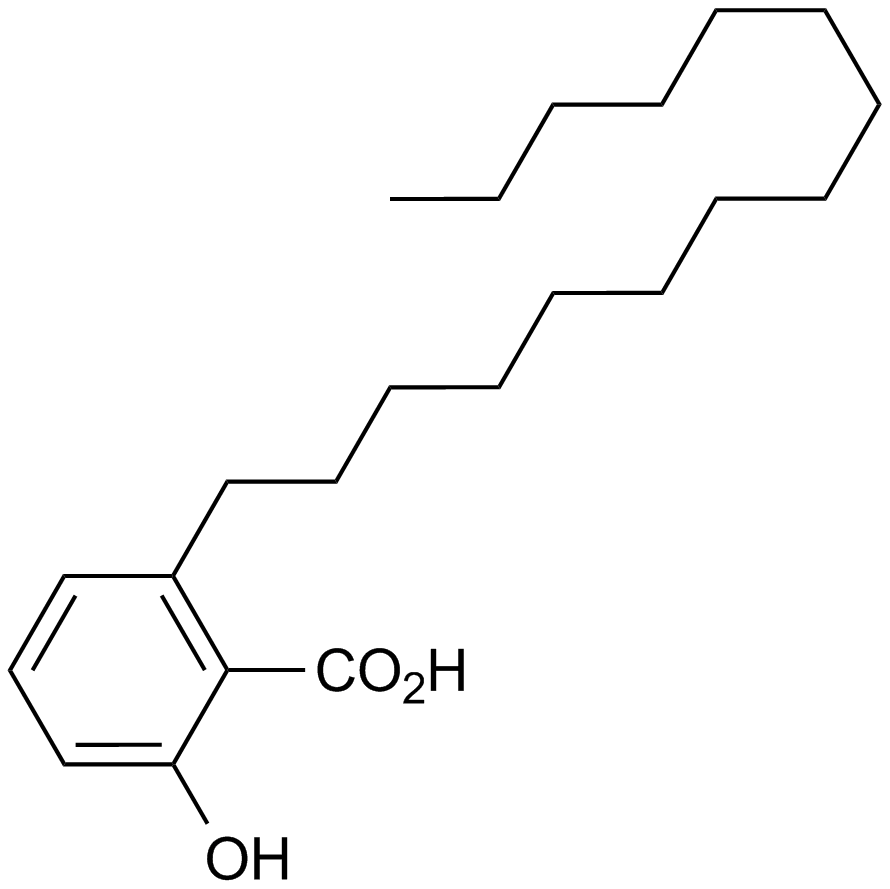 Chemical Properties
Cas No.
16611-84-0
SDF
Download SDF
Chemical Name
2-hydroxy-6-pentadecylbenzoic acid
Canonical SMILES
CCCCCCCCCCCCCCCC1=C(C(=CC=C1)O)C(=O)O
Formula
C22H36O3
M.Wt

348.52

Solubility
>17.5mg/mL in DMSO
Storage
Store at -20°C
General tips
N/A
Shipping Condition
N/A
Background
IC50: Noncompetitively inhibit histone acetyltransferase (HAT) activity in prostate cancer with an IC50 value of about 5.0 M.
Anacardic acid (AA) is commonly regarded as a non-specific HAT inhibitor of p300. Meanwhile, it regulates the activity and expression of several other crucial enzymes including NFκB kinase, lipoxygenase (LOX-1), xanthine oxidase, tyrosinase and ureases. Therefore, this compound exerts anti-oxidation, anti-inflammation and anti-tumor activities in vitro and in vivo. [1]
In vitro: LNCaP, a classical metastatic prostate adenocarcinoma cell line, was adopted to study the effect of AA on cell growth, cycles and apoptosis. It was found that 125 M AA significantly inhibited LNCaP cell proliferation. In addition, the G1/S cell cycles arrest and the apoptosis of LNCaP cell was induced. Further mechanistic study suggested that AA induced cell apoptosis via suppressing p300. [1]
In vivo: Diesel exhaust particle- (DEP-) induced lung inflammation model was established to study the effect of AA on inflammation in mice. Ten days before DEP-instillation stimulation, mice were orally pretreated with 50, 150, or 250 mg/kg of AA for thirty days. All doses of AA ameliorated activities of oxidative enzymes. Moreover, 50 mg/kg of AA significantly decreased the expression level of tumor necrosis factor in lung. [2]
Clinical trial: So far, no clinical study has been conducted yet.
References:
[1] Tan J, Chen B, He L, Tang Y, Jiang Z, Yin G, Wang J, Jiang X. Anacardic acid (6-pentadecylsalicylic acid) induces apoptosis of prostate cancer cells through inhibition of androgen receptor and activation of p53 signaling. Chin J Cancer Rea. 2012 Dec; 24(4): 275–83.
[2] Carvalho A, Annoni R, Torres L, Durao A, Shimada A, Almeida F, Hebeda C, Lopes F, Dolhnikoff F, Martins M, Silva L, Farsky S, Saldiva P, Ulrich C, Owen R, Marcourakis T, Trevisan M, Mauad T. Anacardic acid from Cashew nuts ameliorate lung damage induced by exposure to exhaust particles in mice. Evid-Based Compl Alt. 2013 Jan. DOI: org/10.1155/2013/549879.