Background
Target: FFA4/GPR120
IC50: N/A
AH7614 is a selective and potent free fatty acid receptor 4 (FFA4/GPR120) antagonist with pIC50 values of 7.1, 8.1 and 8.1 at the human, mouse and rat receptor, respectively [1]. The free fatty acid receptor 4 (FFA4/GPR120), a member of the G protein-coupled receptor family, is a potential 7TM receptor involved in long-chain fatty acid-stimulated glucagon-like peptide-1 (GLP-1) secretion. FFA4 is highly expressed in the intestinal endocrine cell line STC-1 and the intestine. GLP-1 regulates multiple physiological functions including eating behavior [2].
In vitro: AH7614 (0.063, 0.25, and 1μM) blocked linoleic acid and GSK137647A-induced intracellular calcium increase in U2OS osteosarcoma cells expressing the FFA4 receptor [1]. In addition, the increase of glucose-stimulated insulin secretion by GSK137647A (50 μM) was abolished in the presence of the selective FFA4 antagonist AH7614 (100 μM) in the MIN6 mouse insulinoma cell line. Moreover, AH7614 (100 μM) blocked GSK137647A (100μM)-mediated a modest increase of GLP-1 secretion in the NCIH716 cells [1].
In vivo: N/A
References:
1.  Sparks SM, Chen G, Collins JL, Danger D, Dock ST, Jayawickreme C, et al. Identification of diarylsulfonamides as agonists of the free fatty acid receptor 4 (FFA4/GPR120). Bioorg Med Chem Lett. 2014;24(14):3100-3.
2.  Martin C, Passilly-Degrace P, Chevrot M, Ancel D, Sparks SM, Drucker DJ, et al. Lipid-mediated release of GLP-1 by mouse taste buds from circumvallate papillae: putative involvement of GPR120 and impact on taste sensitivity. J Lipid Res. 2012;53(11):2256-65.
Product Citation
Chemical Properties
| | |
| --- | --- |
| Physical Appearance | A crystalline solid |
| Storage | Store at -20°C |
| M.Wt | 351.42 |
| Cas No. | 6326-06-3 |
| Formula | C20H17NO3S |
| Solubility | ≥35.1 mg/mL in DMSO; insoluble in EtOH; insoluble in H2O |
| Chemical Name | 4-methyl-N-(9H-xanthen-9-yl)benzenesulfonamide |
| SDF | Download SDF |
| Canonical SMILES | O=S(NC1C2=C(C=CC=C2)OC3=CC=CC=C31)(C4=CC=C(C)C=C4)=O |
| Shipping Condition | Evaluation sample solution: ship with blue ice. All other available sizes: ship with RT, or blue ice upon request. |
| General tips | For obtaining a higher solubility, please warm the tube at 37°C and shake it in the ultrasonic bath for a while. Stock solution can be stored below -20°C for several months. |
Protocol
Cell experiment [1]:

Cell lines

Flp-In T-REx 293 cells

Preparation method

The solubility of this compound in DMSO is >10 mM. General tips for obtaining a higher concentration: Please warm the tube at 37℃ for 10 minutes and/or shake it in the ultrasonic bath for a while. Stock solution can be stored below -20℃ for several months.

Reacting condition

10-10 ~10-5 M for 15 minutes

Applications

AH-7614 inhibited, in a potent and concentration-dependent manner, the ability of ω-3 fatty acid aLA to promote Ca2+ mobilization in Flp-In T-REx 293 cells induced to express hFFA4-eYFP. As an antagonist of FFA4, AH-7614 is able to block effects of both the polyunsaturated ω-6 fatty acid linoleic acid

References:

[1] Watterson KR, Hansen SVF, Hudson BD, et al. Probe-Dependent Negative Allosteric Modulators of the Long-Chain Free Fatty Acid Receptor FFA4. Mol Pharmacol. 2017 Jun;91(6):630-641.
Quality Control
Quality Control & MSDS
View current batch:
Chemical structure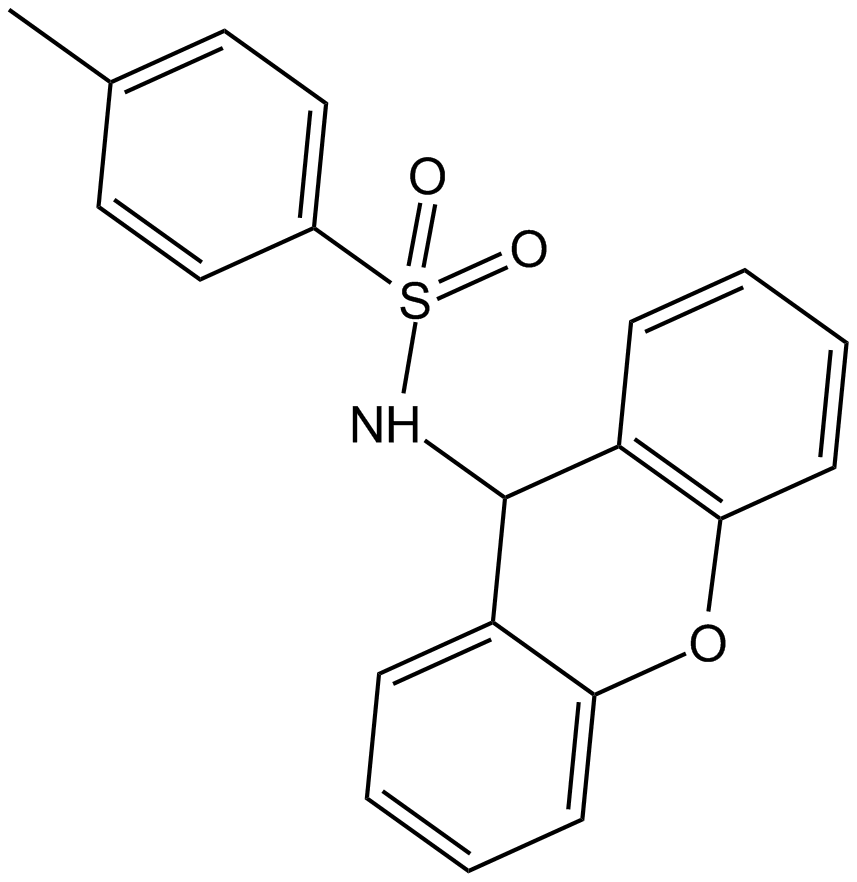 Related Biological Data