Background
AH 6809 is an antagonist of prostaglandin receptor EP1, EP2 and D2 [1].
In COS-7 cells transfected with human EP2 receptor, AH 6809 treatment selectively inhibited the cAMP production increased by PGE2 but not forskolin. In the non-small cell lung cancer NCI-H1299 cell line, AH 6809 inhibited the binding of 3H-PGE2 to the cell membrane with IC50 value of 5 μM. The compound also inhibited the increase in cAMP level caused by PGE2 in NCI-H1299 cells. Moreover, AH 6809 significantly suppressed the cell proliferation and colony formation at low micromolar concentration. Besides that, AH 6809 exerted to be a specific DP-receptor blocking drug. It inhibited the anti-aggregation activity of PGD2 in whole blood [1, 2 and 3].
References:
1. Woodward D F, Pepperl D J, Burkey T H, et al. 6-isopropoxy-9-oxoxanthene-2-carboxylic acid (AH 6809), a human EP2receptor antagonist. Biochemical pharmacology, 1995, 50(10): 1731-1733.
2. Qian X, Zhang J, Liu J. Tumor-secreted PGE2 inhibits CCL5 production in activated macrophages through cAMP/PKA signaling pathway. Journal of Biological Chemistry, 2011, 286(3): 2111-2120.
3. Ito S, Okuda E, Sugama K, et al. Evaluation of ZK110841 and AH6809, an agonist and an antagonist of prostaglandin DP-receptors on human platelets, with a PGD2-responsive cell line from bovine embryonic trachea. British journal of pharmacology, 1990, 99(1): 13-14.
Product Citation
Chemical Properties
| | |
| --- | --- |
| Physical Appearance | A crystalline solid |
| Storage | Store at -20°C |
| M.Wt | 298.29 |
| Cas No. | 33458-93-4 |
| Formula | C17H14O5 |
| Synonyms | AH6809;AH-6809 |
| Solubility | Soluble in DMSO |
| Chemical Name | 9-oxo-6-propan-2-yloxyxanthene-2-carboxylic acid |
| SDF | Download SDF |
| Canonical SMILES | CC(C)OC1=CC2=C(C=C1)C(=O)C3=C(O2)C=CC(=C3)C(=O)O |
| Shipping Condition | Evaluation sample solution : ship with blue ice.All other available size: ship with RT , or blue ice upon request |
| General tips | For obtaining a higher solubility , please warm the tube at 37°C and shake it in the ultrasonic bath for a while.Stock solution can be stored below -20°C for several months. |
Quality Control
Quality Control & MSDS
View current batch:
Chemical structure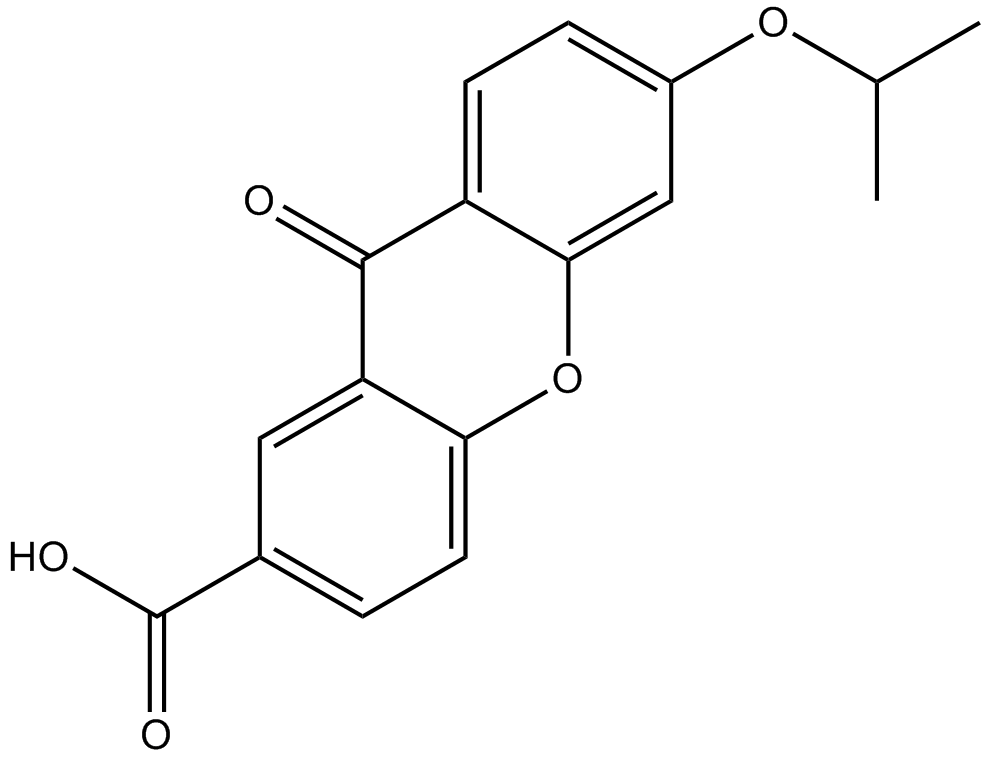 Related Biological Data