Background
Ac-YVAD-CHO is a potent, specific, reversible inhibitor of caspase-1, completely blocking caspase-1 activity (99%) at the concentration of 1 μM [1]. 
Caspase-1 is an evolutionarily conserved enzyme that proteolytically cleaves other proteins, the activation of which results in the processing and release of cytokines, interleukin 1β (IL-1β) and interleukin 18 (IL-18), as well as pyroptosis, an immunogenic form of cell death [1]. 
In THP-1 cells treated with α-hemolysin, Ac-YVAD-CHO inhibited 99% of the activity induced by hemolysin at 1 μM [1]. In xanthine/xanthine-oxidase (X/XO)-treated G85R-expressing N2a cells, Ac-YVAD-CHO at 100 μM, protected G85R-expressing cells against X/XO-induced loss of cell viability, caspase-1 cleavage, and increased IL-1β secretion [2]. 
In toluene diisocyanate (TDI)-exposed mice, Ac-YVAD-CHO (1 mg/kg, i.n., q.d., for 7 consecutive days) effectively inhibited airway hyperresponsiveness (AHR), airway inflammation around the airways and epithelial goblet cell hyperplasia. In addition, Ac-YVAD-CHO robustly decreased the numbers of TH1/TH2 cells, and lowered levels of IL-18 and IL-1β [3]. 
References:
[1]. O'Brien M, Moehring D, Muñoz-Planillo R, et al. A bioluminescent caspase-1 activity assay rapidly monitors inflammasome activation in cells. Journal of Immunological Methods, 2017, 447: 1-13.
[2]. Pasinelli P, Borchelt D R, Houseweart M K, et al. Caspase-1 is activated in neural cells and tissue with amyotrophic lateral sclerosis-associated mutations in copper-zinc superoxide dismutase. Proceedings of the National Academy of Sciences of the United States of America. 1998, 95(26): 1576-15768.
[3]. Chen S, Yao L, Huang P, et al. Blockade of the NLRP3/caspase-1 axis ameliorates airway neutrophilic inflammation in a toluene diisocyanate induced murine asthma model. Toxicological Sciences, 2019, 170(2): 462-472.
Product Citation
Chemical Properties
| | |
| --- | --- |
| Physical Appearance | A crystalline solid |
| Storage | Store at -20°C |
| M.Wt | 492.5 |
| Cas No. | 143313-51-3 |
| Formula | C23H32N4O8 |
| Solubility | Soluble in DMSO |
| Chemical Name | (4S,7S,10S,13S)-13-formyl-4-(4-hydroxybenzyl)-7-isopropyl-10-methyl-2,5,8,11-tetraoxo-3,6,9,12-tetraazapentadecan-15-oic acid |
| SDF | Download SDF |
| Canonical SMILES | CC(N([[email protected]](C(N([[email protected]](C(N([[email protected]](C(N([[email protected]](C([H])=O)CC(O)=O)[H])=O)C)[H])=O)C(C)C)[H])=O)CC1=CC=C(C=C1)O)[H])=O |
| Shipping Condition | Ship with blue ice, or upon other requests. |
| General tips | For obtaining a higher solubility, please warm the tube at 37°C and shake it in the ultrasonic bath for a while. We do not recommend long-term storage for the solution, please use it up soon. |
Quality Control
Quality Control & MSDS
View current batch:
Chemical structure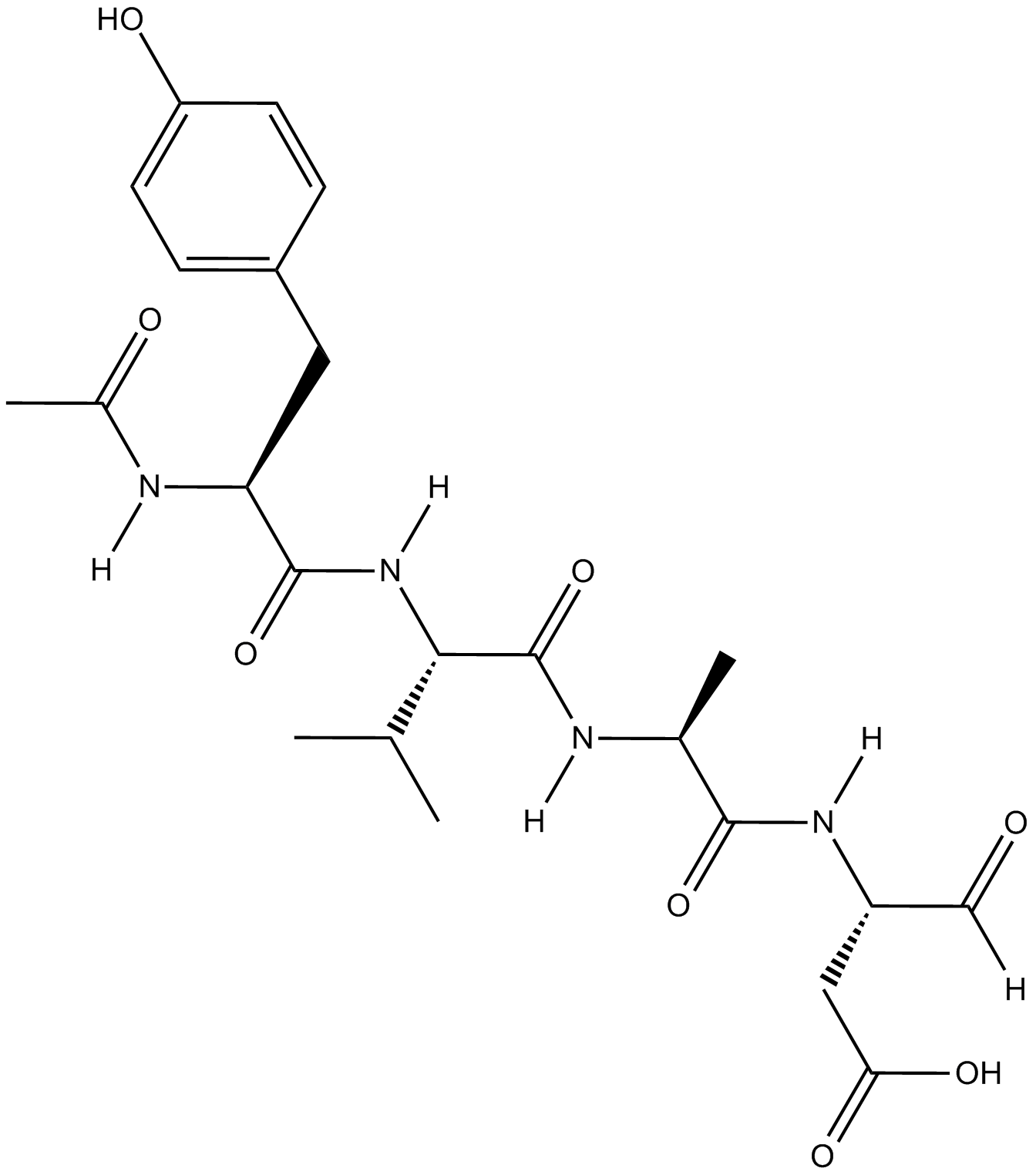 Related Biological Data