Oprozomib (ONX-0912)
Proteasome inhibitor
Sample solution is provided at 25 µL, 10mM.
Related Compound Libraries
Quality Control
Quality Control & MSDS
View current batch:
Chemical structure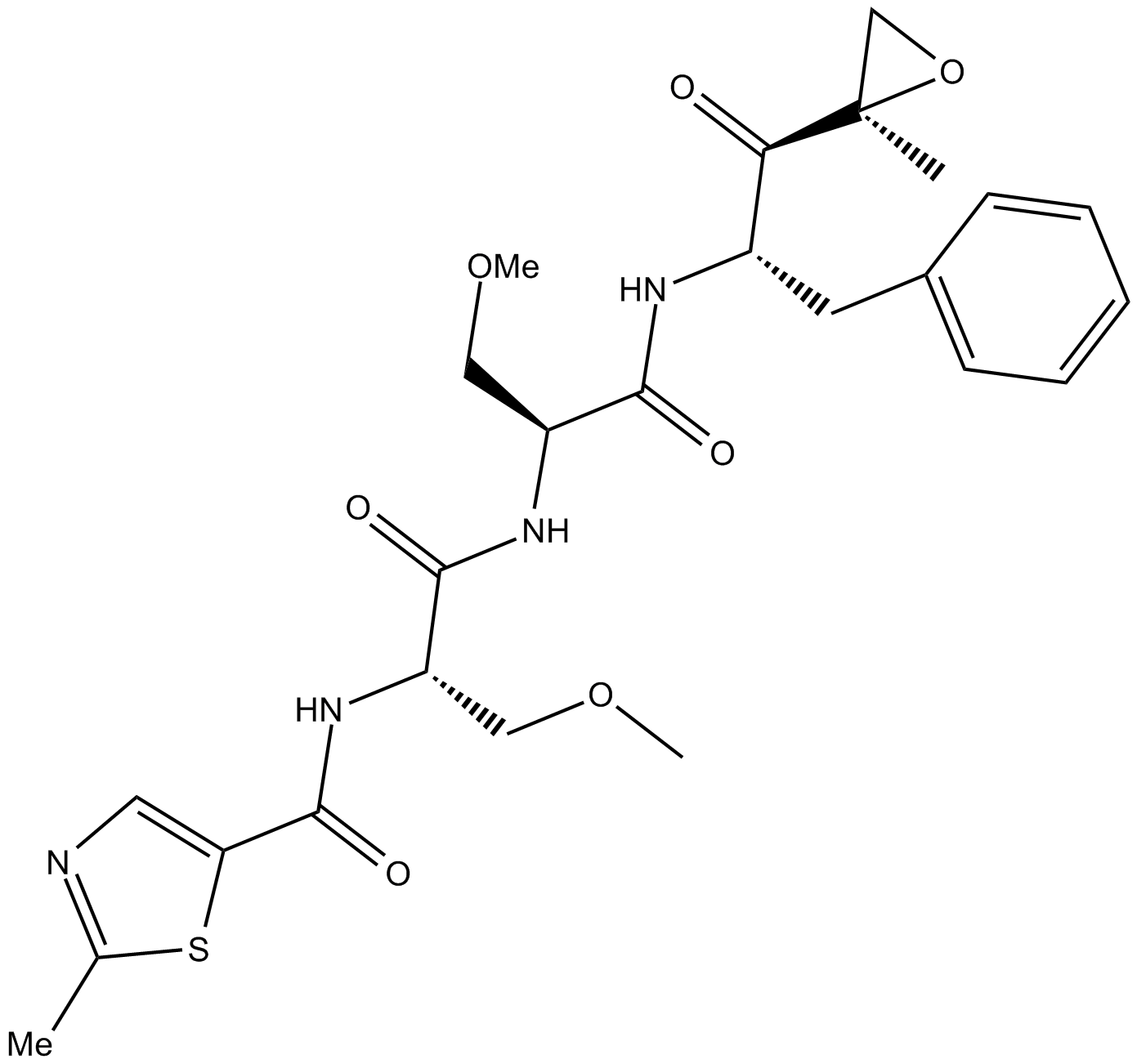 Related Biological Data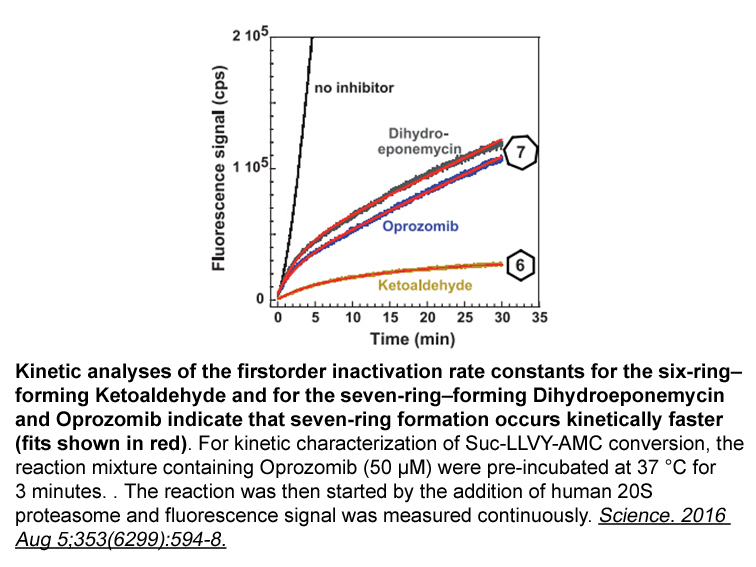 Biological Activity
Description
Oprozomib (ONX 0912) is an orally bioavailable inhibitor for CT-L activity of 20S proteasome β5 and LMP7 with IC50 values of 36 nM and 82 nM, respectively.
Targets
20S proteasome β5
20S proteasome LMP7
IC50
36 nM
82 nM
Protocol
Cell experiment:

Cell lines

The human HNSCC cell lines UMSCC-22A, UMSCC-22B, 1483, UMSCC-1, and Cal33.

Preparation method

The solubility of this compound in DMSO is >10 mM. General tips for obtaining a higher concentration: Please warm the tube at 37 °C for 10 minutes and/or shake it in the ultrasonic bath for a while.Stock solution can be stored below -20°C for several months.

Reaction Conditions

48 h; IC50 values ranging from 58.9 to185.7 nmol/L in 8 different HNSCC cell lines.

Applications

In trypan blue exclusion assays, ONX 0912 exhibited IC50 values ranging from 58.9 to185.7 nmol/L in 8 different HNSCC cell lines. In the 4 HNSCC cell lines (UMSCC-1, UMSCC-22B, 1483, and UMSCC-1) examined, treatment ONX 0912 resulted in processing of caspase-3 to active subunits and cleavage of the caspase substrate PARP.

Animal experiment:

Animal models

Athymic nude mice

Dosage form

30 mg/kg; Oral taken.

Applications

Using nude mice harboring HNSCC xenograft tumors, oral administration of 30 mg/kg ONX 0912 effectively inhibited CT-L activity in normal and HNSCC tumor tissues. Treatments (10 mg/kg and 30 mg/kg) were administered via oral gavage once a day on 2 consecutive days and repeated weekly for 2 weeks. Treatment with 10 mg/kg ONX 0912 did not have a significant effect on tumor growth, relative to treatment with vehicle alone. In contrast, highly significant inhibition of HNSCC tumor growth was seen with 30 mg/kg ONX 0912 (P = 0.003). These results show that consecutive-day treatment with orally administered ONX 0912, using a dose that has previously been shown to be well tolerated, leads to inhibition of HNSCC tumor growth.

Other notes

Please test the solubility of all compounds indoor, and the actual solubility may slightly differ with the theoretical value. This is caused by an experimental system error and it is normal.

References:

[1] Zang Y, Thomas S M, Chan E T, et al. Carfilzomib and ONX 0912 inhibit cell survival and tumor growth of head and neck cancer and their activities are enhanced by suppression of Mcl-1 or autophagy[J]. Clinical Cancer Research, 2012, 18(20): 5639-5649.
Chemical Properties
Cas No.
935888-69-0
SDF
Download SDF
Synonyms
ONX-0912,ONX0912,ONX 0912,PR 047,Oprozomib
Chemical Name
N-[(2S)-3-methoxy-1-[[(2S)-3-methoxy-1-[[(2S)-1-[(2R)-2-methyloxiran-2-yl]-1-oxo-3-phenylpropan-2-yl]amino]-1-oxopropan-2-yl]amino]-1-oxopropan-2-yl]-2-methyl-1,3-thiazole-5-carboxamide
Canonical SMILES
CC1=NC=C(S1)C(=O)NC(COC)C(=O)NC(COC)C(=O)NC(CC2=CC=CC=C2)C(=O)C3(CO3)C
Formula
C25H32N4O7S
M.Wt

532.61

Solubility
>26.6mg/mL in DMSO
Storage
Desiccate at -20°C
General tips
For obtaining a higher solubility , please warm the tube at 37 ℃ and shake it in the ultrasonic bath for a while.Stock solution can be stored below -20℃ for several months.
Shipping Condition
Evaluation sample solution : ship with blue ice
All other available size: ship with RT , or blue ice upon request
Background
ONX-0912 (as known as oprozomib), discovered during a medicinal chemistry effort using tripeptide epoxyketones, is an orally bio-available and potent proteasome inhibitor that inhibits growth and induces apoptosis in bortezomib resistant multiple myeloma (MM) cells. Although ONX-0912, an analog of carfilzomib, is structurally distinct from bortezomib, it possesses the same ability as bortezomib to predominantly inhibit chymotrypsin-like activity of the proteasome. ONX-0912 exhibits significant anti-MM activities to reduce tumor progression and prolong survival in many animal tumor model studies, which are associated with activation of caspase-3, caspase-8, caspase-9, and poly(ADP) ribose polymerase and inhibition of anglogensis and MM cells migration.
Reference
Dharminder Chauhan, Ajita V. Singh, Monette Aujay, Christopher J. Kirk, Madhavi Bandi, Bryan Ciccarelli, Noopur Raje, Paul Richardson, and Kenneth C. Anderson. A novel oraaly active proteasome inhibitor ONX 0912 triggers in vitro and in vivo cytotoxicity in multiple myeloma. Blood 2010; 116(23): 4906-4915