Istradefylline (KW-6002)
Selective A2A receptor antagonist
Sample solution is provided at 25 µL, 10mM.
Publications citing ApexBio Products
Related Compound Libraries
Quality Control
Quality Control & MSDS
View current batch:
Chemical structure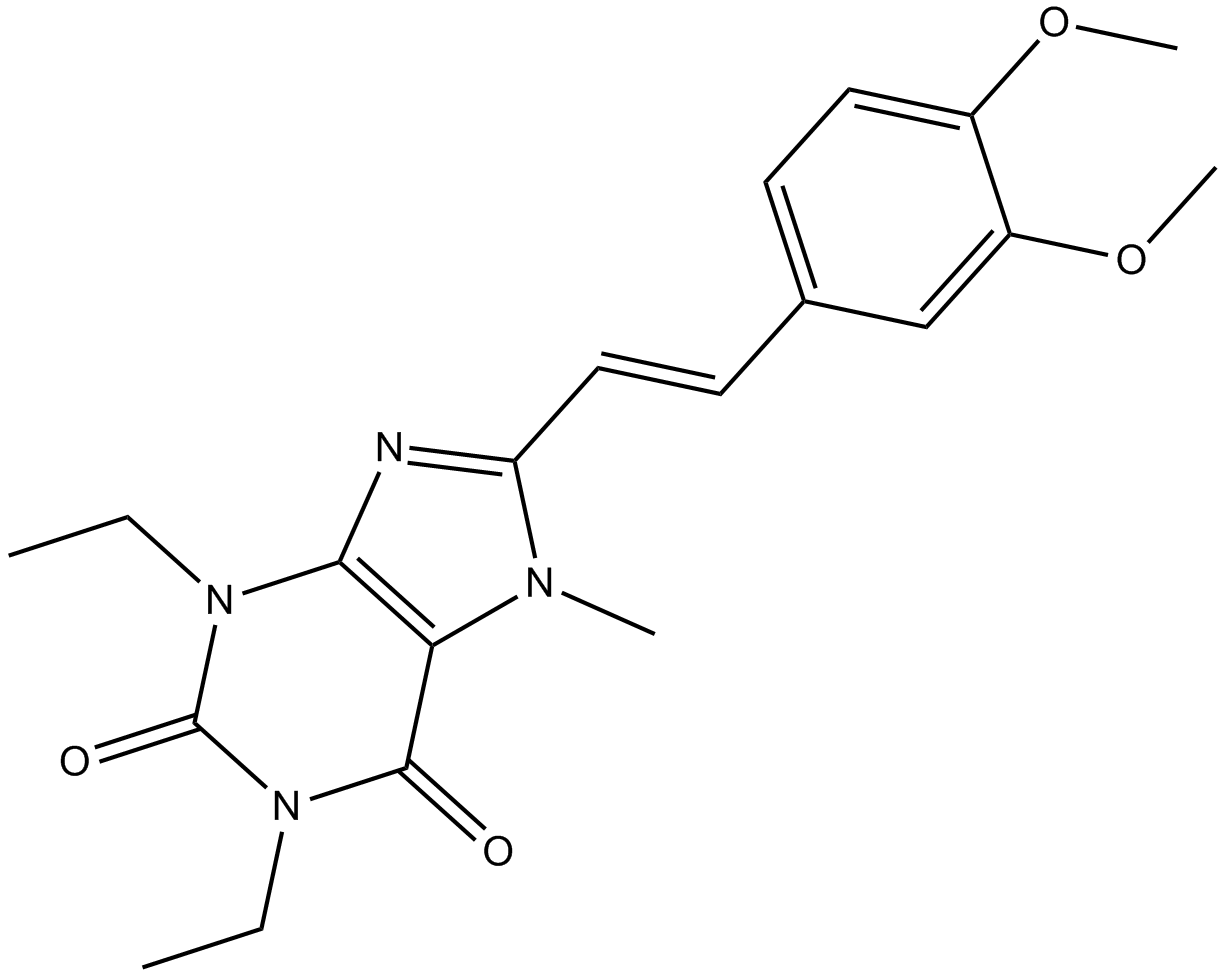 Biological Activity
Description
Istradefylline is a selective antagonist of adenosine A2A receptor (A2AR) with a Ki value of 2.2 nM.
Targets
A2AR
IC50
2.2 nM
Protocol
Binding experiment [1]:

Binding assays

Competition analysis of [3H]-ZM241385 and [3H]-DPCPX binding to caudate-putamen membranes from male Lister hooded rats. [3H]-ZM241385 and [3H]-DPCPX binding at 0.3–0.5 nM were assessed in the presence of 1 U/ml adenosine deaminase in a final assay volume of 0.25 ml.

Animal experiment [1]:

Animal models

Lister hooded rats

Dosage form

4 mg/kg KW6002 by intraperitoneal administration

Application

KW6002 has a role for tonic activation of A 2A adenosine receptors in reward-related phenomena. KW6002 increased dopamine overflow in the rat nucleus accumbens, and also elicited place preference and increased locomotor activity.

Other notes

Please test the solubility of all compounds indoor, and the actual solubility may slightly differ with the theoretical value. This is caused by an experimental system error and it is normal.

References:

[1] Harper LK, Beckett SR, Marsden CA, McCreary AC, Alexander SP. Effects of the A 2A adenosine receptor antagonist KW6002 in the nucleus accumbens in vitro and in vivo. Pharmacol Biochem Behav. 2006 Jan;83(1):114-21.
Chemical Properties
Cas No.
155270-99-8
SDF
Download SDF
Chemical Name
8-[(E)-2-(3,4-dimethoxyphenyl)ethenyl]-1,3-diethyl-7-methylpurine-2,6-dione
Canonical SMILES
CCN1C2=C(C(=O)N(C1=O)CC)N(C(=N2)C=CC3=CC(=C(C=C3)OC)OC)C
Formula
C20H24N4O4
M.Wt

384.43

Solubility
>8.77mg/mL in DMSO
Storage
Store at -20°C
General tips
N/A
Shipping Condition
N/A
Background
KW-6002 is a selective adenosine A2A receptor antagonist, offering a novel mechanistic approach for the treatment of Parkinson's disease (PD). A2A blockade will increase in GABAergic inhibition on the medium-sized neurons, leading to a net decrease in excessive activation of striatopallidal output.
In vitro: The affinity of KW-6002 for the A2AR is 70-fold greater than that for the A1 receptor. The binding affinities (Ki) of KW-6002 for human A1 receptor and A2A receptor are >287 nM and 9.12 nM, respectively [1].
In vivo: In MPTP neurotoxin model of PD in mice, KW-6002 significantly attenuated striatal dopamine depletion under various conditions. In addition, pretreatment with KW-6002 (3.3 mg/kg, i.p.) before a single dose of MPTP attenuated the partial dopamine and DOPAC depletions 1 week later [2].
Clinical trial: In a clinical study, the authors evaluated the safety and efficacy of KW-6002 40 mg as monotherapy for Parkinson's disease (PD) in 176 patients. The primary efficacy outcome was changed from baseline to endpoint, while safe and well-tolerated, failed to show a significant improvement from placebo for this endpoint [1].
References:
[1] Park A, Stacy M. Istradefylline for the treatment of Parkinson's disease. Expert Opin Pharmacother. 2012 Jan;13(1):111-4.
[2] Chen JF, Xu K, Petzer JP, Staal R, Xu YH, Beilstein M, Sonsalla PK, Castagnoli K, Castagnoli N Jr, Schwarzschild MA. Neuroprotection by caffeine and A(2A) adenosine receptor inactivation in a model of Parkinson's disease. J Neurosci. 2001;21(10):RC143.