Background
EC50: 1.1±0.06 nM for hSGLT2
Selective inhibition of SGLT2 has been proposed to aid in the normalization of plasma glucose levels in patients with diabetes by preventing the renal glucose reabsorption process and promoting glucose excretion in urine. Dapagliflozin is a potent, selective Renal Sodium-Dependent Glucose Cotransporter 2 (SGLT2) inhibitor.
In vitro: EC50 values of 1.1 nM for hSGLT2 and 1.4 μM for hSGLT1 determined for Dapagliflozin corresponded to 1200-fold selectivity for SGLT2 as compared with phlorizin's 10-fold selectivity. Dapagliflozin inhibitory potencies against rat SGLT (rSGLT)2 and hSGLT2 were comparable, but the selectivity of Dapagliflozin for rSGLT2 versus rSGLT1 decreased to 200-fold [1].
In vivo: In vivo, dapagliflozin acutely induced renal glucose excretion in diabetic and normal rats, improved glucose tolerance in normal rats, as well as reduced hyperglycemia in Zucker diabetic fatty rats after single oral doses ranging between 0.1 and 1.0 mg/kg [2].
Clinical trial: Dapagliflozin dosing at 1, 2.5 and 5 mg/day is effective in reducing glycaemic levels and body weight in treatment-naive patients with type 2 diabetes. Dapagliflozin was well tolerated [3].
References:
[1] Meng W, Ellsworth BA, Nirschl AA, McCann PJ, Patel M, Girotra RN, Wu G, Sher PM, Morrison EP, Biller SA, Zahler R, Deshpande PP, Pullockaran A, Hagan DL, Morgan N, Taylor JR, Obermeier MT, Humphreys WG, Khanna A, Discenza L, Robertson JG, Wang A, Han S, Wetterau JR, Janovitz EB, Flint OP, Whaley JM, Washburn WN.  Discovery of dapagliflozin: a potent, selective renal sodium-dependent glucose cotransporter 2 (SGLT2) inhibitor for the treatment of type 2 diabetes. J Med Chem. 2008 Mar 13;51(5):1145-9.
[2] Han S, Hagan DL, Taylor JR, Xin L, Meng W, Biller SA, Wetterau JR, Washburn WN, Whaley JM.  Dapagliflozin, a selective SGLT2 inhibitor, improves glucose homeostasis in normal and diabetic rats. Diabetes. 2008 Jun;57(6):1723-9.
[3] Bailey CJ, Iqbal N, T'joen C, List JF.  Dapagliflozin monotherapy in drug-naïve patients with diabetes: a randomized-controlled trial of low-dose range. Diabetes Obes Metab. 2012 Oct;14(10):951-9.
Chemical Properties
| | |
| --- | --- |
| Physical Appearance | A yellow oil |
| Storage | Store at -20°C |
| M.Wt | 408.87 |
| Cas No. | 461432-26-8 |
| Formula | C21H25ClO6 |
| Solubility | insoluble in H2O; ≥116.6 mg/mL in EtOH; ≥15.1 mg/mL in DMSO |
| Chemical Name | (2S,3R,4R,5S,6R)-2-[4-chloro-3-[(4-ethoxyphenyl)methyl]phenyl]-6-(hydroxymethyl)oxane-3,4,5-triol |
| SDF | Download SDF |
| Canonical SMILES | CCOC1=CC=C(C=C1)CC2=C(C=CC(=C2)C3C(C(C(C(O3)CO)O)O)O)Cl |
| Shipping Condition | Evaluation sample solution: ship with blue ice. All other available sizes: ship with RT, or blue ice upon request. |
| General tips | For obtaining a higher solubility, please warm the tube at 37°C and shake it in the ultrasonic bath for a while. Stock solution can be stored below -20°C for several months. |
Biological Activity
Description
Dapagliflozin is a potent and selective inhibitor of hSGLT2 with EC50 of 1.1 nM, exhibiting 1200-fold selectivity over hSGLT1.
Targets
hSGLT2
IC50
1.1 nM (EC50)
Quality Control
Quality Control & MSDS
View current batch:
Chemical structure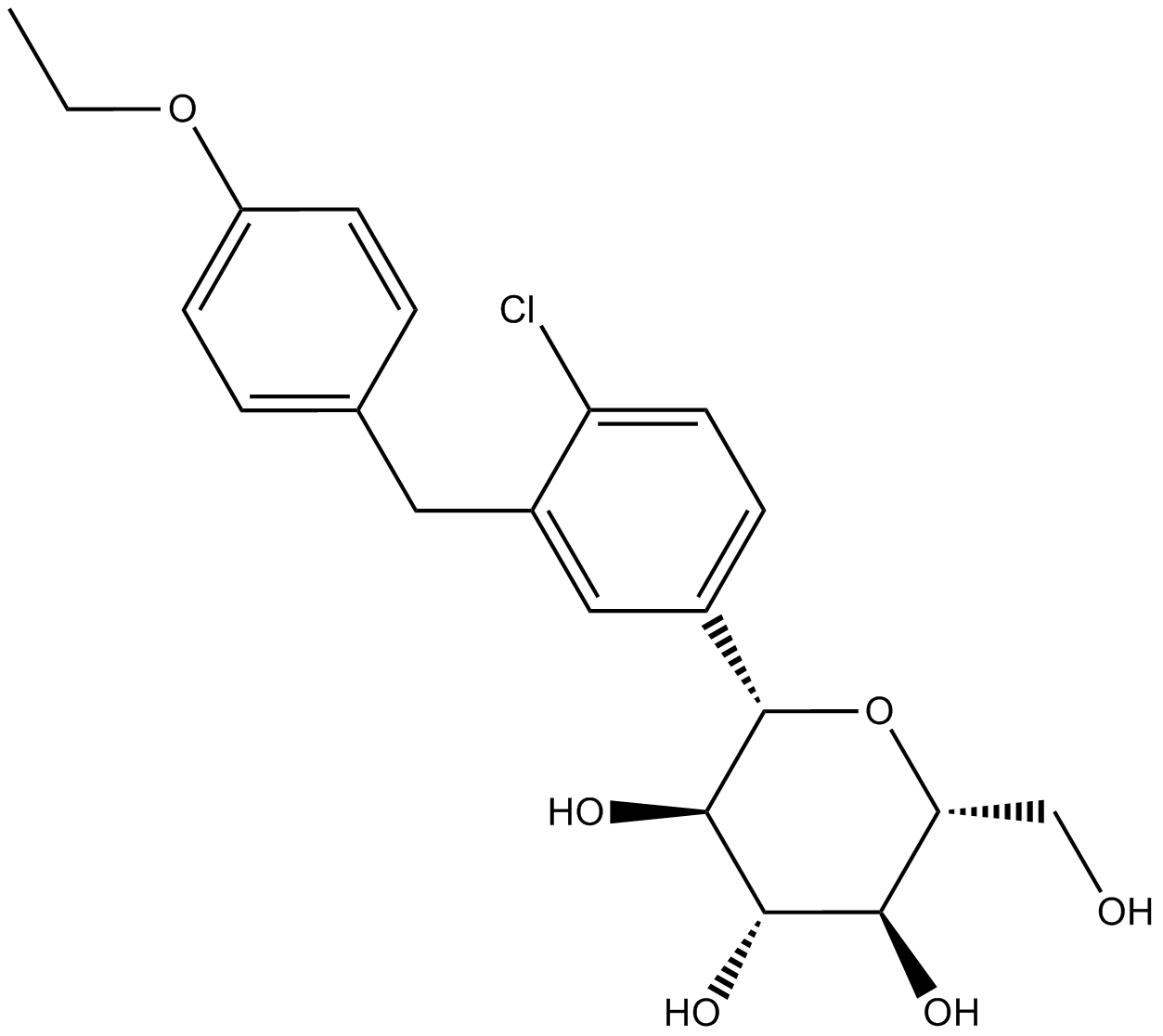 Related Biological Data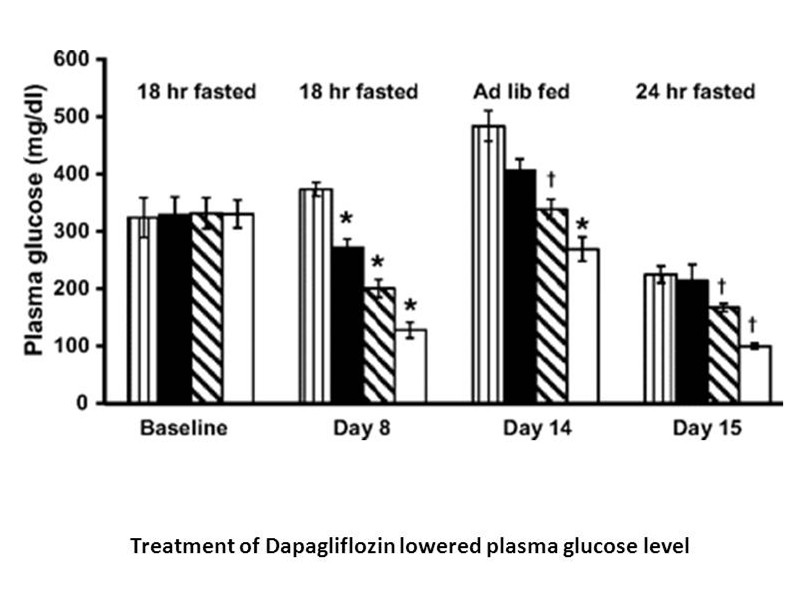 Related Biological Data