Background
Calcitriol is a form of Vitamin D, is converted to metabolites more potent and rapidly acting than other forms of Vitamin D [1].
Calcitriol has played an important role in mineral and skeletal homeostasis by regulating the differentiation, growth and the function of the cell immune system. In vitro studies, Calcitriol has been reported to dose-dependently inhibit the production of tumor necrosis factor-α(TNF-α) and interleukin-1β(IL-1β) in human peripheral blood cells (PBMC) stimulated by LPS. Furthermore, Calcitriol has been revealed to significantly reduced the basal intradialytic increases of TNF-αand IL-1βin vivo studies. Apart from these, Calcitriol has also been reported to modulate the cytokine production indirectly through the effect on calcium and PTH metabolism [2].
References:
[1] Holick MF, Schnoes HK, DeLuca HF. Identification of 1,25-dihydroxycholecalciferol, a form of vitamin D3 metabolically active in the intestine. Proc Natl Acad Sci U S A. 1971 Apr;68(4):803-4.
[2] Panichi V1, De Pietro S, Andreini B, Bianchi AM, Migliori M, Taccola D, Giovannini L, Tetta C, Palla R. Calcitriol modulates in vivo and in vitro cytokine production: a role for intracellular calcium. Kidney Int. 1998 Nov;54(5):1463-9.

Product Citation
Chemical Properties
| | |
| --- | --- |
| Physical Appearance | A solid |
| Storage | Store at -20°C |
| M.Wt | 416.64 |
| Cas No. | 32222-06-3 |
| Formula | C27H44O3 |
| Solubility | insoluble in H2O; ≥20.83 mg/mL in DMSO; ≥43.5 mg/mL in EtOH |
| Chemical Name | (1R,3S,5Z)-5-[(2E)-2-[(1R,3aS,7aR)-1-[(2R)-6-hydroxy-6-methylheptan-2-yl]-7a-methyl-2,3,3a,5,6,7-hexahydro-1H-inden-4-ylidene]ethylidene]-4-methylidenecyclohexane-1,3-diol |
| SDF | Download SDF |
| Canonical SMILES | CC(CCCC(C)(C)O)C1CCC2C1(CCCC2=CC=C3CC(CC(C3=C)O)O)C |
| Shipping Condition | Evaluation sample solution: ship with blue ice. All other available sizes: ship with RT, or blue ice upon request. |
| General tips | For obtaining a higher solubility, please warm the tube at 37°C and shake it in the ultrasonic bath for a while. Stock solution can be stored below -20°C for several months. |
Protocol
Cell experiment [1]:

Cell lines

Basal cell carcinoma (BCC) cell line ASZ001

Preparation method

The solubility of this compound in DMSO is > 20.8mg/mL. General tips for obtaining a higher concentration: Please warm the tube at 37 ℃ for 10 minutes and/or shake it in the ultrasonic bath for a while. Stock solution can be stored below -20℃ for several months.

Reacting condition

10 nM, 48 h

Applications

In BCC ASZ001 cells, calcitriol significantly inhibited the Hh-signaling pathway and activated the Vdr-signaling pathway. Calcitriol suppressed cell proliferation but had no effect on apoptosis for caspase 3/7 activity was unchanged.

Clinical experiment [2]:

Clinical samples

Patients with recent-onset type 1 diabetes aged 11–35 years

Dosage form

0.25 μg/day, for 2 years

Application

At 6, 12, and 24 months, A1C, C-peptide, and insulin requirement values had no difference between calcitriol and placebo groups. These results indicated that at the doses used, calcitriol was not able to protect β-cell function in subjects with recent-onset type 1 diabetes and high C-peptide.

Other notes

Please test the solubility of all compounds indoor, and the actual solubility may slightly differ with the theoretical value. This is caused by an experimental system error and it is normal.

References:

[1]. Uhmann A, Niemann H, Lammering B, et al. Antitumoral effects of calcitriol in basal cell carcinomas involve inhibition of hedgehog signaling and induction of vitamin D receptor signaling and differentiation[J]. Molecular cancer therapeutics, 2011, 10(11): 2179-2188.

[2]. Bizzarri C, Pitocco D, Napoli N, et al. No Protective Effect of Calcitriol on β-Cell Function in Recent-Onset Type 1 Diabetes[J]. Diabetes care, 2010, 33(9): 1962-1963.
Quality Control
Quality Control & MSDS
View current batch:
Chemical structure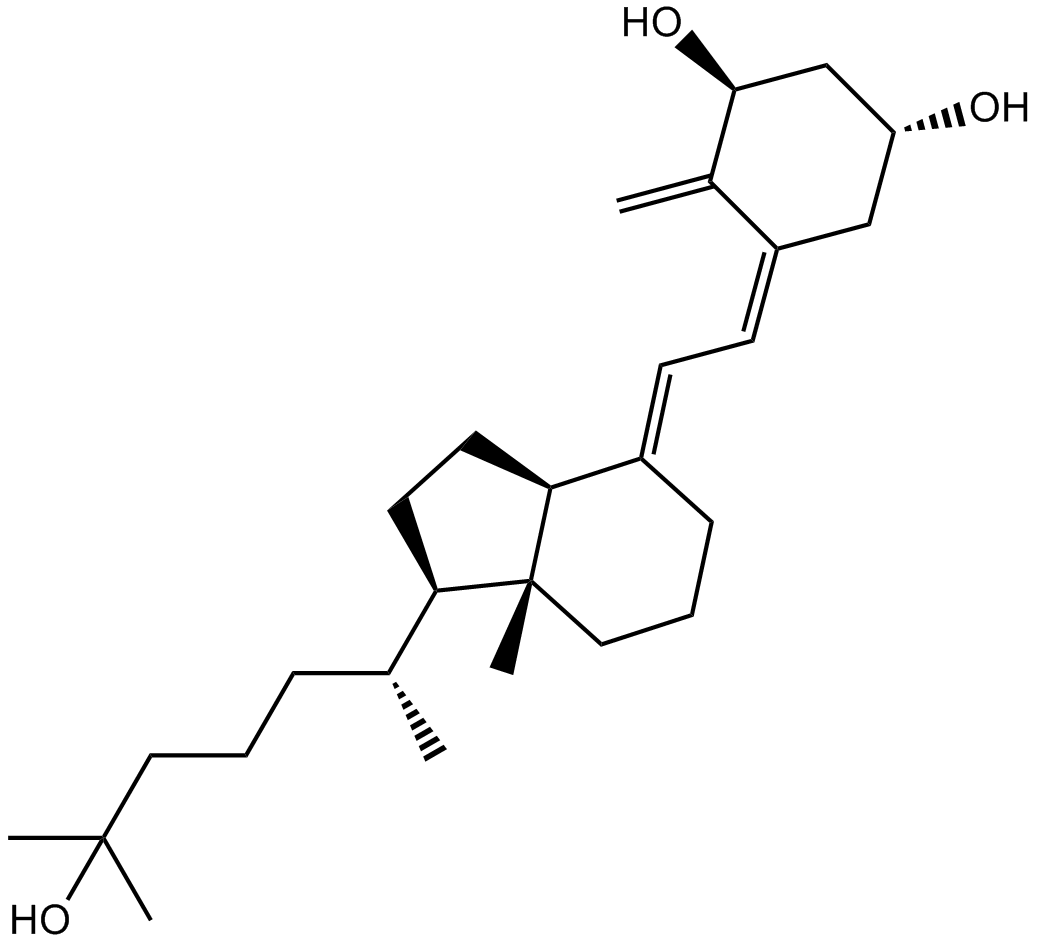 Related Biological Data