Background
IC50: A potent and selective inhibitor of Src-family tyrosine kinases, with an IC50 of 5 and 6 nM respectively for p56lck and p59fynT.
PP1 inhibits Src-family tyrosine kinases effectively and selectively. The non-receptor protein tyrosine kinase Src is a crucial enzyme in the signal transduction pathways involved in cell division, motility, adhesion, and survival. Src is regarded as a promising target for cancer therapy due to its importance in tumor progression, invasion, transition, angiogenesis, and the development of metastasis. [1]
In vitro: It was reported that PP1 specifically inhibited the expression and activity of Lyn, a Src family kinase, in RBL-2H3 cells. Based on the immune-complex kinase assays in vitro, PP1 suppressed the activity of Lyn at nanomolar levels without any effect on Syk kinase activity. In contrast, phosphorylation of both Syk and Lyn kinases were both blocked in RBL cells. FcεRI- and Thy-1-mediated early and late activation events were also interrupted by PP1 in a similar mannar. Moreover, PP1 was found to inhibited RET-derived oncoproteins with IC50 of 80 nM. RET/PTC3-transformed cells received PP1 treatment with a dose of 5 μM lost proliferative autonomy and showed morphological reversion. [2, 3]
In vivo: Under in vivo conditions PP1 was suggested to suppress tyrosine phosphorylation and proliferation in T cells stimulated with anti-CD3 and mitogen. Studies using mice tumor model also showed that PP1 upregulated the expression of the IL-2 gene rather than the granulocyte macrophage colony-stimulating factor or the IL-2 receptor genes. Based on these, PP1 could be adopted as a useful agent to investigate the role of Lck and Fyn T cell activation. [2]
Clinical trial: So far, no clinical trial has been conducted.
References:
[1]Sen B and Johnson FM. Regulation of src family kinases in human cancers. J Signal Tr. 2010 Feb; doi:10.1155/2011/865819.
[2] Amoui M, Driber P and Driberovi L. Src family-selective tyrosine kinase inhibitor, PP1, inhibits both FcERI- and Thy-1-mediated activation of rat basophilic leukemia cells. Eur. J. Immunol. 1997. 27: 1881-1886.
[3]Carlomagno F, Vitagliano D, Guida T, Napolitano M, Vecchio G, Fusco A, Gazit A, Levitzki A and Santoro M. The kinase inhibitor PP1 blocks tumorigenesis induced by RET oncogenes. Cancer Res. 2002 Feb. 62: 1077–82
Chemical Properties
| | |
| --- | --- |
| Physical Appearance | A solid |
| Storage | Desiccate at 4°C |
| M.Wt | 281.36 |
| Cas No. | 172889-26-8 |
| Formula | C16H19N5 |
| Solubility | insoluble in H2O; ≥20.6 mg/mL in EtOH with ultrasonic; ≥7.03 mg/mL in DMSO |
| Chemical Name | 1-tert-butyl-3-(4-methylphenyl)pyrazolo[3,4-d]pyrimidin-4-amine |
| SDF | Download SDF |
| Canonical SMILES | CC1=CC=C(C=C1)C2=NN(C3=C2C(=NC=N3)N)C(C)(C)C |
| Shipping Condition | Evaluation sample solution: ship with blue ice. All other available sizes: ship with RT, or blue ice upon request. |
| General tips | For obtaining a higher solubility, please warm the tube at 37°C and shake it in the ultrasonic bath for a while. Stock solution can be stored below -20°C for several months. |
Biological Activity
Description
PP1 is a potent and selective inhibitor of Src for Lck/Fyn with IC50 of 5 nM/ 6 nM, respectively.
Targets
Lck
Fyn
Kit
Bcr-Abl
IC50
5 nM
6 nM
~75 nM
1 μM
Quality Control
Quality Control & MSDS
View current batch:
Chemical structure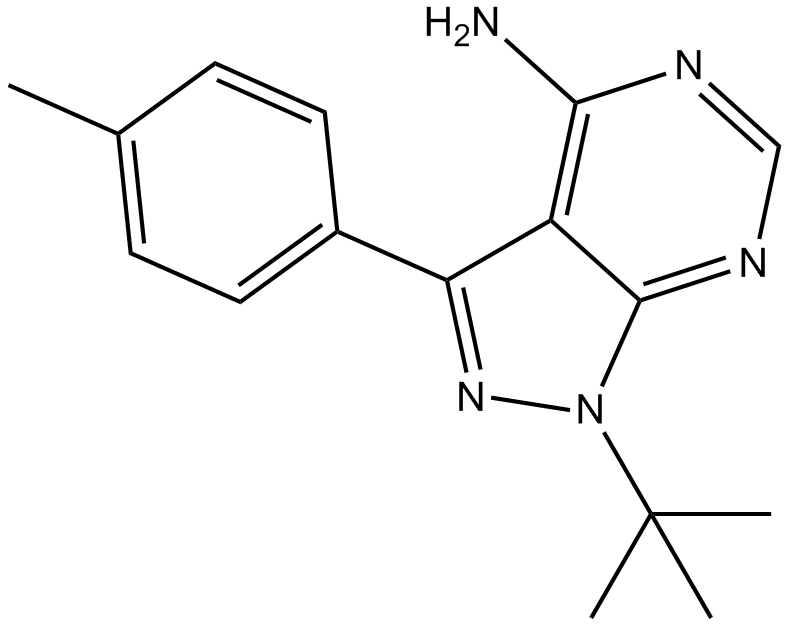 Related Biological Data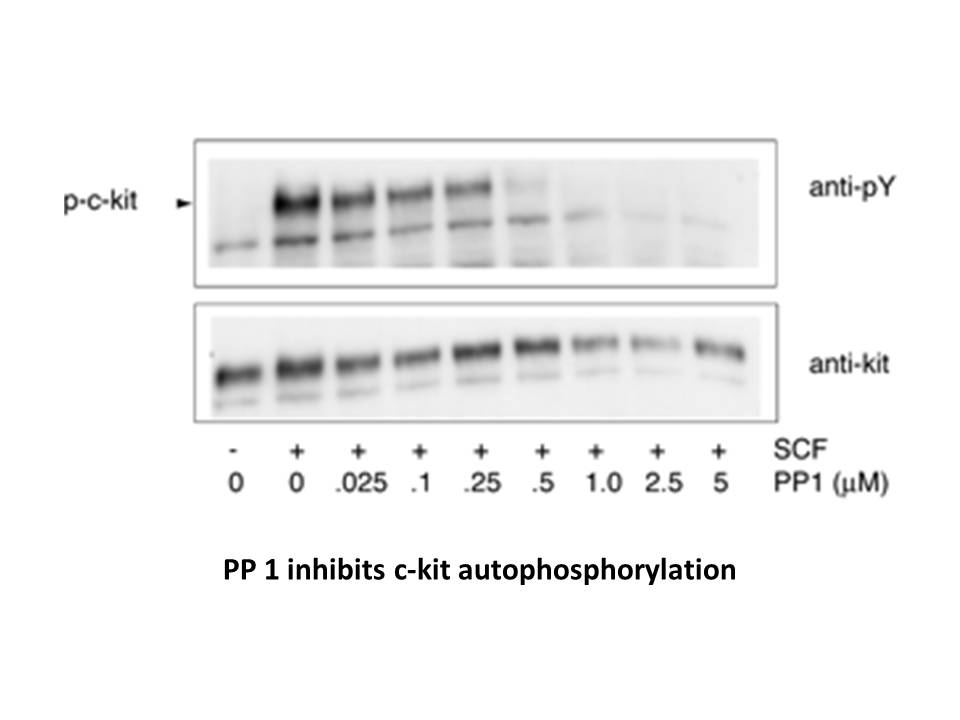 Related Biological Data