Background
α-MSH is a 13-amino acid neuropeptide obtained from the precursor proopiomelanocortin (POMC), which is a vital stress hormone of the hypothalamus/pituitary/adrenal gland (HPA) axis [1].
Five G-protein-coupled melanocortin receptors (MC1-R to MC5-R) can transmit the signaling of melanocortins including α-MSH, which can mediate the effect of α-MSH on melanogenesis, thermoregulation, pigmentation formation, food intake, energy expenditure, and fatty acid oxidation.
In α-MSH-treated human umbilical vein endothelial cells (HUVECs), the blocking either MC1-R or MC2-R restored the Nitric Oxide release by using the antibody neutralization strategy. After immunoblot analysis, the MC1-R neutralization could inhibit the α-MSH-induced endothelial nitric oxide synthase (eNOS) and inducible nitric oxide synthase (iNOS) signaling, while MC2-R neutralization could reverse the α-MSH-induced eNOS but not iNOS signaling in HUVECs [1].
After treatment with α-MSH with or without L-Arginine for 24 h, it showed that α-MSH treatment potently interfered with the vessel development in transgenic zebrafish, L-Arginine supplementation rescued the α-MSH-induced intersegmental vessels (ISV) and restored endothelial recruitment in ISV [1].
Reference:
[1] Weng W T, Wu C S, Wang F S, et al. α-Melanocyte-Stimulating Hormone Attenuates Neovascularization by Inducing Nitric Oxide Deficiency via MC-Rs/PKA/NF-κB Signaling [J]. International Journal of Molecular Sciences. 2018, 19(12): 3823.
Product Citation
Chemical Properties
| | |
| --- | --- |
| Physical Appearance | White lyophilised solid |
| Storage | Desiccate at -20°C |
| M.Wt | 1664.9 |
| Cas No. | 581-05-5 |
| Formula | C77H109N21O19S |
| Solubility | Soluble to 0.60 mg/ml in sterile water |
| Chemical Name | (4S,5Z,7S,8Z,10S,11Z,13S,14Z,16S,17Z,20Z,22S)-7-((1H-imidazol-5-yl)methyl)-16-((1H-indol-3-yl)methyl)-26-amino-10-benzyl-13-(3-guanidinopropyl)-5,8,11,14,17,20-hexahydroxy-22-((S)-2-((Z)-hydroxy(((S)-1-hydroxy-1-imino-3-methylbutan-2-yl)imino)methyl)pyrro |
| SDF | Download SDF |
| Canonical SMILES | CC([[email protected]@](/N=C(O)/[[email protected]]1([H])CCCN1C([[email protected]](/N=C(O)/C/N=C(O)/[[email protected]](/N=C(O)/[[email protected]](/N=C(O)/[[email protected]](/N=C(O)/[[email protected]](/N=C(O)/[[email protected]](/N=C(O)/[[email protected]](/N=C(O)/[[email protected]](/N=C(O)/[[email protected]](/N=C(O)/[[email protected]](/N=C(O)/C)([H])CO)([H])CC2=CC=C(O)C=C2)([H])CO)([H])CCSC)([H])CCC(O)=O)([H])CC3=CN=CN3)([H |
| Shipping Condition | Evaluation sample solution: ship with blue ice. All other available sizes: ship with RT, or blue ice upon request. |
| General tips | For obtaining a higher solubility, please warm the tube at 37°C and shake it in the ultrasonic bath for a while. Stock solution can be stored below -20°C for several months. |
Quality Control
Quality Control & MSDS
View current batch:
Chemical structure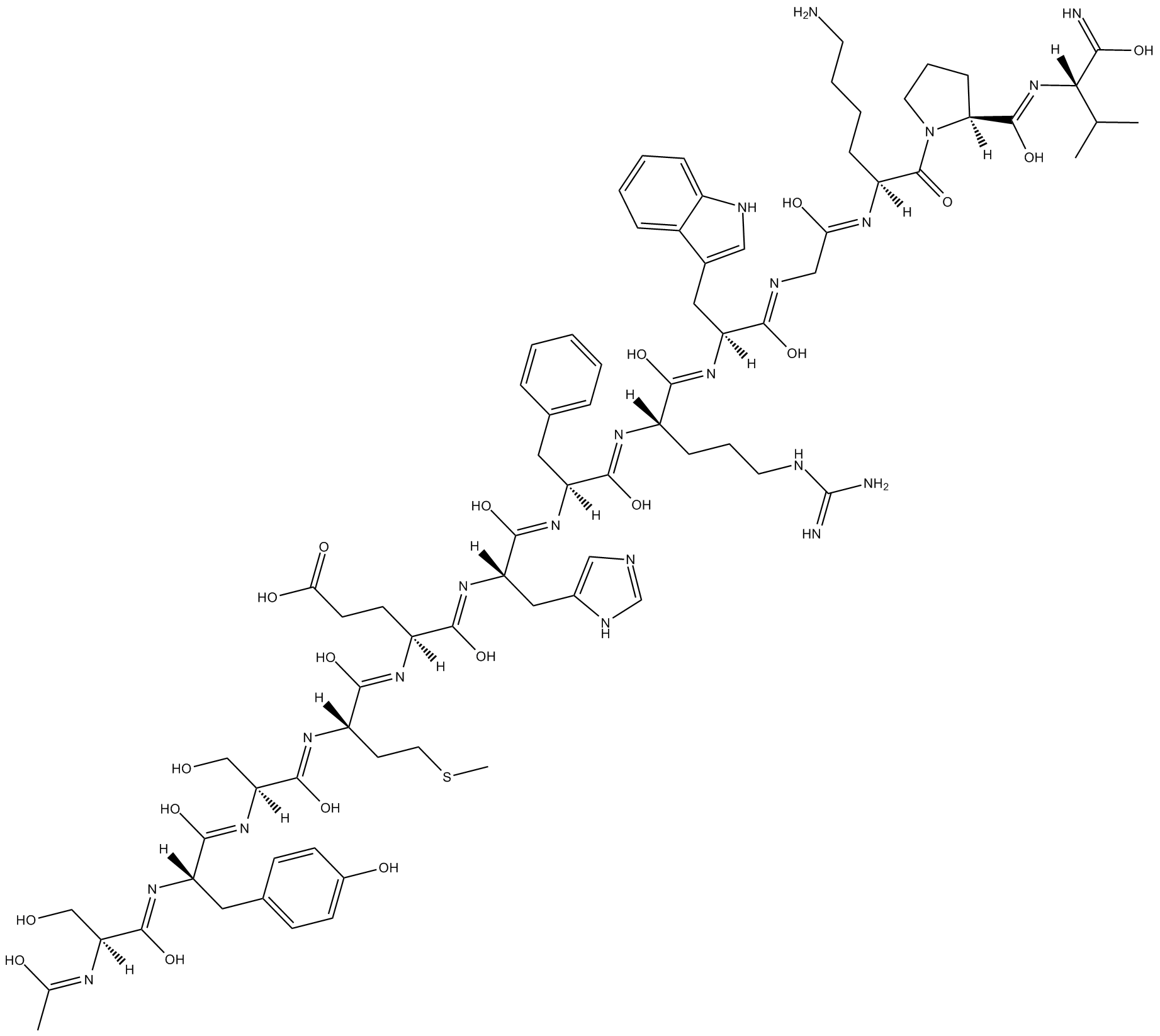 Related Biological Data