Background
EZ Cap Reagent AG is a co-transcription capping reagent for in vitro transcription of 5'capped mRNA to produce Cap 1 structure. Cap AG has been shown in the literature to provide a capping efficiency of up to 98%.
EZ Cap AG requires an AG initiator. EZ Cap AG typically provides >90% capped material generating a naturally occurring Cap 1 structure.
EZ Cap is compatible with wild-type T7 polymerase. 5 mM EZ Cap and rNTPs is recommended.
Template design is an integral part of any transcription. EZ Cap reagent AG can be used with a specific initiating sequence 5' AG 3'.
Final capping efficiency depends on the EZ Cap Reagent, DNA template and final mRNA sequence. Secondary structure due to RNA length and base composition can affect final capping efficiency.
Product Citation
Chemical Properties
| | |
| --- | --- |
| Physical Appearance | Solution |
| Storage | Store at -20°C or below |
| M.Wt | 1145.6 (free acid) |
| Formula | C32H43N15O24P4 (free acid) |
| Synonyms | EZ Cap™ Reagent AG for co-transcriptional capping of mRNA,m7G(5')ppp(5')(2'OMeA)pG |
| SDF | Download SDF |
| Canonical SMILES | O=C1NC(N)=NC2=C1N=CN2C3C(O)C(O)C(COP([O-])(OC4C(OC)C(N5C(N=CN=C6N)=C6N=C5)OC4COP([O-])(OP([O-])(OP([O-])(OCC7OC(N8C=[N+](C)C9=C8N=C(N)NC9=O)C(O)C7O)=O)=O)=O)=O)O3 |
| Shipping Condition | Evaluation sample solution: ship with blue ice. All other available sizes: ship with RT, or blue ice upon request. |
| General tips | For obtaining a higher solubility, please warm the tube at 37°C and shake it in the ultrasonic bath for a while. Stock solution can be stored below -20°C for several months. |
Quality Control
Quality Control & MSDS
View current batch:
Chemical structure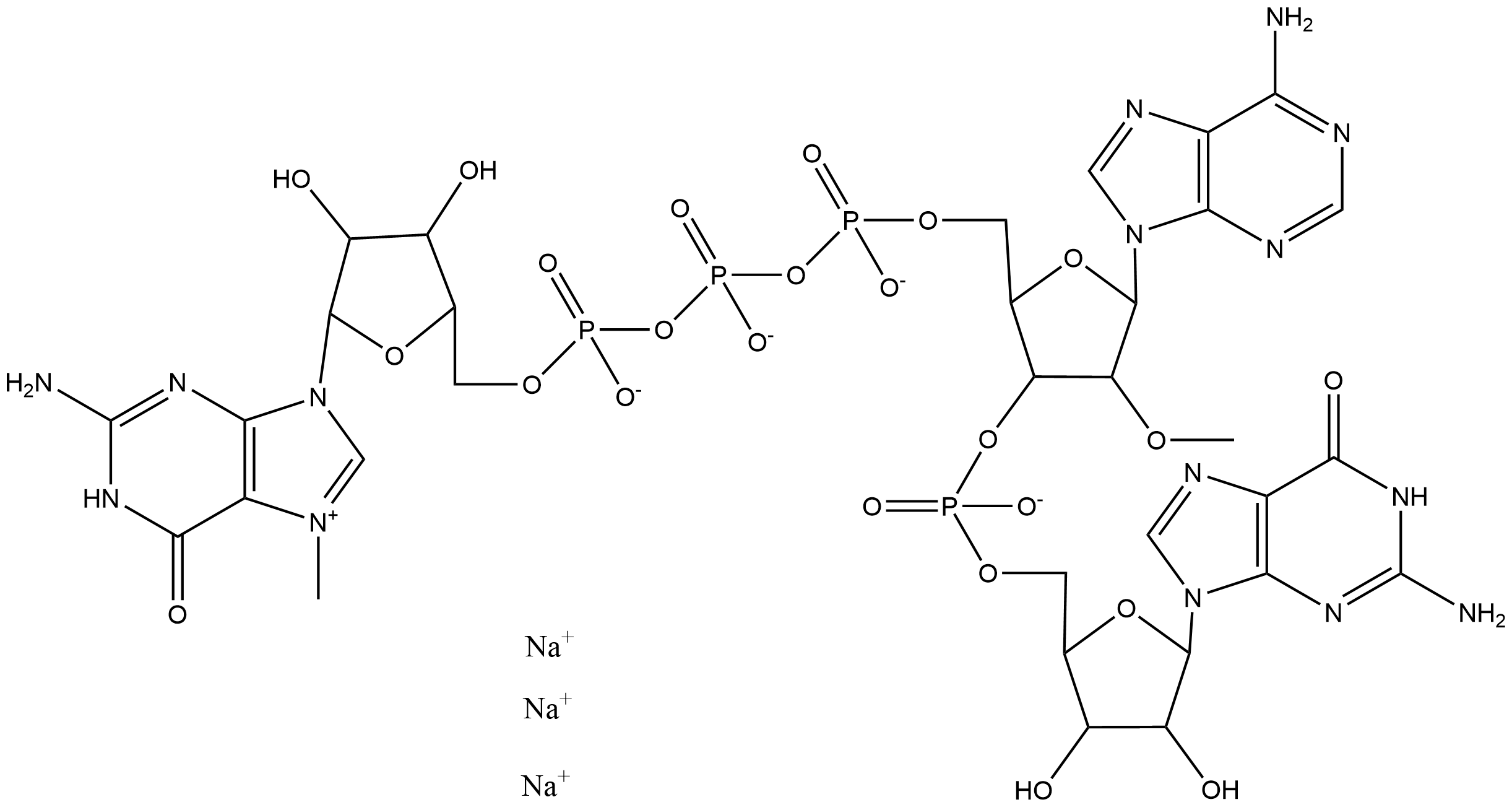 Related Biological Data