RITA (NSC 652287)
Mdm2-p53 interaction and p53 ubiquitination blocking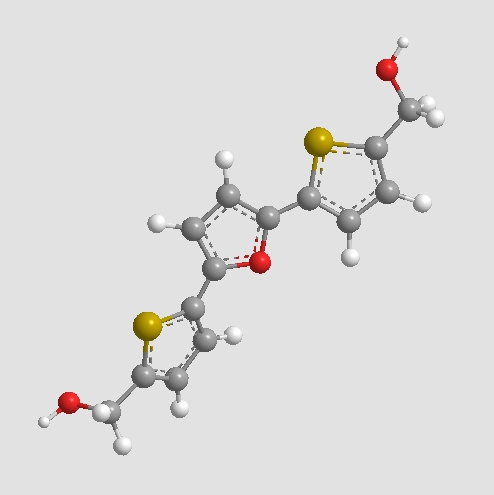 Sample solution is provided at 25 µL, 10mM.
Publications citing ApexBio Products
Related Compound Libraries
Quality Control
Quality Control & MSDS
View current batch:
Chemical structure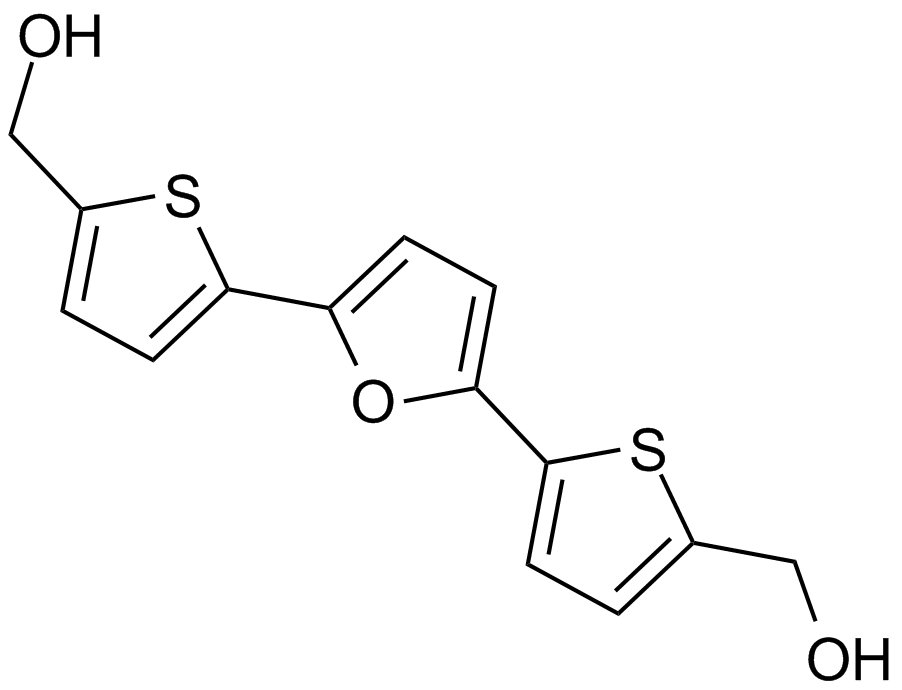 Related Biological Data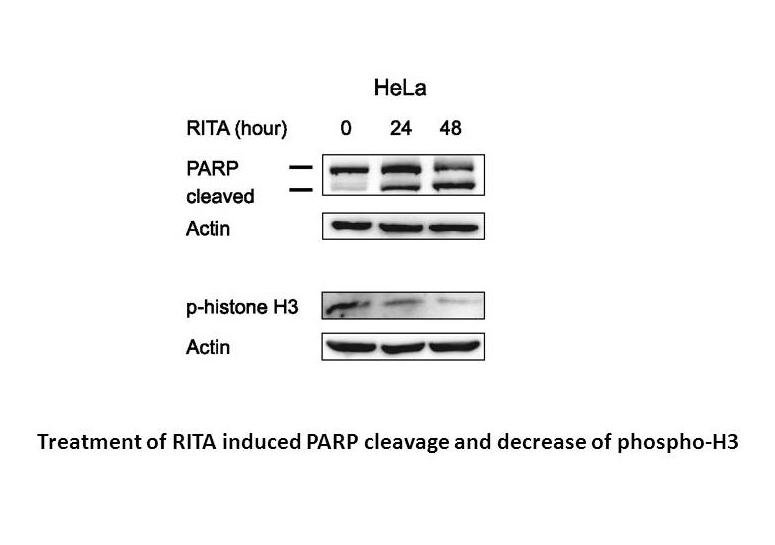 Related Biological Data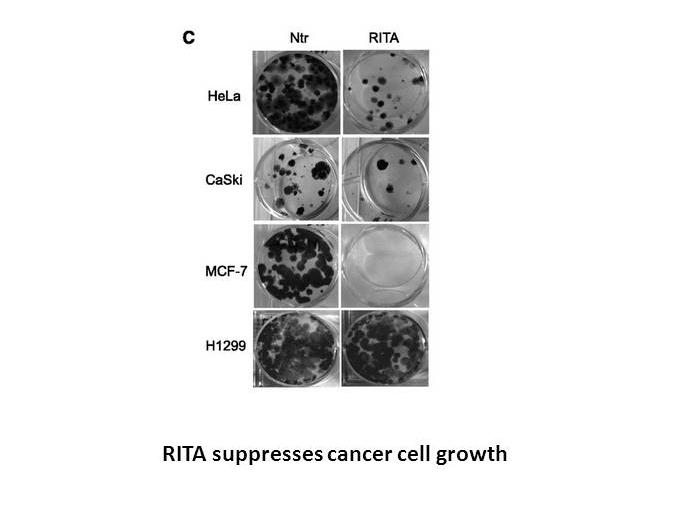 Biological Activity
Description
RITA (NSC 652287) is an inducer of both DNA-protein and DNA-DNA cross-links with no detectable DNA single-strand breaks, and also an inhibitor of MDM2-p53 interaction by targeting p53.
Targets
DNA cross-links (A498 cells)
DNA cross-links (TK-10 cells)
IC50
2 nM
20 nM
Chemical Properties
Cas No.
213261-59-7
SDF
Download SDF
Chemical Name
[5-[5-[5-(hydroxymethyl)thiophen-2-yl]furan-2-yl]thiophen-2-yl]methanol
Canonical SMILES
C1=C(SC(=C1)C2=CC=C(O2)C3=CC=C(S3)CO)CO
Formula
C14H12O3S2
M.Wt

292.4

Solubility
>14.6mg/mL in DMSO
Storage
Store at -20°C
General tips
N/A
Shipping Condition
N/A
Background
IC50: 2 nM and 20 nM for A-498 and TK-10, respectively
A series of naturally occurring and synthetic compounds containing one or more thiophene moieties have been tested in the NCI Anticancer Drug Screen and have demonstrated differential antiproliferative activity. Thiophene derivatives as a class exhibit very similar patterns of differential sensitivity, the molecular basis for which is not clear. The compound 2,5-bis(5-hydroxymethyl-2-thienyl) furan (NSC 652287), is the most potent thiophene derivative and has been selected as the lead compound for mechanistic studies.
In vitro: A number of cell lines showed a striking differential sensitivity to NSC 652287 when compared with the other cell lines in the panel, with GI50 values of 10–60 nM. The compound was found to decrease the initial number of cells by 50% (LC50) at a concentration of 100 nM in the A-498 cell line, compared with ~100 mM for the majority of the tumor cell lines. The A-498 and TK-10 cell lines were particularly sensitive to NSC 652287-induced cytotoxicity compared with ACHN and UO-31 cell lines [1].
In vivo: NSC 652287 was evaluated against A-498 tumor cell xenografts grown subcutaneously in nude mice. When NSC 652287 was administered twice a day, all three doses resulted in complete tumor regression in 100% of the treated mice by the end of the third treatment period. The tumors did not regrow during the remaining 40 days of the study, and no gross evidence of toxicity was observed. Studies with xenografts derived from other sensitive cell lines including the renal CAKI-1, melanoma UACC-257, ovarian OVCAR-5, and colon HCC-2998, showed moderate or minimal in vivo activity [2].
Clinical trials: Currenlty no clinical data are available.
Reference:
[1] Rivera MI, Stinson SF, Vistica DT, Jorden JL, Kenney S, Sausville EA. Selective toxicity of the tricyclic thiophene NSC 652287 in renal carcinoma cell lines: differential accumulation and metabolism. Biochem Pharmacol. 1999;57(11):1283-95.