Background
A wide range of well-characterized bioactive molecules that covers various targets related to angiogenesis, including Btk, integrin and HIF-1 etc. Facilitate your research towards the insights of tumorigenesis, cardiovascular disease and wound repair etc. Applicable in cellular assays, animal models and drug screenings etc.
Quality Control
Related Biological Data

In the Burkitt lymphoma cell line Namalwa, the anti-IgM–induced phosphorylation of protein kinase B (PKB/AKT) and ERK were inhibited by PCI-32765 , whereas phosphorylation of the activating LYN/SYK substrate site Y551 of BTK was actually upregulated.
Review (University of Minnesota)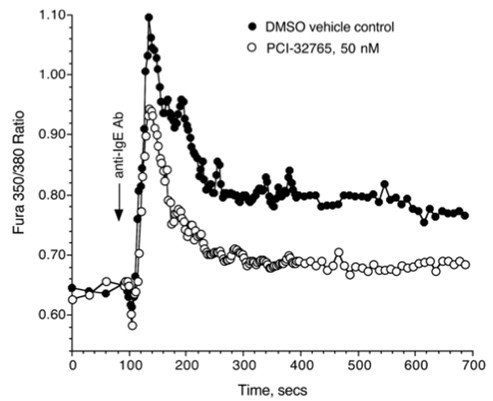 Fura-2 loaded purified basophils were incubated with vehicle control (0.0005% DMSO) or 50 nM PCI-32765 for 10 minutes prior to the addition of 0.5 μg/ml anti-IgE antibody and the cytosolic calcium response monitored. The 350/380 excitation ratio is plotted for the average of two experiments.
Related Biological Data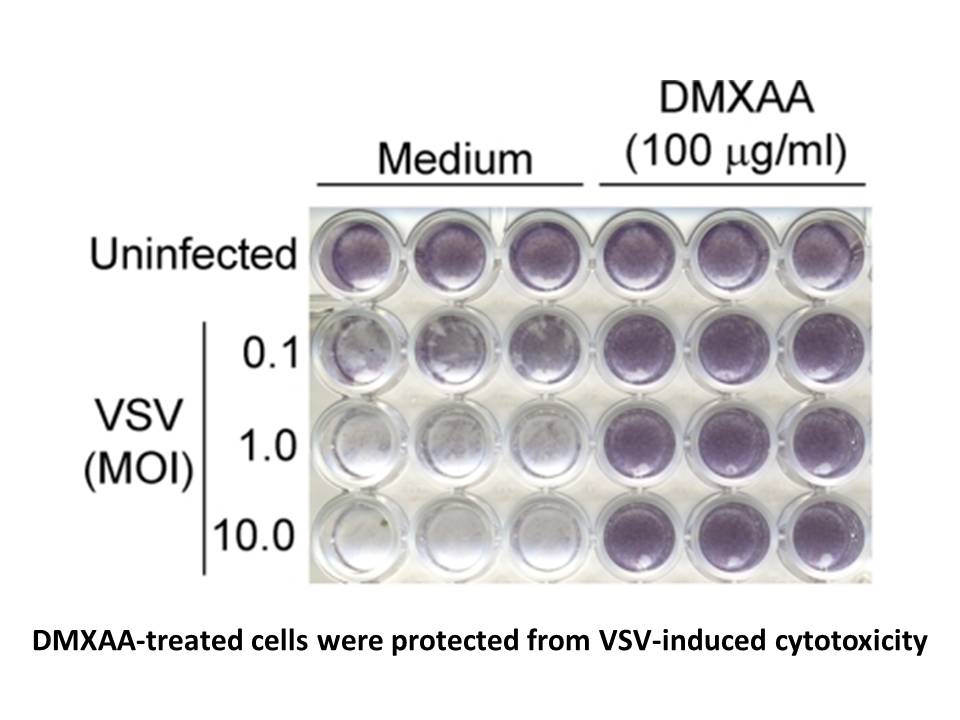 Related Biological Data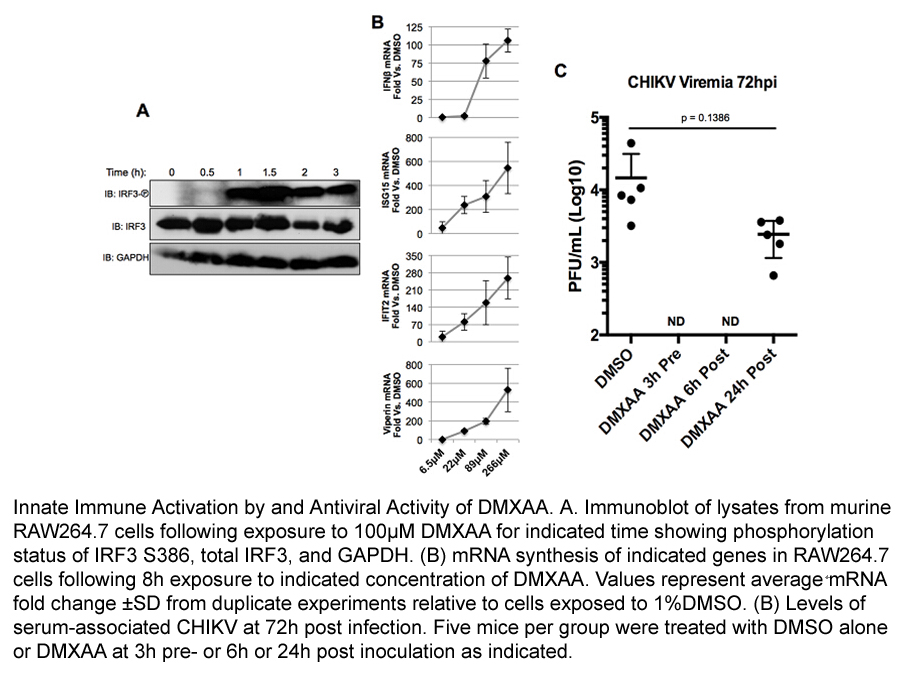 Related Biological Data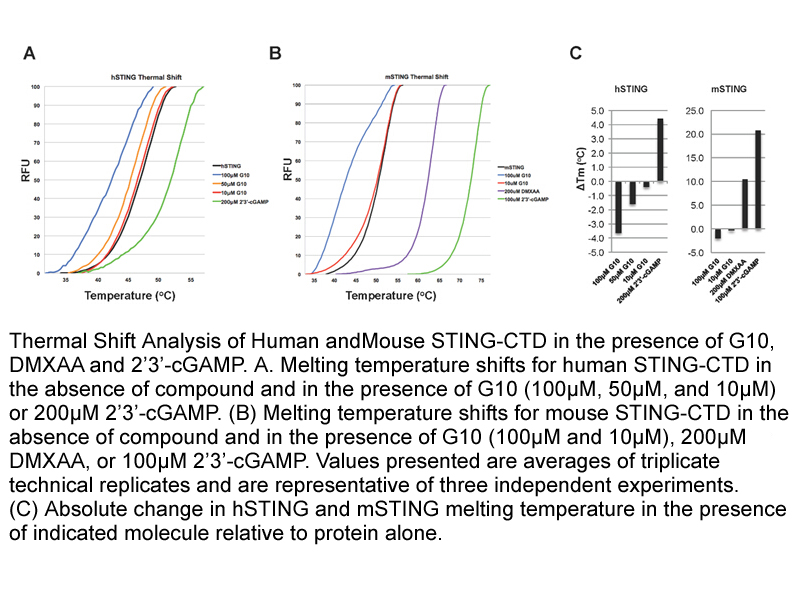 Related Biological Data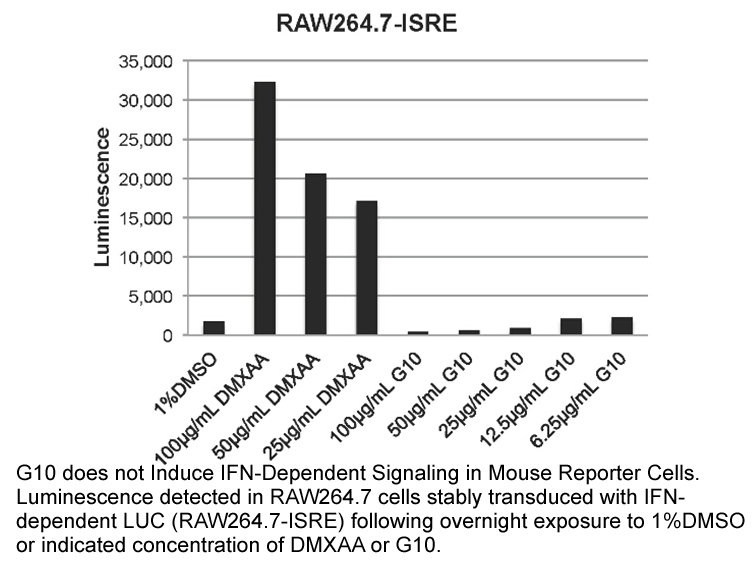 Signaling Pathway
Storage and Shipping Information
Solubility
Soluble in DMSO
Storage
Desiccate at -20°C
Packaging
96 well plate
Form
Powder
General tips
For obtaining a higher solubility , please warm the tube at 37°C and shake it in the ultrasonic bath for a while.Stock solution can be stored below -20°C for several months.
Shipping Condition
Evaluation sample solution : ship with blue ice
All other available size: ship with RT , or blue ice upon request
References
1. Sakurai T, Kudo M. Signaling pathways governing tumor angiogenesis. Oncology. 2011;81 Suppl 1:24-9.
Abstract
We highlight the regulation of angiogenesis and discuss the potential of molecular targeting as a new therapeutic approach to tumor angiogenesis. Tumor angiogenesis is connected with many signaling pathway. Such as vascular endothelial growth factor (VEGF), fibroblast growth factor etdl, both of them were proangiogenic factors, and those antiangiogenic factors include thrombospondin-1, angiostatin, and endostatin.
Advantages
Available in stock with overnight delivery and free shipping over $500
Cost-effective and competitive price to save your findings
Potent, selective and cell-permeable in inhibiting or activating target molecules
Diverse in chemical structure and route of administration (oral/i.m/i.v injection etc.)
Detailed files describing potency, selectivity and applications etc.
Supported by published data from top peer-reviewed journals
Guaranteed high quality with NMR and HPLC validation
Featured Products of the Panel
Catalog No.
Product Name
Summary
Targets
CAS Number
Smiles
A3206
AVL-292
Btk inhibitor, selective and oral
Angiogenesis|BTK
1202757-89-8
COCCOC1=CC=C(C=C1)NC2=NC=C(C(=N2)NC3=CC(=CC=C3)NC(=O)C=C)F
A4189
IOX2(Glycine)
Poten HIF-1α prolyl hydroxylase-2 (PHD2) inhibitor
Angiogenesis|HIF
931398-72-0
C1=CC=C(C=C1)CN2C3=CC=CC=C3C(=C(C2=O)C(=O)NCC(=O)O)O
A8660
Cilengitide
Integrin inhibitor for αvβ3 and αvβ5
Angiogenesis|Integrin
188968-51-6
CC(C)C1C(=O)NC(C(=O)NCC(=O)NC(C(=O)NC(C(=O)N1C)CC2=CC=CC=C2)CC(=O)O)CCCN=C(N)N
A8229
ML161
PAR1 inhibitor
Angiogenesis|PAR1
423735-93-7
CCCC(=O)NC1=CC=CC(=C1)NC(=O)C2=CC=CC=C2Br
A8233
DMXAA (Vadimezan)
Tumnor vascular disrupting agent, apoptosis inducer
Angiogenesis|VDA
117570-53-3
CC1=C(C2=C(C=C1)C(=O)C3=C(O2)C(=CC=C3)CC(=O)O)C
Download the Angiogenesis related Compounds Panel - XLSX Download the Angiogenesis related Compounds Panel - SDF