Cucurbitacin I
STAT3/JAK2 signaling inhibitor
Sample solution is provided at 25 µL, 10mM.
Publications citing ApexBio Products
Quality Control
Quality Control & MSDS
View current batch:
Chemical structure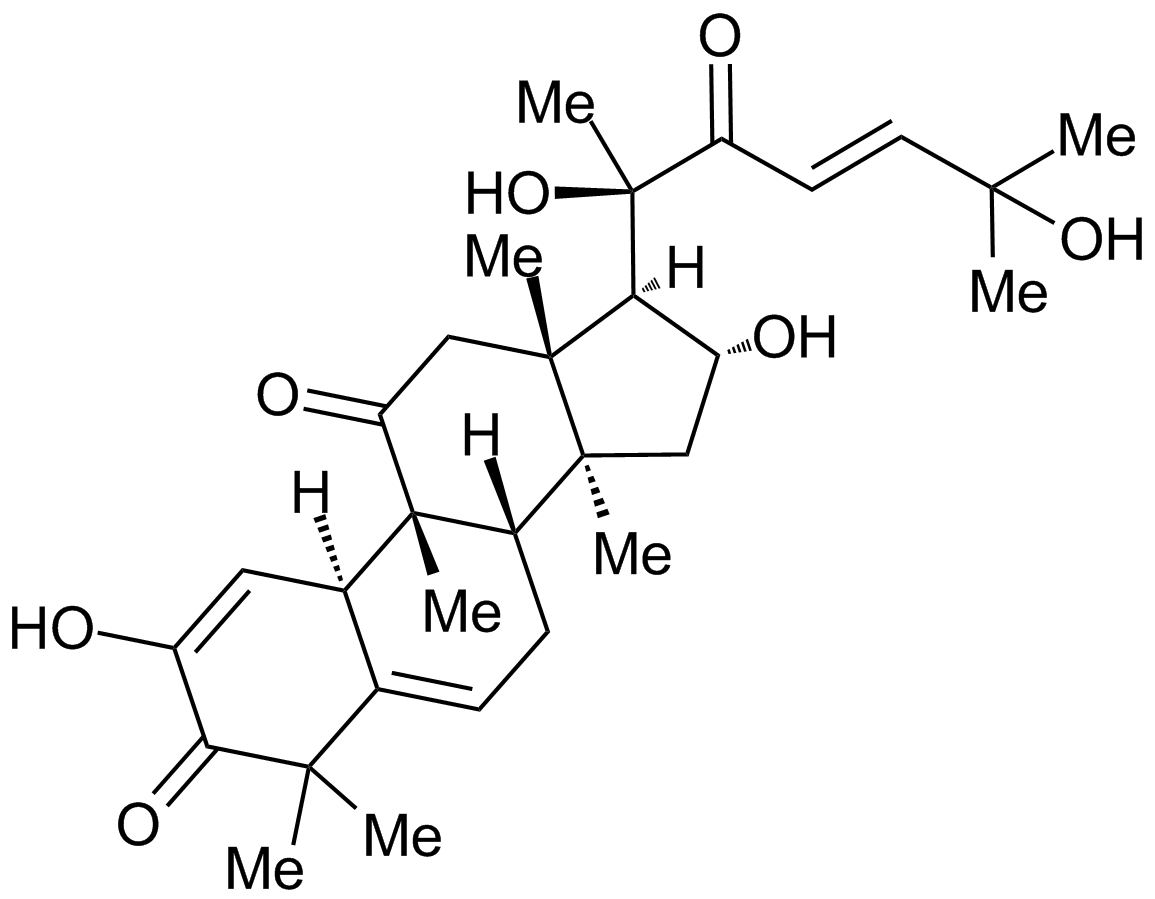 Chemical Properties
Cas No.
2222-07-3
SDF
Download SDF
Chemical Name
(8S,9R,10R,13R,14S,16R,17R)-17-[(E,2R)-2,6-dihydroxy-6-methyl-3-oxohept-4-en-2-yl]-2,16-dihydroxy-4,4,9,13,14-pentamethyl-8,10,12,15,16,17-hexahydro-7H-cyclopenta[a]phenanthrene-3,11-dione
Canonical SMILES
CC1(C2=CCC3C4(CC(C(C4(CC(=O)C3(C2C=C(C1=O)O)C)C)C(C)(C(=O)C=CC(C)(C)O)O)O)C)C
Formula
C30H42O7
M.Wt

514.65

Solubility
>22.45mg/mL in DMSO
Storage
Store at -20°C
General tips
For obtaining a higher solubility , please warm the tube at 37 ℃ and shake it in the ultrasonic bath for a while.Stock solution can be stored below -20℃ for several months.
Shipping Condition
Evaluation sample solution : ship with blue ice
All other available size: ship with RT , or blue ice upon request
Background
Cucurbitacin I is a selective inhibitor of JAK2/STAT3 signaling pathway with an IC50 value of 500 nM in A549 (a human lung adenocarcinoma cell line). It suppressed phosphotyrosine levels of STAT3, restrained STAT3 DNA binding and STAT3-mediated gene expression but had no effects on the activation of Src, Akt, ERK and JNK [1].
JAK/STAT3 signaling is well known for its vital role in the regulation of tumor cell proliferation, survival, invasion and immunosuppression. It promotes the development of various types of cancer in different manners [2].
Cucurbitacin I is often used to investigate the role of STAT3 in tumor development. It can induce apoptosis and block cell cycle progression of various cancer cells. In addition, Cucurbitacin I can decrease cell viability through inhibiting cell migration and invasion and enhancing chemosensitivity in the colon cancer cell line COLO205 [3].
Recent research has showed that it also has anti-angiogenic effects in human breast cancer cells [4]. In vivo, matrigel plug assay showed dramatic decrease in vascularization and hemoglobin content in the plugs from Cucurbitacin-I-treated mice, compared with control mice [5]. Therefore, Cucurbitacin I has potent anticancer effect on a variety of cancer cell types.
However, exposing glioblastoma multiforme cells to Cucurbitacin I could up-regulate beclin1 and trigger a protective autophagy against the apoptosis. Deletion of beclin 1 or treatment with the autophagy inhibitor sensitized cancer cells to Cucurbitacin I-induced apoptosis [6]. Thus the role of Cucurbitacin I in the regulation of autophagy requires for further research.
References:
Blaskovich MA, Sun J, Cantor A et al. Discovery of JSI-124 (cucurbitacin I), a selective Janus kinase/signal transducer and activator of transcription 3 signaling pathway inhibitor with potent antitumor activity against human and murine cancer cells in mice.Cancer Res. 2003 Mar 15;63(6):1270-9.
Yu H, Lee H, Herrmann A et al. Revisiting STAT3 signalling in cancer: new and unexpected biological functions.Nat Rev Cancer. 2014 Nov;14(11):736-46. doi: 10.1038/nrc3818.
Song J, Liu H, Li Z et al. Cucurbitacin I inhibits cell migration and invasion and enhances chemosensitivity in colon cancer. Oncol Rep. 2015 Apr;33(4):1867-71.
Qi J, Xia G, Huang CR et al. JSI-124 (Cucurbitacin I) inhibits tumor angiogenesis of human breast cancer through reduction of STAT3 phosphorylation. Am J Chin Med. 2015;43(2):337-47.
Kim HJ, Kim JK et al. Antiangiogenic effects of cucurbitacin-I. Arch Pharm Res. 2015 Feb;38(2):290-8.
Yuan G, Yan SF, Xue H et al. Cucurbitacin I induces protective autophagy in glioblastoma in vitro and in vivo. J Biol Chem. 2014 Apr 11;289(15):10607-19.