NMS-P715
MPS1 kinase inhibitor
Sample solution is provided at 25 µL, 10mM.
Publications citing ApexBio Products
Quality Control
Quality Control & MSDS
View current batch:
Chemical structure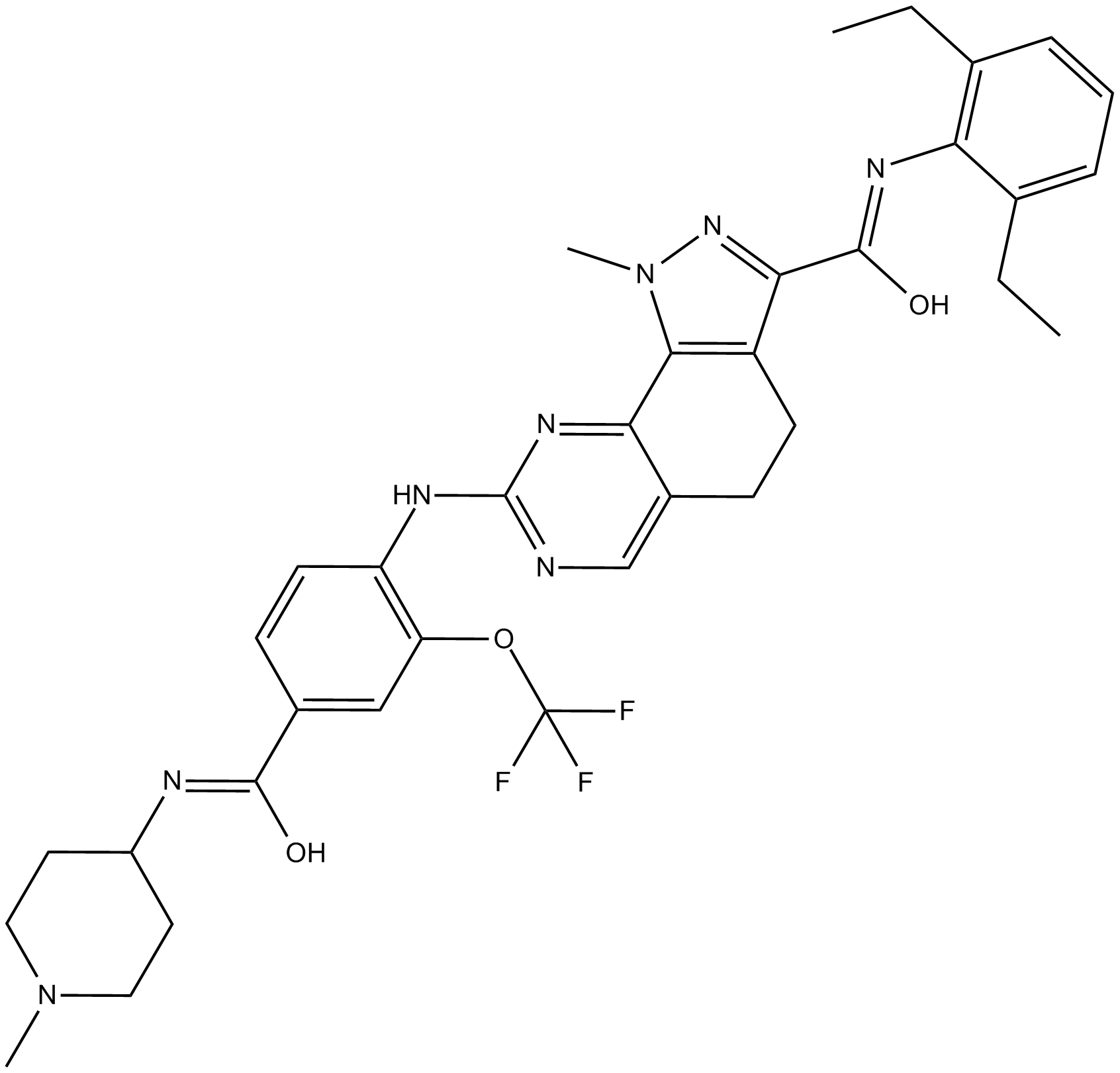 Chemical Properties
Cas No.
1202055-34-2
SDF
Download SDF
Chemical Name
(Z)-N-(2,6-diethylphenyl)-8-((4-((Z)-hydroxy((1-methylpiperidin-4-yl)imino)methyl)-2-(trifluoromethoxy)phenyl)amino)-1-methyl-4,5-dihydro-1H-pyrazolo[4,3-h]quinazoline-3-carbimidic acid
Canonical SMILES
CCC1=C(/N=C(O)/C(C2=C3C4=NC(NC5=C(OC(F)(F)F)C=C(/C(O)=N/C(CC6)CCN6C)C=C5)=NC=C4CC2)=NN3C)C(CC)=CC=C1
Formula
C35H39F3N8O3
M.Wt

676.73

Solubility
Soluble in DMSO
Storage
Store at -20°C
General tips
N/A
Shipping Condition
N/A
Background
NMS-P715 is a potent and selective inhibitor of MPS1 kinase with IC50 value of 8 nM [1].
Human monopolar spindle 1 (MPS1) kinase is a serine/threonine kinase that plays an important role in spindle assembly checkpoint (SAC) signaling by influencing the stability of the kinetochore-microtubule interaction and controlling chromosome alignment [1].
NMS-P715 is an orally available, selective and ATP-competitive MPS1 kinase inhibitor. In nocodazole-arrested U2OS cells, NMS-P715 promoted massive SAC override with EC50 value of
65 nM. In U2OS cells overexpressing YFP-α-tubulin, NMS-P715 induced mitotic acceleration and reduced mitotic cells. In nocodazole-arrested HeLa cells with MG132, NMS-P715 leads to complete delocalization of MAD1, MAD2, BUB1, BUB3 and Borealin and also reduced MPS1. In A2780 ovarian cancer cells, NMS-P715 reduced G1 phase, caused a flattening in G2/M phase of the cell cycle and subsequently induced apoptosis [1]. In human and murine pancreatic ductal adenocarcinoma (PDAC) cells, NMS-P715 inhibited cell growth [2]. In glioblastoma (GBM) cells, NMS-P715 increased the radiosensitivity of GBM cells by induction of post-radiation mitotic catastrophe and reduced repair of DNA double strand breaks (DSBs) [3].
In nude mice bearing human A2780 ovary carcinoma xenograft model, NMS-P715 (90 mg/kg for 7 days) inhibited tumor growth by 53%. In the A375 melanoma xenograft model, NMS-P715 (100 mg/kg for 10 days) inhibited tumor growth by 43% [1].
References:
[1]. Colombo R, Caldarelli M, Mennecozzi M, et al. Targeting the mitotic checkpoint for cancer therapy with NMS-P715, an inhibitor of MPS1 kinase. Cancer Res, 2010, 70(24): 10255-10264.
[2]. Slee RB, Grimes BR, Bansal R, et al. Selective inhibition of pancreatic ductal adenocarcinoma cell growth by the mitotic MPS1 kinase inhibitor NMS-P715. Mol Cancer Ther, 2014, 13(2): 307-315.
[3]. Maachani UB, Kramp T, Hanson R, et al. Targeting MPS1 Enhances Radiosensitization of Human Glioblastoma by Modulating DNA Repair Proteins. Mol Cancer Res, 2015, 13(5): 852-862.