Background
SB431542 is a selective ATP-competitive inhibitor of ALK5 (activin receptor-like kinase 5) with an IC50 value of 94 nM [1].
SB431542 showed most potent efficacy among the series of hits screened out. It inhibited TGF-β1-induced mRNA formation in A498 cells with IC50 value of 50 nM. It also markedly reduced TGF-β-induced nuclear accumulation of Smad proteins with IC50 value of 40 nM. SB431542 was found to be a selective inhibitor for ALK4, ALK5 and ALK7, suppresses the phosphorylation of Smad2. It showed no significant inhibition of ALK1, ALK2, ALK6 and showed weak effect on ALK3 at concentration of 10 μM [1, 2].
References:
[1] Callahan J F, Burgess J L, Fornwald J A, et al. Identification of novel inhibitors of the transforming growth factor β1 (TGF-β1) type 1 receptor (ALK5). Journal of medicinal chemistry, 2002, 45(5): 999-1001.
[2] Inman G J, Nicolás F J, Callahan J F, et al. SB-431542 is a potent and specific inhibitor of transforming growth factor-β superfamily type I activin receptor-like kinase (ALK) receptors ALK4, ALK5, and ALK7. Molecular pharmacology, 2002, 62(1): 65-74.
Product Citation
Chemical Properties
| | |
| --- | --- |
| Physical Appearance | A solid |
| Storage | Store at RT |
| M.Wt | 384.39 |
| Cas No. | 301836-41-9 |
| Formula | C22H16N4O3 |
| Solubility | insoluble in H2O; ≥10.06 mg/mL in EtOH with ultrasonic; ≥19.22 mg/mL in DMSO |
| Chemical Name | 4-[4-(1,3-benzodioxol-5-yl)-5-pyridin-2-yl-1H-imidazol-2-yl]benzamide |
| SDF | Download SDF |
| Canonical SMILES | C1OC2=C(O1)C=C(C=C2)C3=C(NC(=N3)C4=CC=C(C=C4)C(=O)N)C5=CC=CC=N5 |
| Shipping Condition | Evaluation sample solution: ship with blue ice. All other available sizes: ship with RT, or blue ice upon request. |
| General tips | For obtaining a higher solubility, please warm the tube at 37°C and shake it in the ultrasonic bath for a while. Stock solution can be stored below -20°C for several months. |
Protocol
Cell experiment: [1]

Cell lines

D54MG, U87MG and U373MG cells

Preparation method

The solubility of this compound in DMSO is >10 mM. General tips for obtaining a higher concentration: Please warm the tube at 37 °C for 10 minutes and/or shake it in the ultrasonic bath for a while.Stock solution can be stored below -20°C for several months.

Reaction Conditions

10 μM, 24 hours

Applications

SB-431542 at both 0.1 and 1μmol/L had a modest effect on DNA synthesis, but at 10 μmol/L, there was a consistent 60% to 70% reduction of thymidine incorporation for D54MG, U87MG, and U373MG cells. No evidence of apoptotic cell death on SB-431542 treatment was detected either by direct observation or on propidium iodide flow cytometric analysis. Thus, SB-431542 acts to inhibit the proliferation of the tested malignant glioma lines.

Animal experiment: [2]

Animal models

BALB/c mice injected with colon-26 cells

Dosage form

Intraperitoneal injection, 1 μM

Applications

Intraperitoneal injection of SB-431542 resulted in triggering CTL activities against colon-26 targets compared with vehicle alone. Moreover, the CTL activity against colon-26 cells was more potent when treated with SB combined a ligand for toll-like receptor 4, OK-432, compared with OK-432 alone. Thus, SB-431542 is likely to produce antitumor immunological outcomes through alteration of DC function suppressed by TGFß.

Other notes

Please test the solubility of all compounds indoor, and the actual solubility may slightly differ with the theoretical value. This is caused by an experimental system error and it is normal.

References:

[1] Hjelmeland M D, Hjelmeland A B, Sathornsumetee S, et al. SB-431542, a small molecule transforming growth factor-β-receptor antagonist, inhibits human glioma cell line proliferation and motility. Molecular Cancer Therapeutics, 2004, 3(6): 737-745.

[2] Tanaka H, Shinto O, Yashiro M, et al. Transforming growth factor b signaling inhibitor, SB-431542, induces maturation of dendritic cells and enhances anti-tumor activity. Oncology reports, 2010, 24: 1637-1643.
Biological Activity
Description
SB431542 is a potent and selective inhibitor of ALK5 with IC50 of 94 nM, 100-fold more selective for ALK5 than p38 MAPK and other kinases.
Targets
ALK5
IC50
94 nM
Quality Control
Quality Control & MSDS
View current batch:
Chemical structure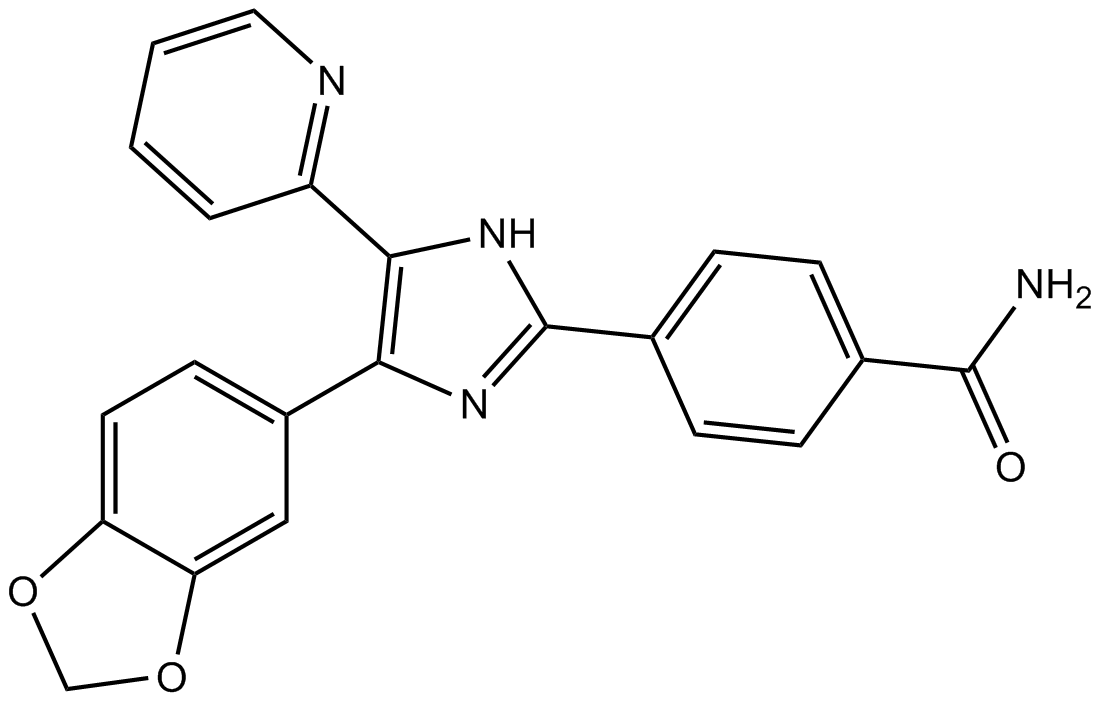 Related Biological Data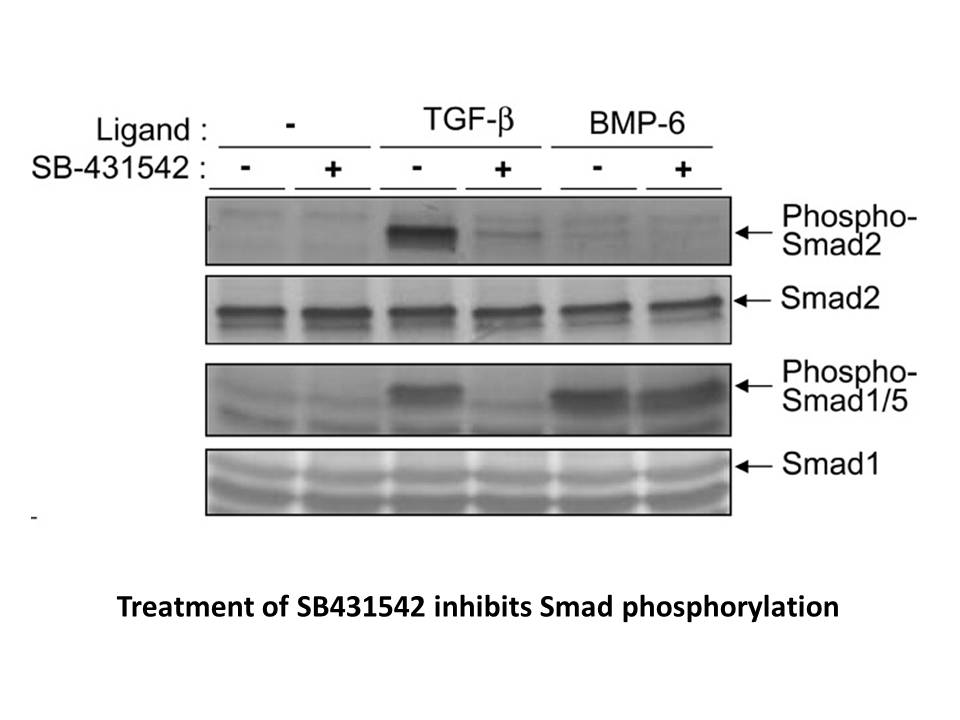 Related Biological Data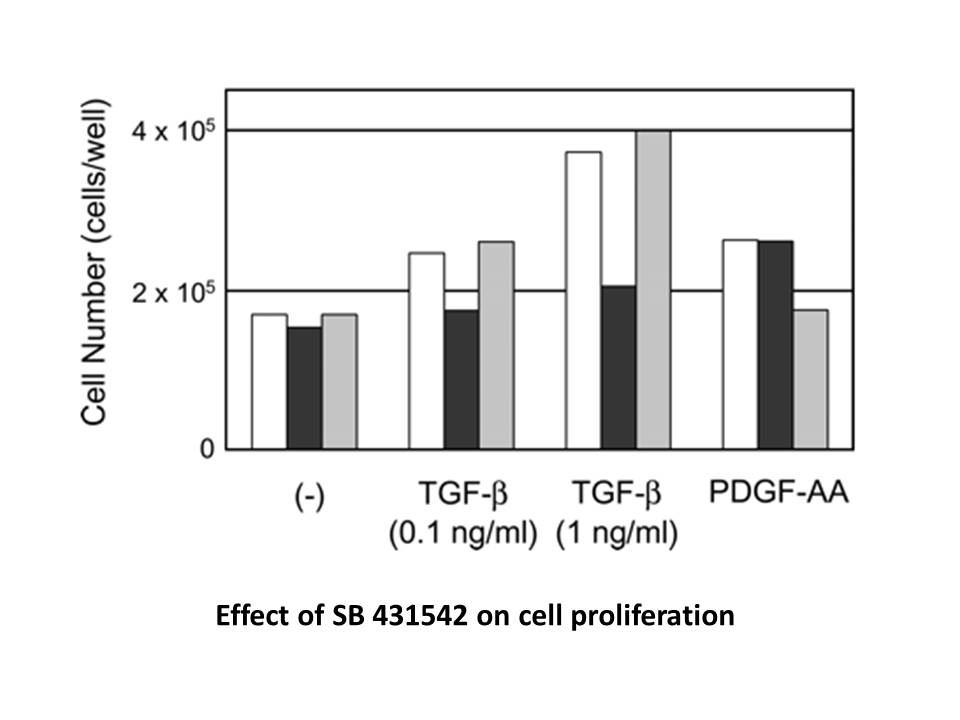 Related Biological Data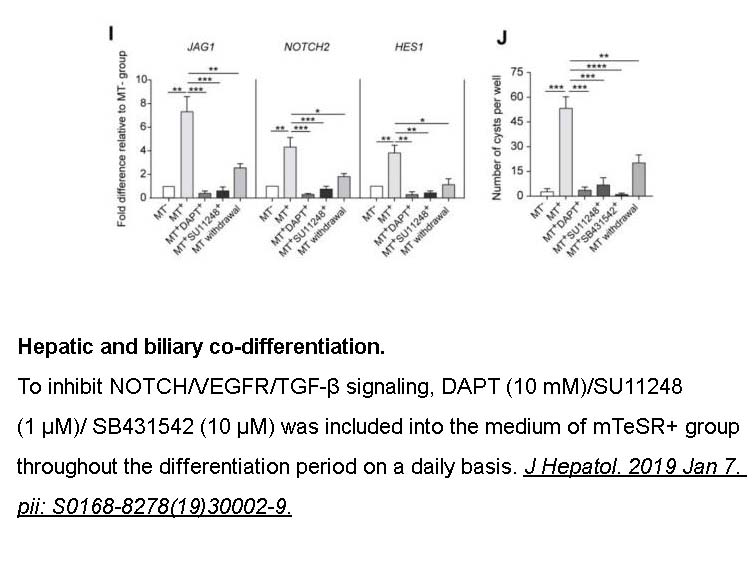 Related Biological Data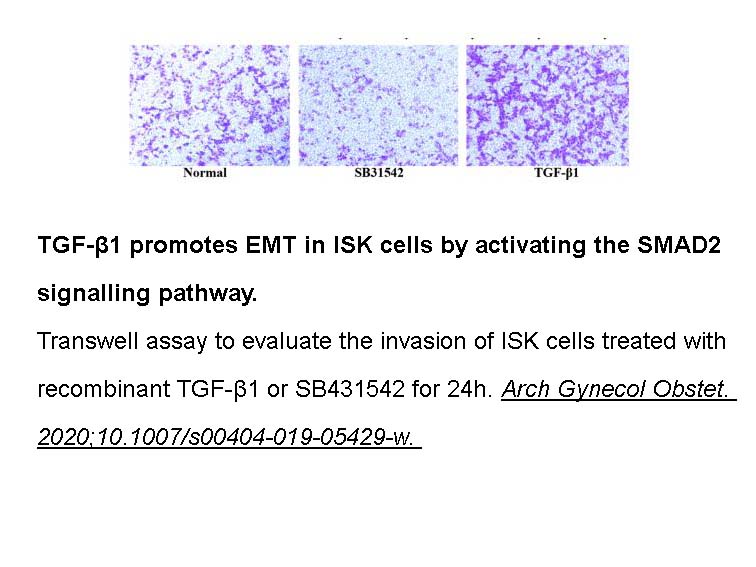 Related Biological Data