Rhodopsin peptide
Pigment in retina photoreceptor cell;GPCR
Sample solution is provided at 25 µL, 10mM.
Publications citing ApexBio Products
Quality Control
Quality Control & MSDS
View current batch:
Chemical structure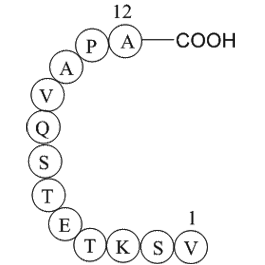 Chemical Properties
Cas No.
SDF
Download SDF
Synonyms
H2N-Val-Ser-Lys-Thr-Glu-Thr-Ser-Gln-Val-Ala-Pro-Ala-OH
Canonical SMILES
CC(C)C(N)C(NC(CO)C(NC(CCCCN)C(NC(C(O)C)C(NC(CCC(O)=O)C(NC(C(O)C)C(NC(CO)C(NC(C(NC(C(C)C)C(NC(C)C(N1C(C(NC(C)C(O)=O)=O)CCC1)=O)=O)=O)CCC(N)=O)=O)=O)=O)=O)=O)=O)=O
Formula
C51H88N14O20
M.Wt

1217.33

Solubility
Storage
Store at -20°C
General tips
N/A
Shipping Condition
N/A
Background
Rhodopsin peptide,(C51H88N14O20), a peptide with the sequence H2N-Val-Ser-Lys-Thr-Glu-Thr-Ser-Gln-Val-Ala-Pro-Ala-OH, MW= 1217.33. Rhodopsin, also known as visual purple, is a biological pigment in photoreceptor cells of the retina that is responsible for the first events in the perception of light. Rhodopsins belong to the G-protein-coupled receptor family and are extremely sensitive to light(1). Mutation of the rhodopsin gene is a major contributor to various retinopathies such as retinitis pigmentosa. In general, the disease-causing protein aggregates with ubiquitin in inclusion bodies, disrupts the intermediate filament network, and impairs the ability of the cell to degrade non-functioning proteins, which leads to photoreceptor apoptosis(2). Other mutations on rhodopsin lead to X-linked congenital stationary night blindness, mainly due to constitutive activation, when the mutations occur around the chromophore binding pocket of rhodopsin. Several other pathological states relating to rhodopsin have been discovered including poor post-Golgi trafficking, dysregulative activation, rod outer segment instability and arrestin binding(3).
Figure1 structure of Rhodopsin
Figure2 The Cycle of the principal changes undergone by rhodopsin
Ref:
1. Litmann BJ, Mitchell DC (1996). "Rhodopsin structure and function". In Lee AG. Rhodopsin and G-Protein Linked Receptors, Part A (Vol 2, 1996) (2 Vol Set).Greenwich,Conn: JAI Press. pp. 1–32.
2. Saliba RS, Munro PM, Luthert PJ, Cheetham ME (15 July 2002). "The cellular fate of mutant rhodopsin: quality control, degradation and aggresome formation". J. Cell. Sci. 115 (Pt 14): 2907–18.
3. Mendes HF, van der Spuy J, Chapple JP, Cheetham ME (April 2005). "Mechanisms of cell death in rhodopsin retinitis pigmentosa: implications for therapy". Trends Mol Med 11 (4): 177–85.