Epidermal growth factor receptor (994-1002) acetyl/amide
EGF-family receptor
Sample solution is provided at 25 µL, 10mM.
Publications citing ApexBio Products
Quality Control
Quality Control & MSDS
View current batch:
Chemical structure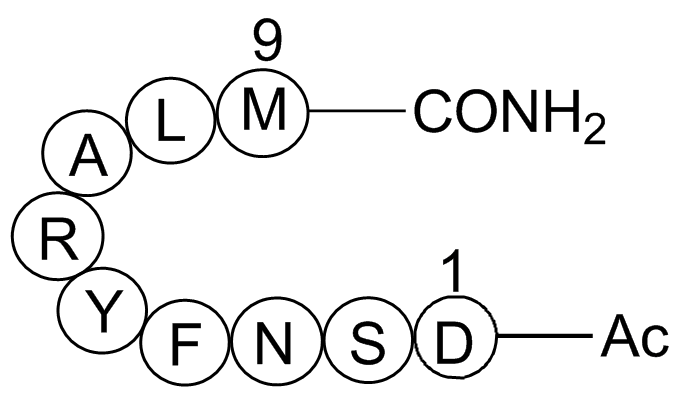 Chemical Properties
Cas No.
SDF
Download SDF
Synonyms
Ac-Asp-Ser-Asn-Phe-Tyr-Arg-Ala-Leu-Met-amide
Canonical SMILES
OC(CC(NC(C)=O)C(NC(CO)C(NC(CC(N)=O)C(NC(CC1=CC=CC=C1)C(NC(CC2=CC=C(O)C=C2)C(NC(CCCNC(N)=N)C(NC(C)C(NC(CC(C)C)C(NC(CCSC)C(N)=O)=O)=O)=O)=O)=O)=O)=O)=O)=O
Formula
C51H76N14O15S
M.Wt

1157.3

Solubility
>115.7mg/mL in DMSO
Storage
Store at -20°C
General tips
N/A
Shipping Condition
N/A
Background
The epidermal growth factor receptor (EGFR; ErbB-1; HER1 inhumans) is the cell-surface receptor for members of the epidermal growth factor family (EGF-family) of extracellular protein ligands(1). EGFR (epidermal growth factor receptor) exists on the cell surface and is activated by binding of its specific ligands, including epidermal growth factor and transforming growth factor α (TGFα). Mutations that lead to EGFR overexpression (known as upregulation) or overactivity have been associated with a number of cancers, including lung cancer, anal cancers and glioblastoma multiforme(2). In this latter case a more or less specific mutation of EGFR, called EGFRvIII is often observed. Mutations, amplifications or misregulations of EGFR or family members are implicated in about 30% of all epithelial cancers. Mutations involving EGFR could lead to its constant activation, which could result in uncontrolled cell division – a predisposition for cancer. Consequently, mutations of EGFR have been identified in several types of cancer, and it is the target of an expanding class of anticancer therapies(3).
Figure1 the structures of Epidermal growth factor receptor
Figure2 EGF signaling pathways
Ref:
1. Herbst RS (2004). "Review of epidermal growth factor receptor biology". Int. J. Radiat. Oncol. Biol. Phys. 59 (2 Suppl): 21–6.
2. Walker F, Abramowitz L, Benabderrahmane D, Duval X, Descatoire V, Hénin D, Lehy T, Aparicio T (November 2009). "Growth factor receptor expression in anal squamous lesions: modifications associated with oncogenic human papillomavirus and human immunodeficiency virus". Hum. Pathol. 40 (11): 1517–27.
3. Zhang H, Berezov A, Wang Q, Zhang G, Drebin J, Murali R, Greene MI (August 2007). "ErbB receptors: from oncogenes to targeted cancer therapies". J. Clin. Invest. 117 (8): 2051–8.