AZD-5438
Potent CDK1/2/9 inhibitor
Sample solution is provided at 25 µL, 10mM.
Publications citing ApexBio Products
Related Compound Libraries
Quality Control
Quality Control & MSDS
View current batch:
Chemical structure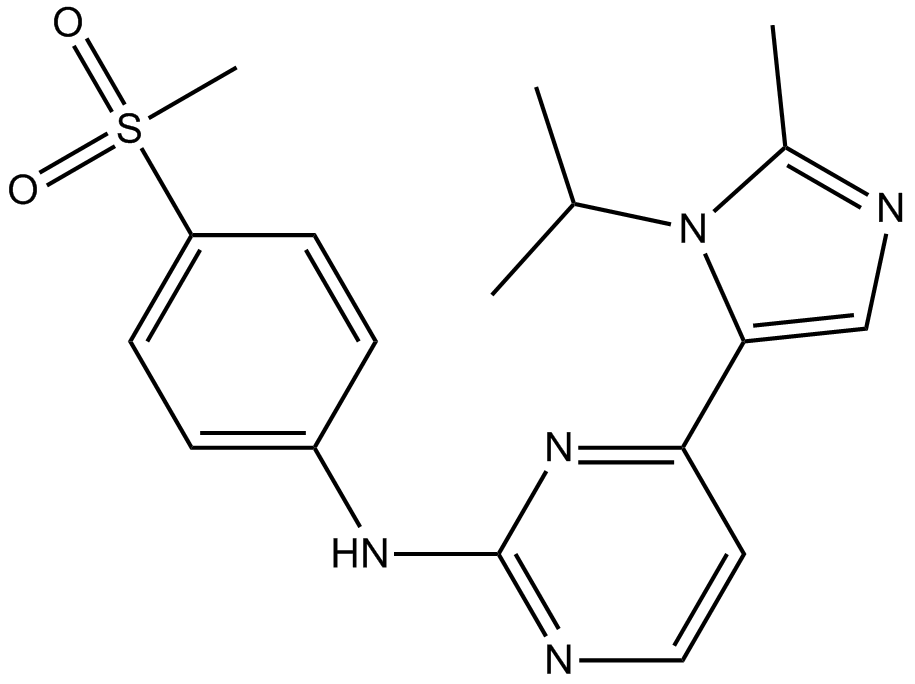 Related Biological Data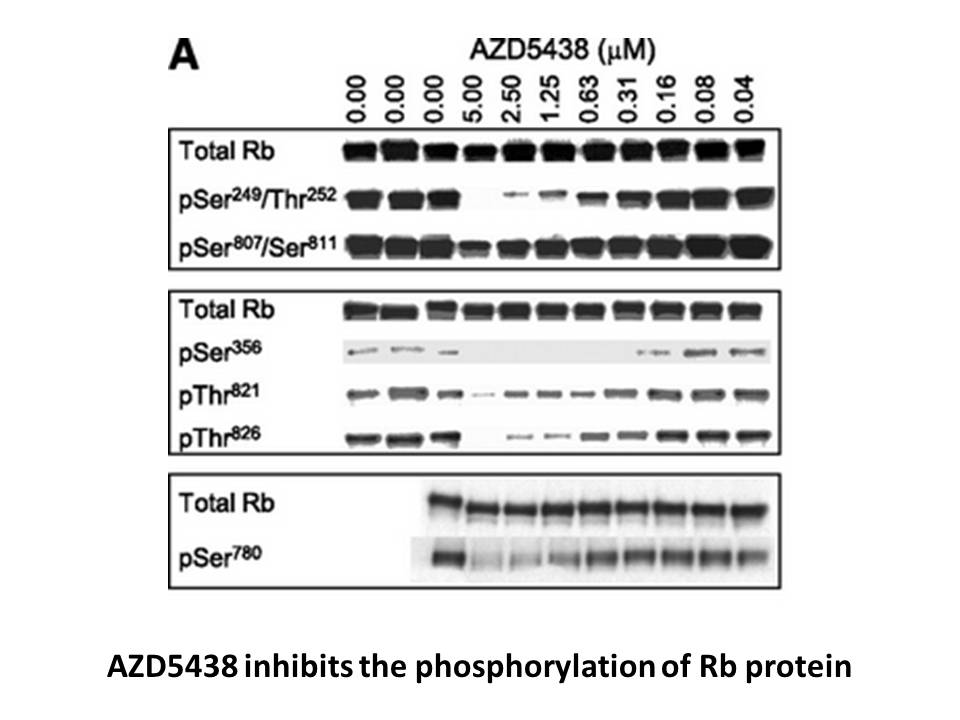 Related Biological Data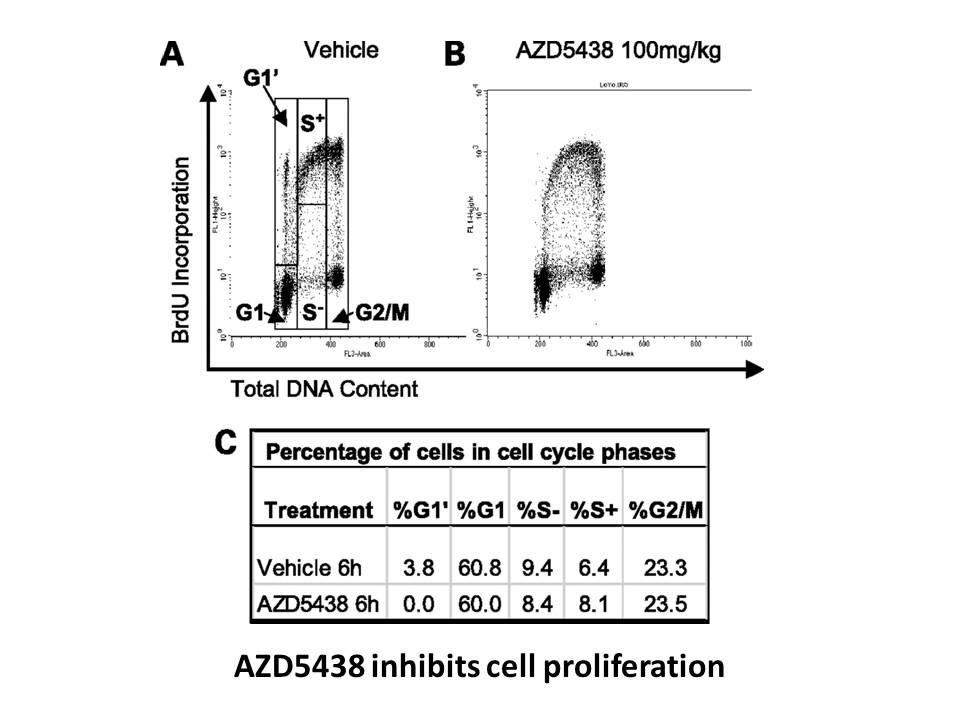 Biological Activity
Description
AZD5438 is a potent inhibitor of CDK1/2/9 with IC50 of 16 nM/6 nM/20 nM.
Targets
CDK1
CDK2
CDK9
IC50
16 nM
6 nM
20 nM
Protocol
Cell experiment [1]:

Cell lines

MCF-7 breast cancer cells,

Preparation method

The solubility of this compound in DMSO is >18.6mg/mL. General tips for obtaining a higher concentration: Please warm the tube at 37 ℃ for 10 minutes and/or shake it in the ultrasonic bath for a while. Stock solution can be stored below -20℃ for several months.

Reacting condition

48 h

Applications

AZD5438 induced cell cycle arrest by inhibiting phosphorylation of cdk-dependent substrates, and exhibited the broad antiproliferative activity against asynchronous LoVo, MCF-7 and SW620 tumor cell lines. AZD5438 showed antiproliferative in a range of tumor cell lines including lung, colorectal, breast, prostate, and hematologic tumors with IC50 ranging from 0.2 μM (MCF-7) to 1.7 μM (ARH-77).

Animal experiment [1]:

Animal models

Female nude mice bearing established BT474c, Colo-205, HX147, PC-3, and SW620 human tumor xenografts

Dosage form

Oral gavage, 37.5–75 mg/kg, once or twice daily for 3 wk

Application

In vivo, oral treatment of AZD5438 significantly inhibited the growth of human tumor xenografts derived from a wide range of different cancer types including breast, colon, lung, prostate, and ovarian with maximum TGI ranging from 38% to 153%. In the SW620 xenograft model, AZD5438 inhibited several cell cycle proteins such as, phH3, phosphonucleolin, PP1a, and several phospho-pRb epitopes in a dose-dependent manner.

Other notes

Please test the solubility of all compounds indoor, and the actual solubility may slightly differ with the theoretical value. This is caused by an experimental system error and it is normal.

References:

[1]. Byth K F, Thomas A, Hughes G, et al. AZD5438, a potent oral inhibitor of cyclin-dependent kinases 1, 2, and 9, leads to pharmacodynamic changes and potent antitumor effects in human tumor xenografts[J]. Molecular cancer therapeutics, 2009, 8(7): 1856-1866.
Chemical Properties
Cas No.
602306-29-6
SDF
Download SDF
Synonyms
AZD 5438;AZD5438
Chemical Name
4-(2-methyl-3-propan-2-ylimidazol-4-yl)-N-(4-methylsulfonylphenyl)pyrimidin-2-amine
Canonical SMILES
CC1=NC=C(N1C(C)C)C2=NC(=NC=C2)NC3=CC=C(C=C3)S(=O)(=O)C
Formula
C18H21N5O2S
M.Wt

371.46

Solubility
>18.6mg/mL in DMSO
Storage
Store at -20°C
General tips
N/A
Shipping Condition
N/A
View Related Products By Research Topics
Background
AZD5438 is a potent small molecule inhibitor of cyclin-dependent kinase (CDK) 1, 2 and 9 with half maximal inhibitory concentration IC50 of 16 nmol/L, 6 nmol/L and 20 nmol/L respectively. AZD5438 has also been found to potently inhibit the human cyclin E/CDK2 complex, the cyclin B1/CDK1 complex and the cyclin A/CDK2 complex with IC50 of 0.006 μM, 0.016 μM and 0.045 μM respectively. In previous studies, AZD5438 has exhibited significant anti-proliferative activity in a few human tumor cell lines with IC50 ranging from 0.2 μmol/L to 1.7 μmol/L, in which the phosphorylation of a few proteins, including CDK substrates pRb, nucleolin, protein phosphatase 1a and RNA polymerase II COOH-terminal domain, and cell cycling at G2-M, S and G1 phases were inhibited.
References:
[1]Camidge DR1, Smethurst D, Growcott J, Barrass NC, Foster JR, Febbraro S, Swaisland H, Hughes A. A first-in-man phase I tolerability and pharmacokinetic study of the cyclin-dependent kinase-inhibitor AZD5438 in healthy male volunteers. Cancer Chemother Pharmacol. 2007 Aug;60(3):391-8. Epub 2006 Nov 18.
[2]Byth KF, Thomas A, Hughes G, Forder C, McGregor A, Geh C, Oakes S, Green C, Walker M, Newcombe N, Green S, Growcott J, Barker A, Wilkinson RW. AZD5438, a potent oral inhibitor of cyclin-dependent kinases 1, 2, and 9, leads to pharmacodynamic changes and potent antitumor effects in human tumor xenografts. Mol Cancer Ther. 2009 Jul;8(7):1856-66. doi: 10.1158/1535-7163.MCT-08-0836. Epub 2009 Jun 9.