Background
TDZD-8 is an inhibitor of glycogen synthase kinase-3β (GSK-3β) with IC50 value of 1.4μM [1].
TDZD-8 is a potent inhibitor of GSK-3β. It is found to act as a noncompetitive inhibitor of ATP binding. TDZD-8 is selective against GSK-3β over other protein kinases including PKA, casein kinase II and cyclin dependent kinase 1 (Cdk-1/cyclin B). However, it is also reported that TDZD-8 can inhibit the protein kinase C isoforms PKCβI and PKCδ with IC50 values of 1.4μM and 1.1μM, respectively [1, 2].
In cellular assay, TDZD-8 is found to decrease PDT-induced necrosis of neurons and decrease PDT-induced apoptosis of glial cells through inhibiting GSK-3β as well as PKC. Besides that, TDZD-8 also has anti-leukemia activity in many primary human leukemia cells. It is probably due to its inhibition of PKC and FLT3 [3].
References:
[1] Komandirov M A, Knyazeva E A, Fedorenko Y P, et al. On the role of phosphatidylinositol 3-kinase, protein kinase b/Akt, and glycogen synthase kinase-3β in photodynamic injury of crayfish neurons and glial cells. Journal of Molecular Neuroscience, 2011, 45(2): 229-235.
[2] Martinez A, Alonso M, Castro A, et al. First non-ATP competitive glycogen synthase kinase 3 β (GSK-3β) inhibitors: thiadiazolidinones (TDZD) as potential drugs for the treatment of Alzheimer's disease. Journal of medicinal chemistry, 2002, 45(6): 1292-1299.
[3] Guzman M L, Li X, Corbett C A, et al. Rapid and selective death of leukemia stem and progenitor cells induced by the compound 4-benzyl, 2-methyl, 1, 2, 4-thiadiazolidine, 3, 5 dione (TDZD-8). Blood, 2007, 110(13): 4436-4444.

Chemical Properties
| | |
| --- | --- |
| Physical Appearance | A solid |
| Storage | Store at -20°C |
| M.Wt | 222.26 |
| Cas No. | 327036-89-5 |
| Formula | C10H10N2O2S |
| Solubility | insoluble in H2O; ≥11.1 mg/mL in DMSO; ≥36.45 mg/mL in EtOH with ultrasonic |
| Chemical Name | 4-benzyl-2-methyl-1,2,4-thiadiazolidine-3,5-dione |
| SDF | Download SDF |
| Canonical SMILES | CN1C(=O)N(C(=O)S1)CC2=CC=CC=C2 |
| Shipping Condition | Evaluation sample solution: ship with blue ice. All other available sizes: ship with RT, or blue ice upon request. |
| General tips | For obtaining a higher solubility, please warm the tube at 37°C and shake it in the ultrasonic bath for a while. Stock solution can be stored below -20°C for several months. |
Quality Control
Quality Control & MSDS
View current batch:
Chemical structure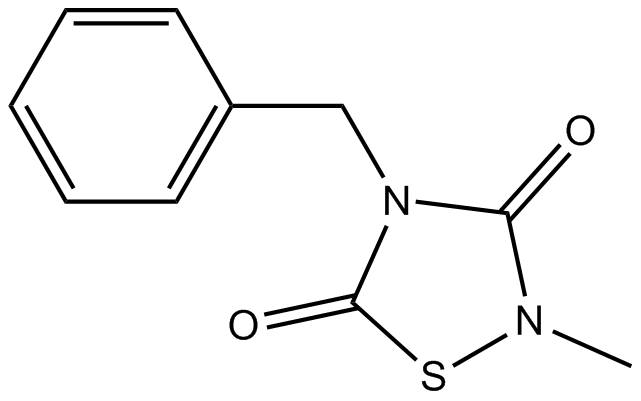 Related Biological Data