PF-05212384 (PKI-587)
PI3Kα, PI3Kγ and mTOR inhibitor
Sample solution is provided at 25 µL, 10mM.
Publications citing ApexBio Products
Related Compound Libraries
Quality Control
Quality Control & MSDS
View current batch:
Chemical structure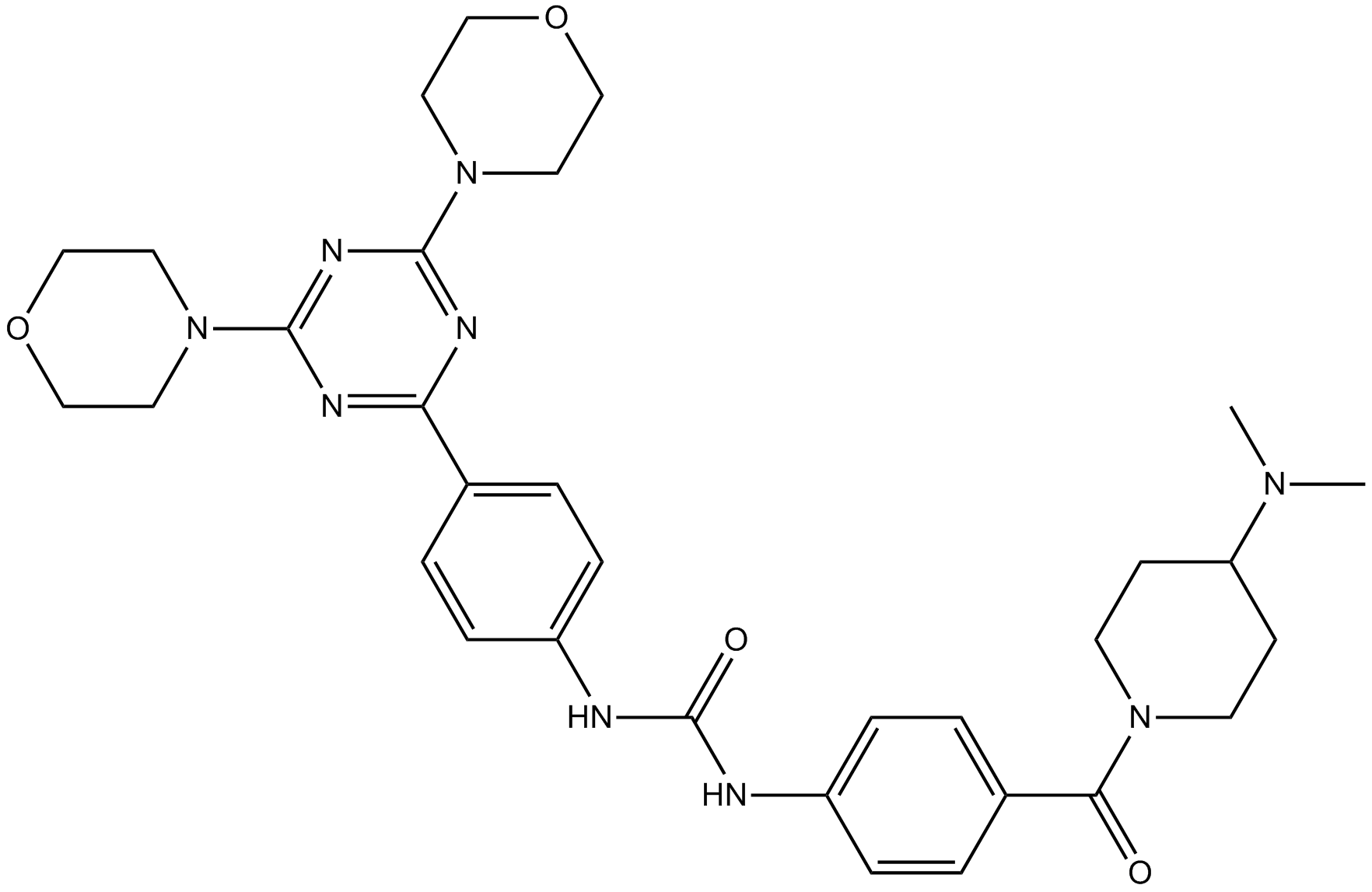 Biological Activity
Description
PF-05212384 (PKI-587) is a highly potent dual inhibitor of PI3Kα, PI3Kγ and mTOR with IC50 values of 0.4 nM, 5.4 nM and 1.6 nM, respectively.
Targets
PI3Kα
mTOR
PI3Kγ
IC50
0.4 nM
1.6 nM
5.4 nM
Chemical Properties
Cas No.
1197160-78-3
SDF
Download SDF
Chemical Name
1-[4-[4-(dimethylamino)piperidine-1-carbonyl]phenyl]-3-[4-(4,6-dimorpholin-4-yl-1,3,5-triazin-2-yl)phenyl]urea
Canonical SMILES
CN(C)C1CCN(CC1)C(=O)C2=CC=C(C=C2)NC(=O)NC3=CC=C(C=C3)C4=NC(=NC(=N4)N5CCOCC5)N6CCOCC6
Formula
C32H41N9O4
M.Wt

615.73

Solubility
Limited solubility
Storage
Store at -20°C
General tips
N/A
Shipping Condition
N/A
Background
PF-05212384 is an inhibitor of PI3K/mTOR with IC50 values of 0.4nM, 6nM, 8nM, 6nM and 1.4nM for PI3Kα, PI3Kβ, PI3Kγ, PI3Kδ and mTOR, respectively [1].
PF-05212384 is a pan-PI3K/mTORinhibitor and shows to be highly selective for PI3K and mTOR. Besides the wt P13K, PF-05212384 can also inhibit mutant P13K with IC50 values of 0.6nM for both H1047R and E545K mutants. In cellular assay, PF-05212384 potently inhibits tumor growth in MDA-361 and PC3-MM2 cell lines with IC50 values of 4nM and 13.1nM, respectively. Meanwhile, PF-05212384 suppresses the phosphorylation of PI3K/mTOR signaling pathway proteins in cells. It inhibits the phosphorylation of Akt as well as the Akt effector proteins including GSK3 kinase, ENOS and PRAS 40. Moreover, PF-05212384 has potent anti-tumor activity in a variety of xenograft models including H1975, BT474, HCT116, H1975 and U87MG [1, 2]
References:
[1] Venkatesan A M, Dehnhardt C M, Delos Santos E, et al. Bis (morpholino-1, 3, 5-triazine) derivatives: potent adenosine 5′-triphosphate competitive phosphatidylinositol-3-kinase/mammalian target of rapamycin inhibitors: discovery of compound 26 (PKI-587), a highly efficacious dual inhibitor. Journal of medicinal chemistry, 2010, 53(6): 2636-2645.
[2] Mallon R, Feldberg L R, Lucas J, et al. Antitumor efficacy of PKI-587, a highly potent dual PI3K/mTOR kinase inhibitor. Clinical Cancer Research, 2011, 17(10): 3193-3203.