Histone-H2A-(107-122)-Ac-OH
Histone-H2A peptide
Sample solution is provided at 25 µL, 10mM.
Publications citing ApexBio Products
Quality Control
Quality Control & MSDS
View current batch:
Chemical structure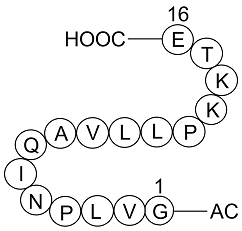 Chemical Properties
Cas No.
SDF
Download SDF
Synonyms
Ac-Gly-Val-Leu-Pro-Asn-Ile-Gln-Ala-Val-Leu-Leu-Pro-Lys-Lys-Thr-Glu-OH
Canonical SMILES
CC(NCC(NC(C(C)C)C(NC(CC(C)C)C(N1C(C(NC(CC(N)=O)C(NC(C(CC)C)C(NC(CCC(N)=O)C(NC(C)C(NC(C(NC(CC(C)C)C(NC(CC(C)C)C(N2C(C(NC(CCCCN)C(NC(CCCCN)C(NC(C(C)O)C(NC(C(O)=O)CCC(O)=O)=O)=O)=O)=O)CCC2)=O)=O)=O)C(C)C)=O)=O)=O)=O)=O)CCC1)=O)=O)=O)=O
Formula
C81H140N20O23
M.Wt

1762.1

Solubility
>176.2mg/mL in DMSO
Storage
Store at -20°C
Shipping Condition
Evaluation sample solution : ship with blue ice.All other available size: ship with RT , or blue ice upon request
General tips
For obtaining a higher solubility , please warm the tube at 37 ℃ and shake it in the ultrasonic bath for a while.Stock solution can be stored below -20℃ for several months.
Background
Histone-H2A-(107-122)-Ac-OH, (C81H140N20O23), a peptide with the sequence Ac-Gly-Val-Leu-Pro-Asn-Ile-Gln-Ala-Val-Leu-Leu-Pro-Lys-Lys-Thr-Glu-OH, MW= 1762.1. Histone H2Ais one of the five main histone proteins involved in the structure of chromatin in eukaryotic cells. Histones are proteins that package DNA into nucleosomes(1). Histones are responsible for maintaining the shape and structure of a nucleosome. One chromatin molecule is composed of at least one of each core histones per 100 base pairs of DNA. There are five families of histones known to date; these histones are termed H1/H5, H2A, H2B, H3, and H4(2).H2A is important for packaging DNA into chromatin. Since H2A packages DNA molecules into chromatin, the packaging process will effect gene expression.H2A has been correlated with DNA modification and epigenetics. H2A plays a major role in determining the overall structure of chromatin. Inadvertently, H2A has been found to regulate gene expression(3). DNA modification by H2A occurs in the cell nucleus. Proteins responsible for nuclear import of H2A protein are karyopherin and importin. Recent studies also show that nucleosome assembly protein 1 is also used to transport of H2A into the nucleus so it can wrap DNA. Other functions of H2A have been seen in the histone variant H2A.Z. This variant is associated with gene activation, silencing and suppression of antisense RNA. In addition, when H2A.Z was studied in human and yeast cells, it was used to promote RNA polymerase II recruitment(4).
Figure1 the structures of Histone-H2A
Figure 2 Schematics of Histone-H2A abundance and chromatin composition
Ref:
1. Youngson, Robert M. (2006).Collins Dictionary of Human Biology.Glasgow: HarperCollins.
2. Khorasanizadeh, Sepideh. 2004. The Nucleosome: From Genomic Organization to Genomic Regulation. Department of Biochemistry and Molecular Genetics,UniversityofVirginia HealthSystem. Cellular Biology. Volume 116, Issue 2, , Pages 259–272.
3. Marino-Ramirez L, Jordan IK, Landsman D. Multiple independent evolutionary solutions to core histone gene regulation. Genome Biol. 2006;7:R12
4. Marino-Ramirez L, Levine KM, Morales M, Zhang S, Moreland. RT, Baxevanis AD, Landsman D (2011) The histone database: an integrated resource for histones and histone fold-containing proteins. Database (Oxford) bar048