PLX647
dual inhibitor of FMS and KIT kinases
Sample solution is provided at 25 µL, 10mM.
Publications citing ApexBio Products
Related Compound Libraries
Quality Control
Quality Control & MSDS
View current batch:
Chemical structure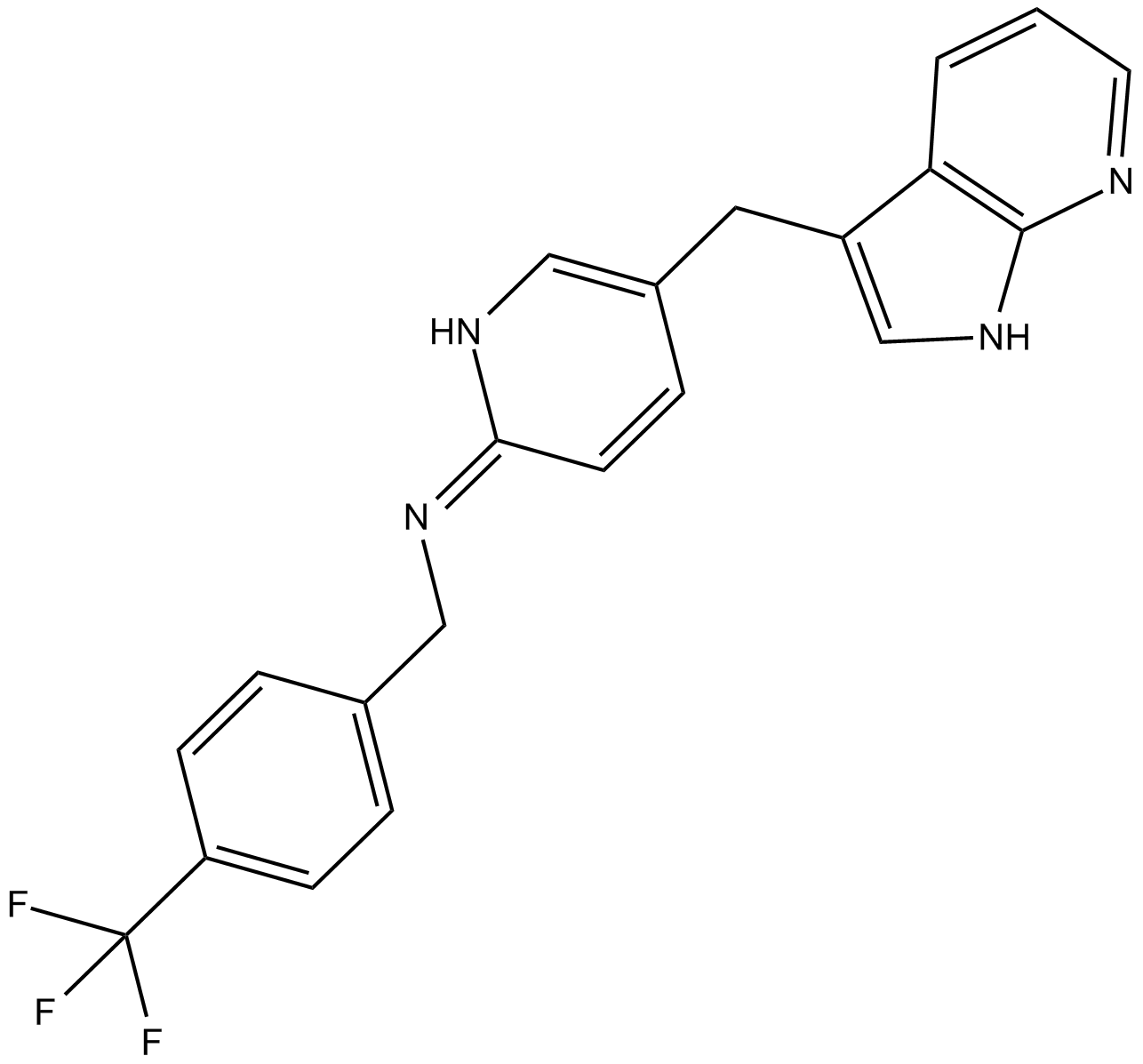 Chemical Properties
Cas No.
873786-09-5
SDF
Download SDF
Chemical Name
(E)-N-(5-((1H-pyrrolo[2,3-b]pyridin-3-yl)methyl)pyridin-2(1H)-ylidene)-1-(4-(trifluoromethyl)phenyl)methanamine
Canonical SMILES
FC(F)(F)C1=CC=C(C/N=C2C=CC(CC3=CNC4=C3C=CC=N4)=CN\2)C=C1
Formula
C21H17F3N4
M.Wt

382.38

Solubility
>19.1mg/mL in DMSO
Storage
Store at -20°C
General tips
N/A
Shipping Condition
N/A
Background
PLX647 is a potent and specific dual inhibitor of FMS and KIT kinases with IC50 values of 28 and 16 nM, respectively [1].
McDonough feline sarcoma viral (v-fms) oncogene homolog (FMS, also known as CSF1R) is a member of the platelet-derived growth factor receptor (PDGFR) family. Macrophage colony-stimulating factor (M-CSF or CSF-1) and interleukin 34 are two known FMS ligands. FMS plays important roles in regulating the survival, proliferation, and differentiation of monocyte/macrophage lineages. The stem cell factor (SCF) receptor v-kit Hardy-Zuckerman 4 feline sarcoma viral oncogene homolog (KIT) is also a member of the PDGFR family. Mutational activation of KIT occurs in many cancers [1].
PLX647 is a potent and specific dual inhibitor of FMS and KIT kinases. PLX647 showed aqueous solubility of 14 μM. PLX647 bound to the autoinhibited state of the KIT kinase with the juxtamembrane domain and prevented the activation loop from adopting the DFG-in conformation. In Ba/F3 cells expressing breakpoint cluster region activated kinase (BCR)-FMS and BCR-KIT, PLX647 inhibited cell proliferation with IC50 values of 0.092 and 0.18 μM. Also, PLX647 inhibited osteoclast differentiation with IC50 value of 0.17 μM [1].
In mice, PLX647 (40 mg/kg) significantly reduced LPS-induced TNF-α and IL-6 release by 85% and 75%, respectively. In an acute renal inflammation mouse model, PLX647 (40 mg/kg twice daily) reduced the levels of F4/80+ macrophages by 77% [1].
Reference:
[1]. Zhang C, Ibrahim PN, Zhang J, et al. Design and pharmacology of a highly specific dual FMS and KIT kinase inhibitor. Proc Natl Acad Sci U S A, 2013, 110(14): 5689-5694.