LB42708
Selective FTase inhibitor
Sample solution is provided at 25 µL, 10mM.
Publications citing ApexBio Products
Related Compound Libraries
Quality Control
Quality Control & MSDS
View current batch:
Chemical structure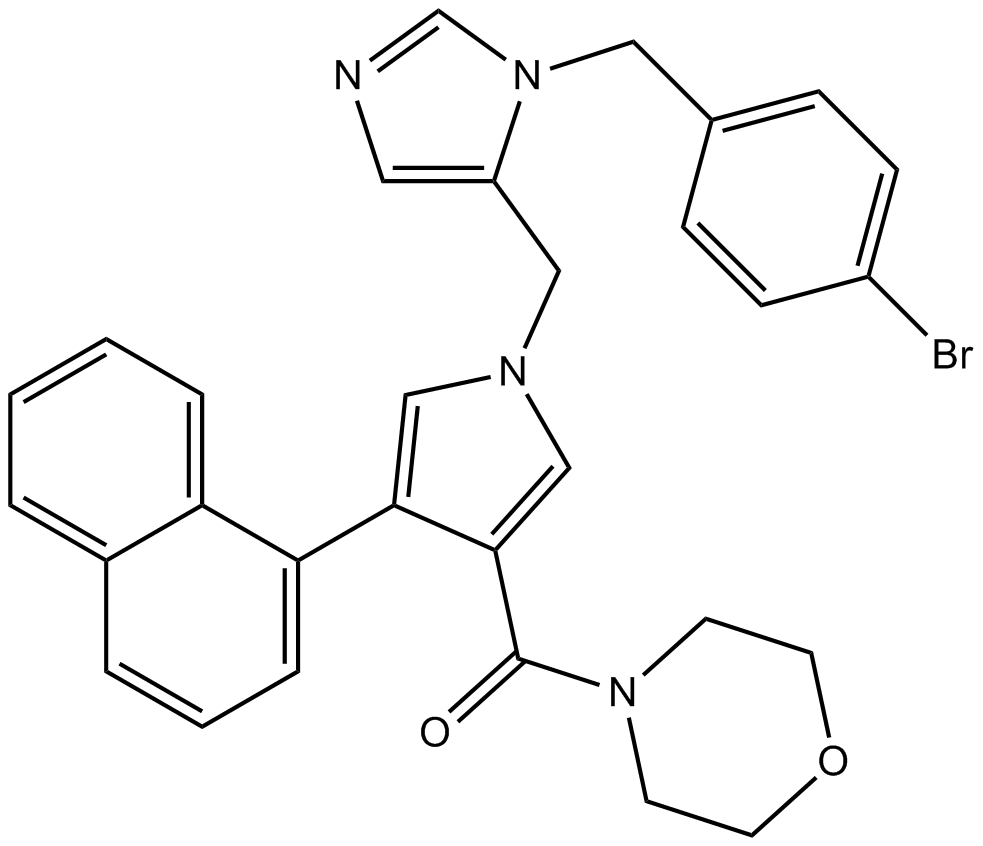 Biological Activity
Description
LB42708 is a selective inhibitor of farnesyltransferase (FTase) with IC50 values of 0.8, 1.2 and 2.0 nM for H-Ras, N-Ras and K-Ras4B, respectively.
Targets
FTase
Ftase
Ftase
IC50
0.8 nM (H-Ras)
1.2 nM (N-Ras)
2 nM (K-Ras4B)
Chemical Properties
Cas No.
226929-39-1
SDF
Download SDF
Canonical SMILES
C1COCCN1C(=O)C2=CN(C=C2C3=CC=CC4=CC=CC=C43)CC5=CN=CN5CC6=CC=C(C=C6)Br
Formula
C30H27BrN4O2
M.Wt

555.46

Solubility
>22.75mg/mL in DMSO
Storage
Store at -20°C
General tips
N/A
Shipping Condition
N/A
Background
LB42708 is a selective inhibitor of farnesyltransferase (FTase) with IC50 value of 0.8nM [1].
LB42708 is a nonpeptide pyrrole-based FTase inhibitor with high potency and selectivity. It inhibits the farnesylation of H-ras, N-ras and K-ras4B in vitro with IC50 values of 0.8nM, 1.2nM and 2nM, respectively. To the related enzyme geranylgeranyltransferase I, LB42708 shows no significant inhibition with IC50 value of 100μM. In cultured RAW264.7 cell line, LB42708 potently reduces the farnesylated p21ras stimulated by LPS and IFN-γ with IC50 value of ~ 10nM. Besides that, the HUVEC cells treated with LB42708 shows inhibition of cell proliferation and migration induced by VEGF. LB42708 inhibits the VEGF-induced DNA synthesis with IC50 value of 75nM and also inhibits VEGF-induced formation of the GTP-bound form of Ras with IC50 values of 50nM. In addition, it affects the tube-like structure formation. Furthermore, the administration of LB42708 can suppress tumor growth both in Ras-mutated HCT116 and wild-type Caco-2 xenograft models [1, 2].
References:
[1] Na H J, Lee S J, Kang Y C, et al. Inhibition of farnesyltransferase prevents collagen-induced arthritis by down-regulation of inflammatory gene expression through suppression of p21ras-dependent NF-κB activation. The Journal of Immunology, 2004, 173(2): 1276-1283.
[2] Kim C K, Choi Y K, Lee H, et al. The farnesyltransferase inhibitor LB42708 suppresses vascular endothelial growth factor-induced angiogenesis by inhibiting ras-dependent mitogen-activated protein kinase and phosphatidylinositol 3-kinase/Akt signal pathways. Molecular pharmacology, 2010, 78(1): 142-150.