Batimastat (BB-94)
MMP inhibitor
Sample solution is provided at 25 µL, 10mM.
Related Compound Libraries
Quality Control
Quality Control & MSDS
View current batch:
Chemical structure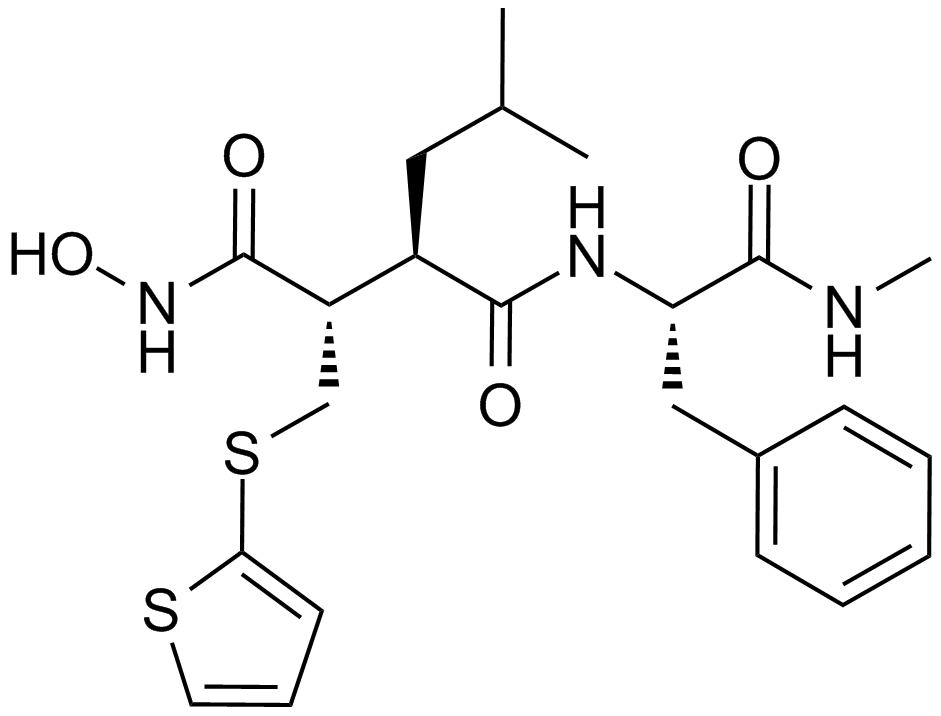 Related Biological Data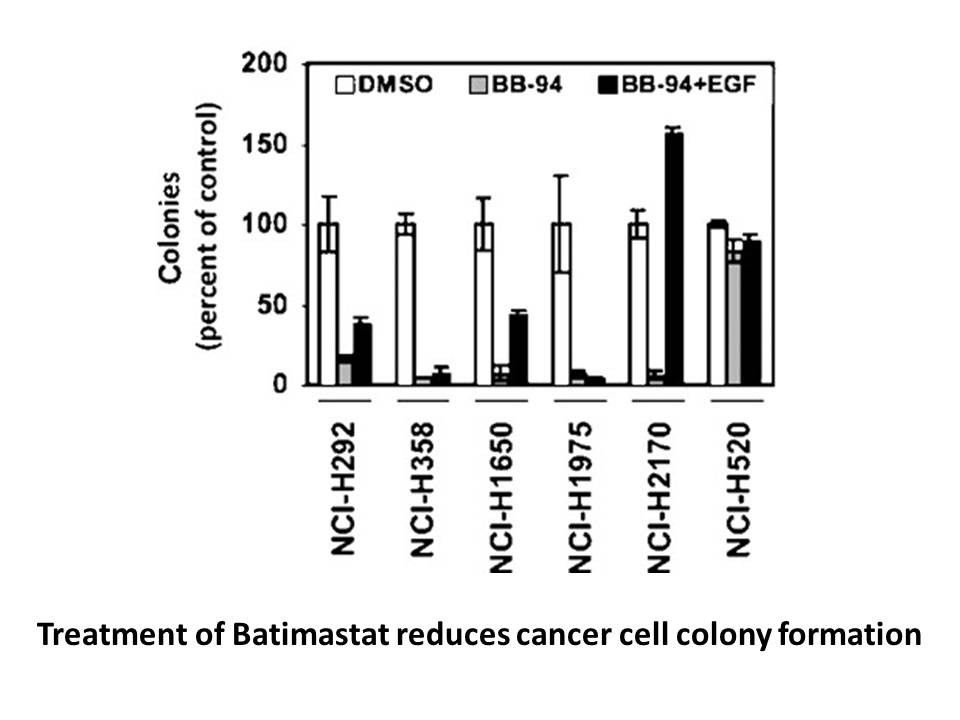 Related Biological Data
Related Biological Data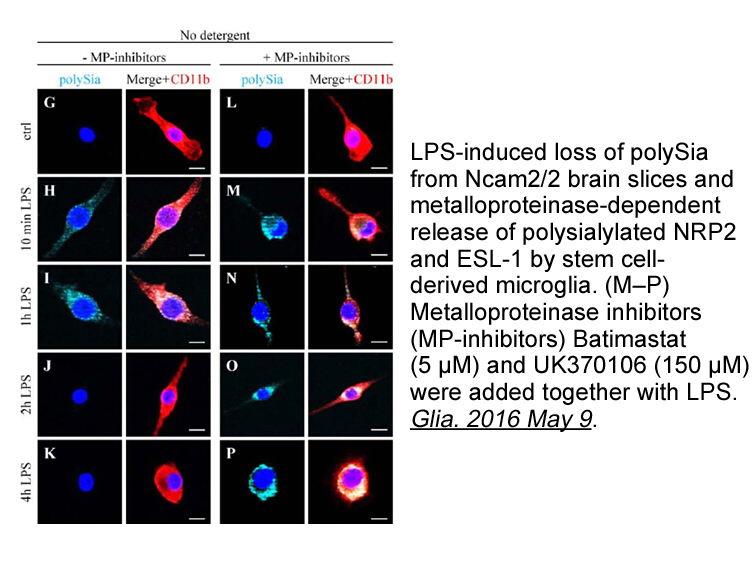 Related Biological Data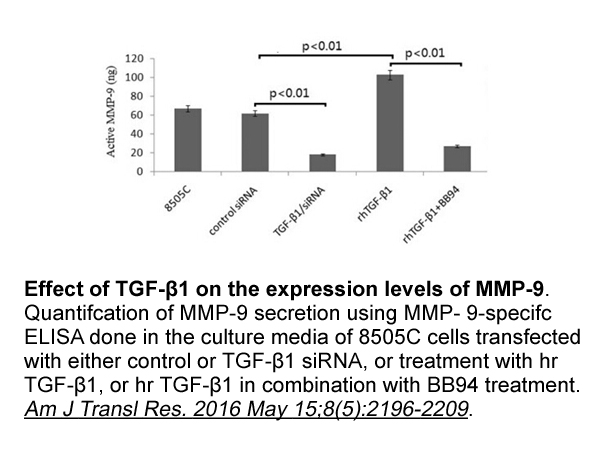 Biological Activity
Description
Batimastat (BB-94) is a potent, broad spectrum inhibitor of matrix metalloprotease (MMP) for MMP-1, MMP-2, MMP-9, MMP-7 and MMP-3 with IC50 of 3 nM, 4 nM, 4 nM, 6 nM and 20 nM, respectively.
Targets
MMP-1
MMP-2
MMP-9
MMP-7
MMP-3
IC50
3 nM
4 nM
4 nM
6 nM
20 nM
Protocol
Cell experiment:

Cell lines

C170HM2 and AP5LV cell lines

Preparation method

The solubility of this compound in DMSO is >10 mM. General tips for obtaining a higher concentration: Please warm the tube at 37 °C for 10 minutes and/or shake it in the ultrasonic bath for a while.Stock solution can be stored below -20°C for several months.

Reaction Conditions

96 h; 3.0 μg/ml

Applications

In vitro proliferation in the presence of batimastatwas assessed by the MTT absorbance assay. The effect of batimastat on the in vitro growth of C170HM2 and AP5LV in both serum-free and scrum-containing culture media was determined three times. Batimastat had no significant effect on the growth of either cell line.

Animal experiment:

Animal models

Orthotopic transplant model of human colon cancer in nude mice

Dosage form

30 mg/kg; i.p.

Applications

Treatment with BB-94 caused a significant reduction in the median weight of the primary tumor from 293 mg(range, 1141 to 124 mg) in the control group to 144 mg (range, 424 to 38 mg) in the BB-94 treated group (P < 0.001) and resulted in a marked reduction in the incidence of tumor invasion of adjacent tissue, from 12 of 18 mice in the control group (67%) to 7 of 20 mice in the BB-94 treated group (35%).

Other notes

Please test the solubility of all compounds indoor, and the actual solubility may slightly differ with the theoretical value. This is caused by an experimental system error and it is normal.

References:

[1] Watson S A, Morris T M, Robinson G, et al. Inhibition of organ invasion by the matrix metalloproteinase inhibitor batimastat (BB-94) in two human colon carcinoma metastasis models[J]. Cancer research, 1995, 55(16): 3629-3633.

[2] Wang X, Fu X, Brown P D, et al. Matrix metalloproteinase inhibitor BB-94 (batimastat) inhibits human colon tumor growth and spread in a patient-like orthotopic model in nude mice[J]. Cancer research, 1994, 54(17): 4726-4728.
Chemical Properties
Cas No.
130370-60-4
SDF
Download SDF
Synonyms
Batimastat,BB-94
Chemical Name
(2S,3R)-N1-hydroxy-3-isobutyl-N4-((S)-1-(methylamino)-1-oxo-3-phenylpropan-2-yl)-2-((thiophen-2-ylthio)methyl)succinamide
Canonical SMILES
CNC([C@@H](NC([C@@H]([C@H](CSC1=CC=CS1)C(NO)=O)CC(C)C)=O)CC2=CC=CC=C2)=O
Formula
C23H31N3O4S2
M.Wt

477.64

Solubility
>23.9mg/mL in DMSO
Storage
Store at 4°C
General tips
For obtaining a higher solubility , please warm the tube at 37 ℃ and shake it in the ultrasonic bath for a while.Stock solution can be stored below -20℃ for several months.
Shipping Condition
Evaluation sample solution : ship with blue ice
All other available size: ship with RT , or blue ice upon request
View Related Products By Research Topics
Background
Batimastat (also known as BB-49), [4-(N-hydroxyamino)-2R-isobutyl-3S-(thiopen-2-ylthiomethyl)-succinyl-L-phenylalanine-N-methylamide, is a potent and synthetic inhibitor of a broad spectrum of matrix metalloproteinases (MMPs), including interstitial collagenase (IC50 = 3 nM), stromelysin (IC50 = 20 nM), Mr 72,000 type IV collagenase (IC50 = 4 nM), Mr 92,000 type IV collagenase (IC50 = 4 nM), and matrilysin (IC50 = 6 nM). It is a low-molecular-weight (MW = 478) and peptide-like collagen substrate analogue consisting of a peptide backbone and a hydroxamic acid group which bind to MMPs and the catalytically active zinc atom respectively. Batimastat exhibits antineoplastic and antiangiogenic activity in various tumor models, including ovarian carcinoma xegnografts and human colon tumor.
Reference
Bernard Davies, Peter D. Brown, Nick East, Michael J. Crimmin, and Frances R. Balkwill. A synthetic matrix metalloproteinase inhibitor decreases tumor burden and prolongs survival of mice bearing human ovarian carcinoma xenografts. Cancer Research 1993; 53: 2087-2091
X. Wang, X. Fu, P.D. Brown, M. J. Crimmin, and R. M. Hoffman. Matrix metalloproteinase inhibitor BB-94 (batimastat) inhibits human colon tumor growth and spread in a patient-like orthotopic model in nude mice. Cancer Research 1994; 54: 4726-4728
Raffaella Giavazzi, Angela Garofalo, Cristina Ferri, Valeria Lucchini, Elisabeth A. Bone, Stefania Chiari, Peter D. Brown, M. Ines Nicoletti, and Giulia Taraboletti. Batimastat, a synthetic inhibitor of matrix metalloproteinases, potentiates the antitumor activity of cisplatin in ovarian carcinoma xgenografts. Clinical Cancer Research 1998; 4: 985-992