CI994 (Tacedinaline)
HDAC inhibitor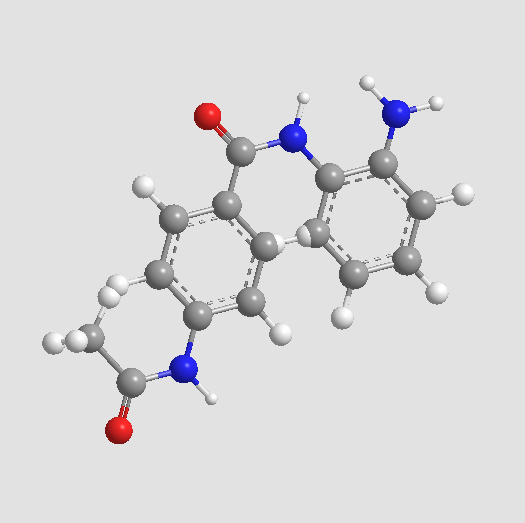 Sample solution is provided at 25 µL, 10mM.
Publications citing ApexBio Products
Related Compound Libraries
Quality Control
Quality Control & MSDS
View current batch:
Chemical structure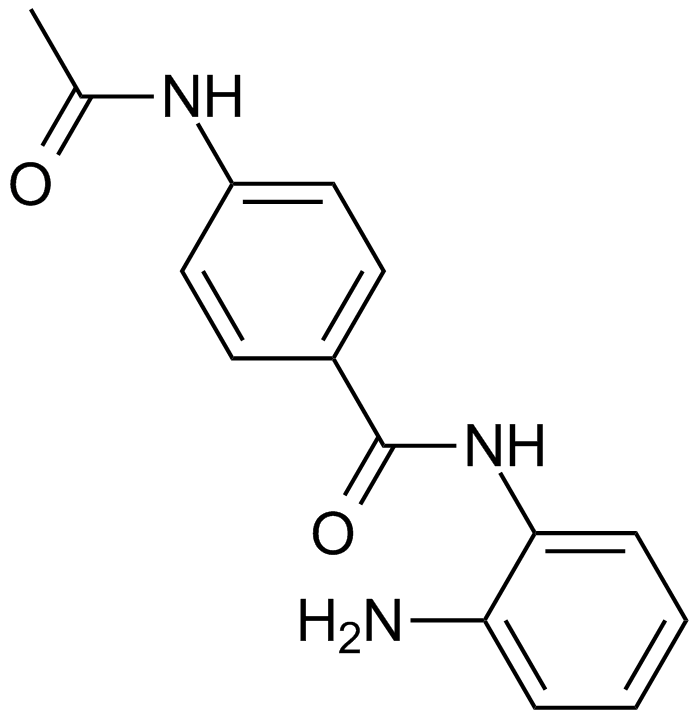 Related Biological Data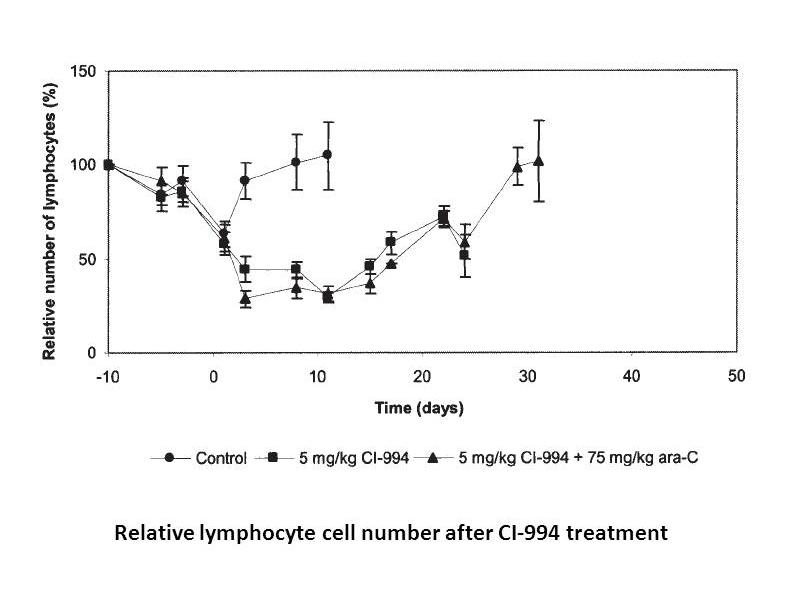 Biological Activity
Description
CI-994 (Tacedinaline),an anti-cancer drug, is an inhibitor of HDAC1 with IC50 of 0.57 μM and causes G1 cell cycle arrest.
Targets
HDAC1
IC50
0.57 μM
Protocol
Cell experiment: [1]

Cell lines

Peripheral blood lymphocytes

Preparation method

The solubility of this compound in DMSO is >10 mM. General tips for obtaining a higher concentration: Please warm the tube at 37 °C for 10 minutes and/or shake it in the ultrasonic bath for a while.Stock solution can be stored below -20°C for several months.

Reaction Conditions

10 µM, 24 hours

Applications

No evidence of apoptosis or necrosis was detected in lymphocytes exposed to CI994 for 4 hours. After 24 hours, concentration-dependent increases in apoptosis characterized by DNA condensation, DNA fragmentation, and/or externalization of phosphatidyl serine were seen at CI-994 concentrations as low as 1 µM and were statistically significant beginning at 10 µM.

Animal experiment: [2]

Animal models

Male Wistar rats

Dosage form

Oral administration, 45 mg/kg

Applications

15 rats per group were administered a single dose of CI994 at 0 (vehicle control), 10, 23, and 45 mg/kg. 5 rats per group were killed 1, 3, and 7 days after dosing for evaluation of blood and bone marrow lymphocyte counts. CI994 treatments resulted in significant dose-related reductions in total white blood cell counts, total lymphocytes and lymphocyte subpopulations. Relative to controls, reductions on day 1 ranged from 36 to 48% at 10 mg/kg, 65 to 76% at 23 mg/kg, and 74 to 87%at 45 mg/kg. Dose-related reductions in monocytes ranging from 54 to 89% were observed in all drug-treated groups on days 1 and 3. Besides that, significant dose-related reductions in bone marrow lymphoid cells ranged from 28 to 33% at 10 mg/kg, 63 to 69%at 23 mg/kg, and 80 to 87%at 45 mg/kg.

Other notes

Please test the solubility of all compounds indoor, and the actual solubility may slightly differ with the theoretical value. This is caused by an experimental system error and it is normal.

References:

[1] Graziano M J, Spoon T A, Cockrell E A, et al. Induction of apoptosis in rat peripheral blood lymphocytes by the anticancer drug CI-994 (acetyldinaline). BioMed Research International, 2001, 1(2): 52-61.

[2] Graziano M J, Galati A J, Walsh K M. Immunotoxicity of the anticancer drug CI-994 in rats: effects on lymphoid tissue. Archives of toxicology, 1999, 73(3): 168-174.
Chemical Properties
Cas No.
112522-64-2
SDF
Download SDF
Chemical Name
4-acetamido-N-(2-aminophenyl)benzamide
Canonical SMILES
CC(=O)NC1=CC=C(C=C1)C(=O)NC2=CC=CC=C2N
Formula
C15H15N3O2
M.Wt

269.3

Solubility
>13.5mg/mL in DMSO
Storage
Store at -20°C
General tips
No
Shipping Condition
No
View Related Products By Research Topics
Background
CI994 is a selective inhibitor of HDAC1 with IC50 value of 0.57 μM [1].
HDAC1 is an enzyme that encoded by HDAC1 and plays a pivotal role in regulating eukaryotic gene expression. It is also been reported that HDAC1 interacts with retinoblastoma tumor-suppressor protein which is a key element in the control of cell proliferation and differentiation. Many studies have shown that HDAC1 inhibition works as a promising therapy used for cancer treatment in clinic [2] [3].
CI994 is a selective HDAC1 and HDAC3 and is different from the reported unselective inhibitor SAHA. When tested with HeLa cervical carcinoma cells, CI994 treatment showed a selectivity inhibitory ability for HDAC1 and 3 with the IC50 was 43.5±1.2 μM [4]. In peripheral blood lymphocytes isolated from untreated male Wistar rats, administration of CI994 for 24 hours induced cells apoptosis in a dose-dependent manner (1 μM~10μM ) [1]. When tested with mitogen-stimulated blood lymphocytes, CI-994 treatment inhibited cells proliferation with IC50 value of 3 mM [5]. In NSCLC cell lines (A549 and LX-1), CI994 administration induced cell apoptosis via inhibiting HDAC activity and arresting cell cycle at G0/G1 phase and showed a promising therapy strategy when combined with chemotherapy [2].
In male rats model, oral administration of CI994 markedly effected lymphoid tissue via reducing blood lymphocytes, monocytes, neutrophils and bone marrow lymphoid cells at the concentration of 10, 23, and 45 mg/kg on day 1 and/or 3 [5].
References:
[1]. Graziano, M.J., et al., Induction of Apoptosis in Rat Peripheral Blood Lymphocytes by the Anticancer Drug CI-994 (Acetyldinaline)(*). J Biomed Biotechnol, 2001. 1(2): p. 52-61.
[2]. Loprevite, M., et al., In vitro study of CI-994, a histone deacetylase inhibitor, in non-small cell lung cancer cell lines. Oncol Res, 2005. 15(1): p. 39-48.
[3]. Cacan, E., et al., Inhibition of HDAC1 and DNMT1 modulate RGS10 expression and decrease ovarian cancer chemoresistance. PLoS One, 2014. 9(1): p. e87455.
[4]. Beckers, T., et al., Distinct pharmacological properties of second generation HDAC inhibitors with the benzamide or hydroxamate head group. Int J Cancer, 2007. 121(5): p. 1138-48.
[5]. Graziano, M.J., A.J. Galati, and K.M. Walsh, Immunotoxicity of the anticancer drug CI-994 in rats: effects on lymphoid tissue. Arch Toxicol, 1999. 73(3): p. 168-74.