WP1066
JAK2/STAT3 inhibitor,cell-permeable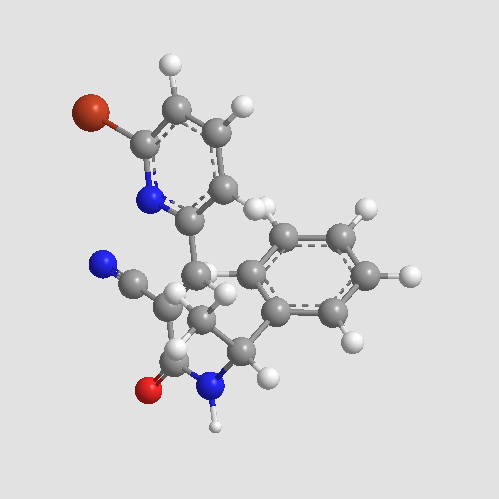 Sample solution is provided at 25 µL, 10mM.
Publications citing ApexBio Products
Related Compound Libraries
Quality Control
Quality Control & MSDS
View current batch:
Chemical structure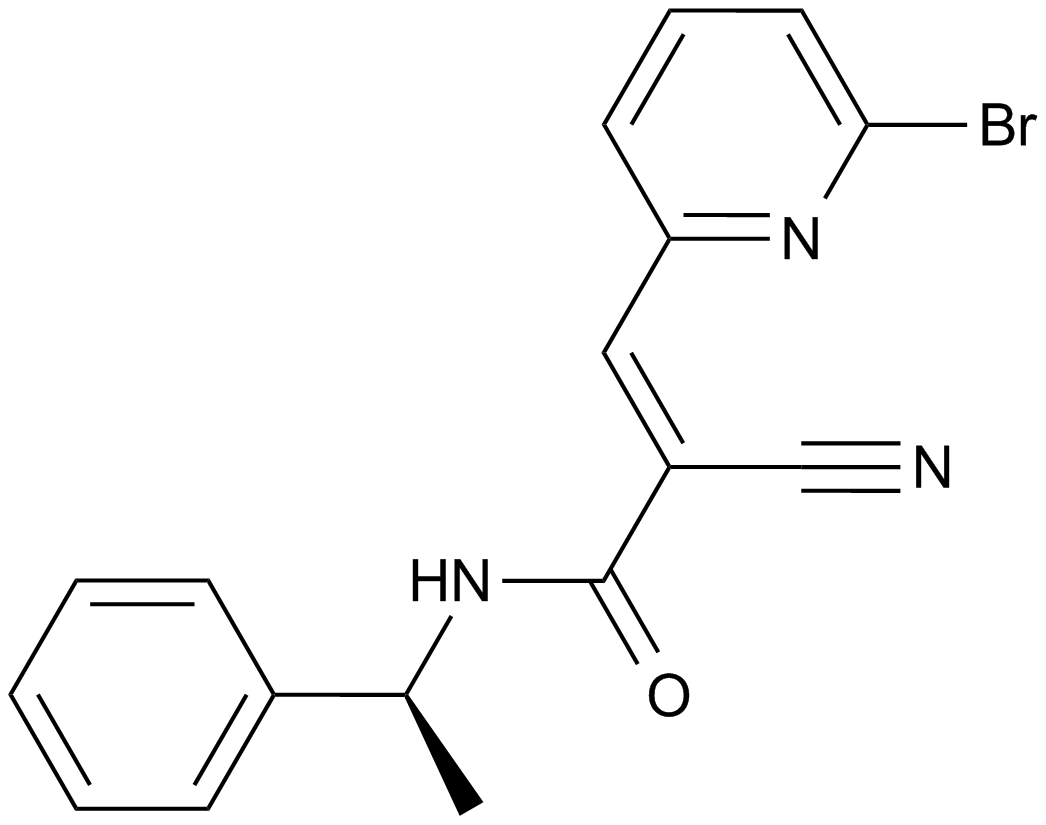 Related Biological Data
Related Biological Data
Biological Activity
Description
WP1066 is a novel inhibitor of JAK2 and STAT3 with IC50 of 2.30 μM and 2.43 μM in HEL cells.
Targets
JAK2
STAT3
IC50
2.3 μM
2.43 μM
Protocol
Cell experiment [1]:

Cell lines

HEL cells carrying the mutant JAK2 V617F isoform

Preparation method

The solubility of this compound in DMSO is > 17.8 mg/mL. General tips for obtaining a higher concentration: Please warm the tube at 37 °C for 10 minutes and/or shake it in the ultrasonic bath for a while. Stock solution can be stored below - 20 °C for several months.

Reacting condition

0 ~ 6 μM; 72 hrs

Applications

In HEL cells carrying the mutant JAK2 V617F isoform, WP1066 markedly inhibited cell growth in a dose-dependent manner, with the IC20, IC50 and IC80 values of 0.8, 2.3 and 3.8 μM, respectively. At the concentrations of 0.5, 1.0, 2.0, 3.0 and 4.0 μM, WP1066 inhibited phosphorylation of JAK2, STAT3, STAT5 as well as ERK1/2, without affecting phosphorylation of JAK1 and JAK3.

Animal experiment [2]:

Animal models

Nude mice bearing Caki-1 cells

Dosage form

40 mg/kg; p.o.; q.d., 5 days on and 2 days off for 19 days

Applications

In nude mice bearing Caki-1 cells, WP1066 significantly inhibited tumor growth. The immunohistochemical analysis results of Caki-1 xenograft tumors showed that there was little p-STAT3 immunostaining in the WP1066 treatment group which had similar total STAT3 immunostaining as the vehicle group. The results suggested that WP1066 inhibited STAT3 phosphorylation without altering STAT3 expression.

Other notes

Please test the solubility of all compounds indoor, and the actual solubility may slightly differ with the theoretical value. This is caused by an experimental system error and it is normal.

References:

[1]. Srdan Verstovsek, Taghi Manshouri, Alfonso Quintas-Cardama, David Harris, Jorge Cortes, Francis J. Giles, Hagop Kantarjian, Waldemar Priebe, and Zeev Estrov. WP1066, a novel JAK2 inhibitor, suppresses proliferation and induces apoptosis in erythroid human cells carrying the JAK2 V617F mutation. Clin Cancer Res 2008; 14: 788-796.

[2]. A Horiguchi, T Asano, K Kuroda, A Sato, J Asakuma, K Ito, M Hayakawa, M Sumitomo and T Asano. STAT3 inhibitor WP1066 as a novel therapeutic agent for renal cell carcinoma. British Journal of Cancer 2010; 102: 1592-1599.
Chemical Properties
Cas No.
857064-38-1
SDF
Download SDF
Chemical Name
(E)-3-(6-bromopyridin-2-yl)-2-cyano-N-[(1S)-1-phenylethyl]prop-2-enamide
Canonical SMILES
CC(C1=CC=CC=C1)NC(=O)C(=CC2=NC(=CC=C2)Br)C#N
Formula
C17H14BrN3O
M.Wt

356.22

Solubility
>17.8mg/mL in DMSO
Storage
Store at -20°C
General tips
N/A
Shipping Condition
N/A
View Related Products By Research Topics
Background
WP1066, an analogue of AG490, is a novel and potent inhibitor of janus kinase 2 (JAK2), which inhibits the phosphorylation of JAK2 and degrades JAK2 protein consequently blocking JAK2's downstream signal transducer and activator of transcription (transcription-3 and transcription-5) as well as phosphoinositide-3-kinase pathways in a dose- and time-dependent manner. Results of preliminary studies suggest that WP1066 inhibits the growth of xenograft tumors generated from Caki-1 renal carcinoma cells (RCC) suppressing tumor angiogenesis and exhibits antiproliferative activity in AML colony-forming cells from newly diagnosed AML patients as well as in AML cell lines OCIM2 and K562, which potentiates it to treat RCC, acute myeloid leukemia (AML) and other hematologic maglignancies.
Reference
Srdan Verstovsek, Taghi Manshouri, Alfonso Quintas-Cardama, David Harris, Jorge Cortes, Francis J. Giles, Hagop Kantarjian, Waldemar Priebe, and Zeev Estrov. WP1066, a novel JAK2 inhibitor, suppresses proliferation and induces apoptosis in erythroid human cells carrying the JAK2 V617F mutation. Clin Cancer Res 2008; 14: 788-796
Alessandra Ferrajoli, Stefan Faderl, Quin Van, Patricia Koch, David Harris, Zhiming Liu, Inbal Hazan-Halevy, Yongtao Wang, Hagop M. Kantarjian, Waldemar Priebe, and Zeev Estrov. WP1066 disrupts janus kinase-2 and induces caspase-dependent apoptosis in acute myelogenous leukemia cells. Cancer Res 2007; 67: 11291-11299
A Horiguchi, T Asano, K Kuroda, A Sato, J Asakuma, K Ito, M Hayakawa, M Sumitomo and T Asano. STAT3 inhibitor WP1066 as a novel therapeutic agent for renal cell carcinoma. British Journal of Cancer 2010; 102: 1592-1599