Sal 003
Cellular phosphatase complex inhibitor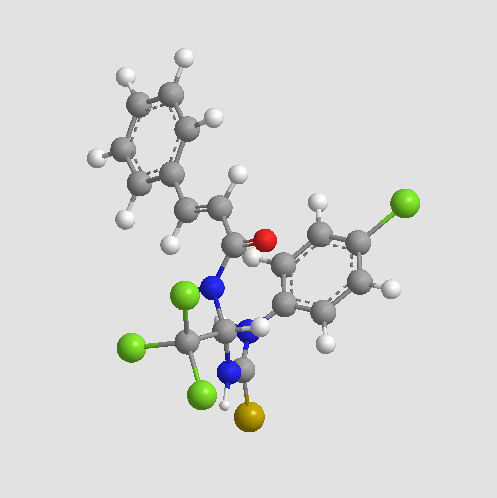 Sample solution is provided at 25 µL, 10mM.
Publications citing ApexBio Products
Related Compound Libraries
Quality Control
Quality Control & MSDS
View current batch:
Chemical structure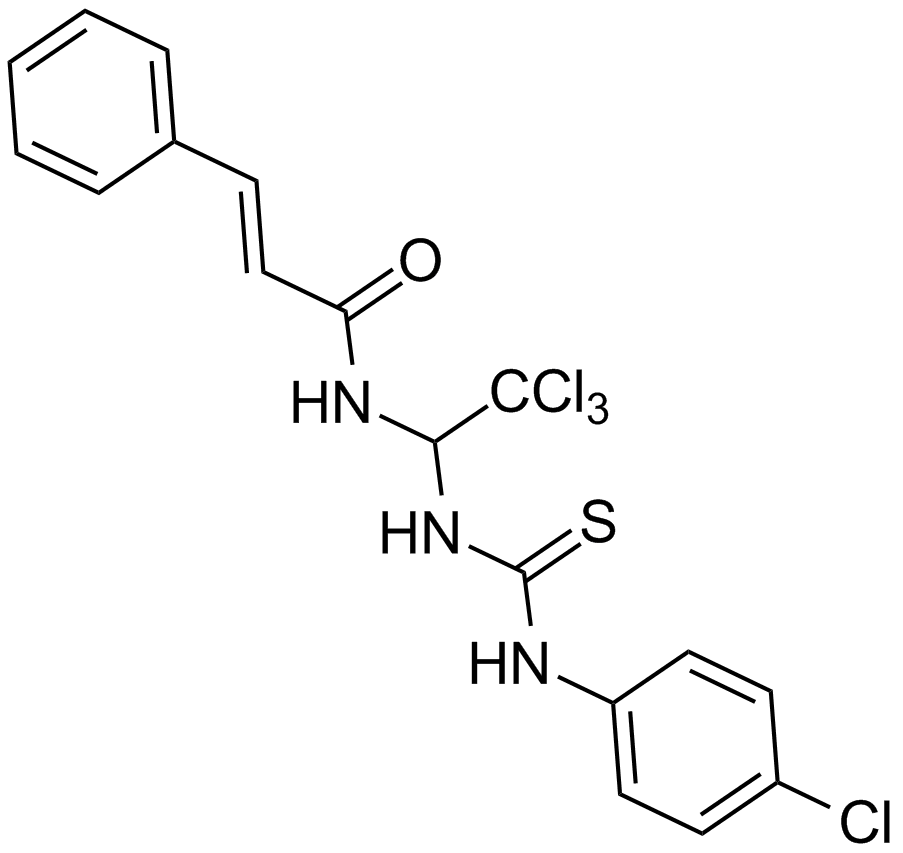 Biological Activity
Description
Sal 003 is a cell-permeable inhibitor of cellular phosphatase complexes.
Targets
eIF2α
IC50
Chemical Properties
Cas No.
1164470-53-4
SDF
Download SDF
Chemical Name
(E)-3-phenyl-N-[2,2,2-trichloro-1-[(4-chlorophenyl)carbamothioylamino]ethyl]prop-2-enamide
Canonical SMILES
C1=CC=C(C=C1)C=CC(=O)NC(C(Cl)(Cl)Cl)NC(=S)NC2=CC=C(C=C2)Cl
Formula
C18H15Cl4N3OS
M.Wt

463.21

Solubility
>20.15mg/mL in DMSO
Storage
Store at -20°C
General tips
N/A
Shipping Condition
N/A
Background
Eukaryotic initiation factor 2 α-subunit (eIF2α) plays a critical role in the regulation of protein synthesis. Moreover, it also plays an important role in synaptic plasticity and long-term memory consolidation. Sal003 is a selective inhibitor of eIF2α dephosphorylation.
In vitro: Sal003 specifically prevents dephosphorylation of eIF2α by blocking eIF2α phosphatases. In Sal003-treated cells polysomes dissociated and consistent with this β-actin mRNA shifted to lighter fractions, reflecting the inhibition of general translation [1].
In vivo: Intra-basolateral amygdala (BLA) infusions of Sal003 immediately after memory retrieval disrupted the reconsolidation of morphine- or cocaine-induced CPP, leading to a long-lasting suppression of drug-paired stimulus-induced craving. Moreover, inhibition of eIF2α dephosphorylation in the BLA immediately after light/tone stimulus retrieval decreased subsequent cue-induced heroin-seeking behavior in the self-administration procedure. These results demonstrate that eIF2α dephosphorylation in the BLA mediates the memory reconsolidation of drug-paired stimuli [1].
Clinical trials: Currenlty no clinical data are available.
Reference:
[1] Jian M, Luo YX, Xue YX, Han Y, Shi HS, Liu JF, Yan W, Wu P, Meng SQ, Deng JH, Shen HW, Shi J, Lu L. eIF2α dephosphorylation in basolateral amygdala mediates reconsolidation of drug memory. J Neurosci. 2014;34(30):10010-21.