AZD2932
inhibitor of VEGFR-2, PDGFRβ, Flt-3, and c-Kit
Sample solution is provided at 25 µL, 10mM.
Publications citing ApexBio Products
Quality Control
Quality Control & MSDS
View current batch:
Chemical structure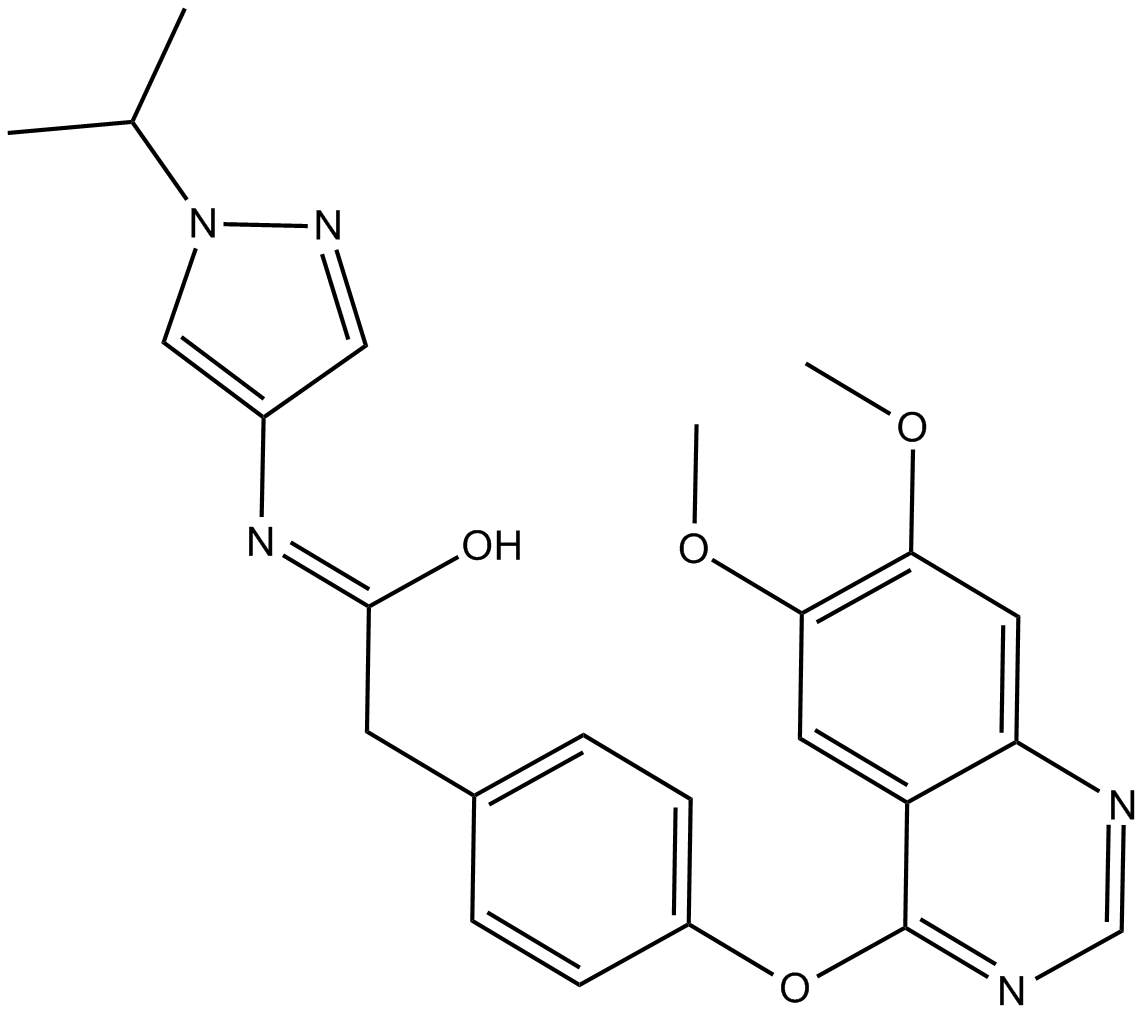 Chemical Properties
Cas No.
883986-34-3
SDF
Download SDF
Chemical Name
(Z)-2-(4-((6,7-dimethoxyquinazolin-4-yl)oxy)phenyl)-N-(1-isopropyl-1H-pyrazol-4-yl)acetimidic acid
Canonical SMILES
CC(N1C=C(/N=C(O)/CC2=CC=C(OC3=NC=NC4=CC(OC)=C(OC)C=C43)C=C2)C=N1)C
Formula
C24H25N5O4
M.Wt

447.49

Solubility
Soluble in DMSO
Storage
Store at -20°C
General tips
N/A
Shipping Condition
N/A
Background
AZD2932 is a potent inhibitor for multiple protein tyrosine kinases (IC50 = 8 nM, 4 nM, 7 nM, and 9 nM for VEGFR-2, PDGFRβ, Flt-3, and c-Kit, respectively.) [1]
VEGFR are receptors for vascular endothelial growth factor and belong to receptor tyrosine kinases. It mediates in various cellular functions, including endothelial proliferation, migration, survival, tubular morphogenesis and sprouting. PDGFR are platelet-derived growth factor receptors that exhibit intracellular tyrosine kinase activity. It involves in embryonic development, angiogenesis, proliferation and differentiation etc.
AZD2932 has a potent and balanced profile against PDGFR, VEGFR-2, Flt-3 and c-Kit (IC50: 0.009). It also has a good fraction unbound between 3.3% free in human and 7.0% in dog sera and has no activity against hERG. [1]
In female nude mice bearing C6 tumors, AZD2932 treatment at 3–50 mg/kg b.i.d. 10 h apart give 60–80% inhibition of both p-VEGFR-2 and p-PDGFRb in a 1:1 ratio. [1]
Reference:
1. Plé PA, Jung F, Ashton S, Hennequin L et al. Discovery of AZD2932, a new Quinazoline Ether Inhibitor with high affinity for VEGFR-2 and PDGFR tyrosine kinases. Bioorg Med Chem Lett. 2012 Jan 1;22(1):262-6.