Background
The orally bioavailable agent, MLN8237 (also known as alisertib), is a potent small-molecule inhibitor of Aurora A kinase (AAK) which is overexpressed in several types of tumor and  associated with oncogenesis and tumor progression. It was developed from its predecessor, MLN8054, in order to minimize the benzodiazepine-like effects seen with MLN8054. The inhibitory effect of MLN8237 is ATP-competitive, reversible and AAK-specific with an inhibition constant (Ki) of 0.43 nmol/L. MLN8237 is being investigated to treat advanced malignancies, due to its both in vitro and in vivo activities against a broad range of tumor types.
Reference
E. Claire Dees, Roger B. Cohen, Margaret von Mehren, Thomas E. Stinchcombe, Hua Liu, Karthik Venkatakrishnan, Mark Manfredi, Howard Fingert, Howard A. Burris III, and Jeffrey R. Infante. Phase I study of aurora A kniase inhibitor MLN8237 in advanced solid tumors: safety, pharmacokinetics, pharmacodynamics, and bioavailability of two oral formulations. Clin Cancer Res 2012; 18: 4775-4784.
Product Citation
Chemical Properties
| | |
| --- | --- |
| Physical Appearance | A solid |
| Storage | Store at -20°C |
| M.Wt | 518.92 |
| Cas No. | 1028486-01-2 |
| Formula | C27H20ClFN4O4 |
| Solubility | ≥25.95 mg/mL in DMSO; insoluble in H2O; insoluble in ETOH |
| Chemical Name | 4-[[9-chloro-7-(2-fluoro-6-methoxyphenyl)-5H-pyrimido[5,4-d][2]benzazepin-2-yl]amino]-2-methoxybenzoic acid |
| SDF | Download SDF |
| Canonical SMILES | COC1=C(C(=CC=C1)F)C2=NCC3=CN=C(N=C3C4=C2C=C(C=C4)Cl)NC5=CC(=C(C=C5)C(=O)O)OC |
| Shipping Condition | Ship with blue ice, or upon other requests. |
| General tips | For obtaining a higher solubility, please warm the tube at 37°C and shake it in the ultrasonic bath for a while. We do not recommend long-term storage for the solution, please use it up soon. |
Protocol
Cell experiment: [1]

Cell lines

TIB-48 and CRL-2396 cells

Preparation method

The solubility of this compound in DMSO is >10 mM. General tips for obtaining a higher concentration: Please warm the tube at 37°C for 10 minutes and/or shake it in the ultrasonic bath for a while. Stock solution can be stored below -20°C for several months.

Reaction Conditions

>100 nM, 48 hours

Applications

TIB-48 and CRL-2396 cells were treated with MLN8237 at 10 nM, 50 nM, 100 nM, 500 nM and 1.0 μM for 48 h. MLN8237 induced apoptosis at concentrations >100 nM, suggesting that induction of apoptosis is dose-dependent. These results were confirmed by demonstrating an increased level of cleaved PARP in treated TIB-48 and CRL-2396 cells. PARP cleavage was observed even at the concentration of MLN8237 as low as 50 nM.

Animal experiment: [2]

Animal models

Female C.B-17 SCID mice injected with OVCAR-5-pWZL-Luc cells

Dosage form

Oral administration, 20 or 30 mg/kg, once daily (QD) or twice daily (BID)

Applications

The mice (n=16/group) were randomly divided into five treatment groups: 1) vehicle, 2) 20 mg/kg alisertib, 3) 30 mg/kg alisertib, 4) 5 mg/kg paclitaxel and 5) 20 mg/kg alisertib + 5 mg/kg paclitaxel. Tumor growth was monitored by weekly BLI and the log-transformed total flux data showed significantly decreased tumor growth rates in mice treated with alisertib (20 or 30 mg/kg) compared to vehicle-treated mice. Treatment with 20 mg/kg and 30 mg/kg alisertib resulted in 51% and 49% TGI, respectively.

her notes

Please test the solubility of all compounds indoor, and the actual solubility may slightly differ with the theoretical value. This is caused by an experimental system error and it is normal.

References:

[1] Qi W, Spier C, Liu X, et al. Alisertib (MLN8237) an investigational agent suppresses Aurora A and B activity, inhibits proliferation, promotes endo-reduplication and induces apoptosis in T-NHL cell lines supporting its importance in PTCL treatment. Leukemia research, 2013, 37 (4): 434-439.

[2] Do T V, Xiao F, Bickel L E, et al. Aurora kinase A mediates epithelial ovarian cancer cell migration and adhesion. Oncogene, 2013, 33 (5): 539-549.
Biological Activity
Description
Alisertib (MLN8237) is a selective inhibitor of Aurora A with IC50 of 1.2 nM. It has >200-fold higher selectivity for Aurora A than Aurora B.
Targets
Aurora A
IC50
1.2 nM
Quality Control
Quality Control & MSDS
View current batch:
Chemical structure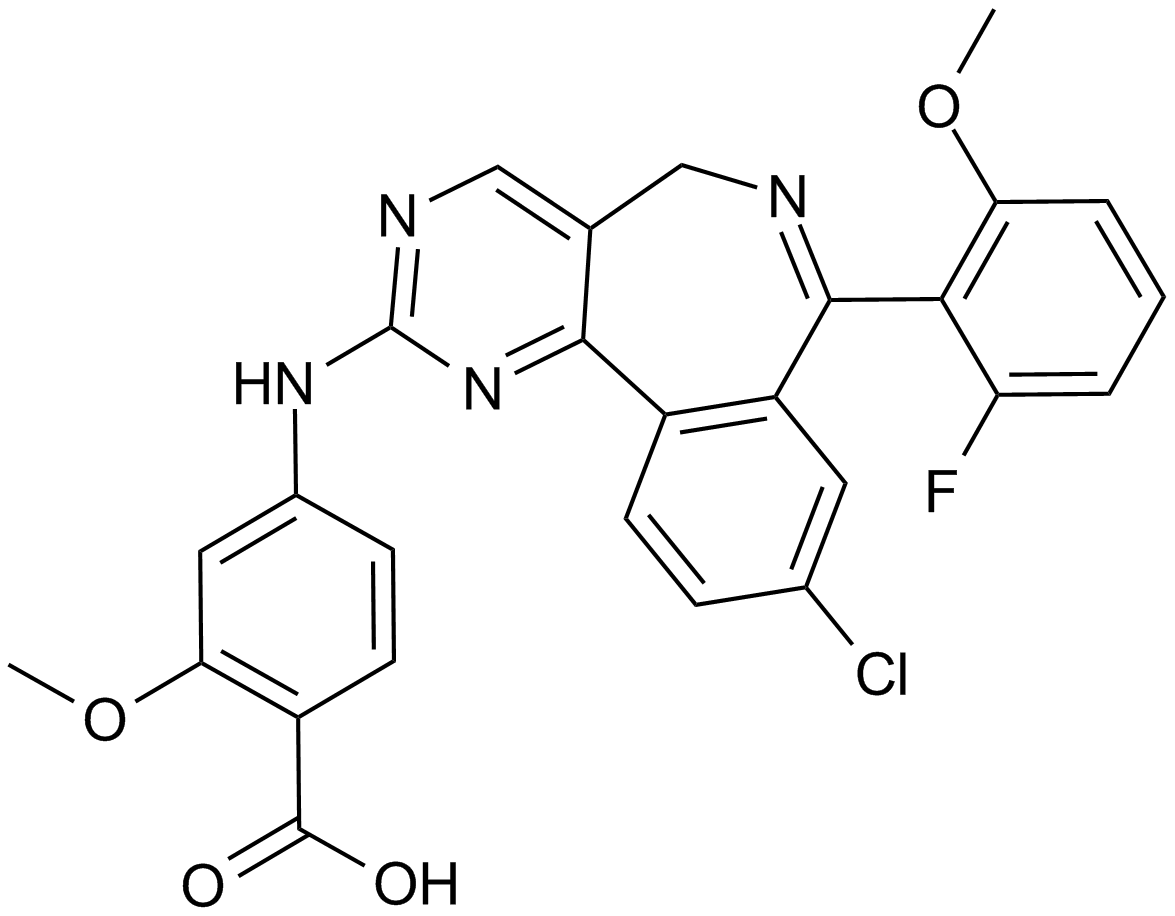 Related Biological Data
Related Biological Data
Related Biological Data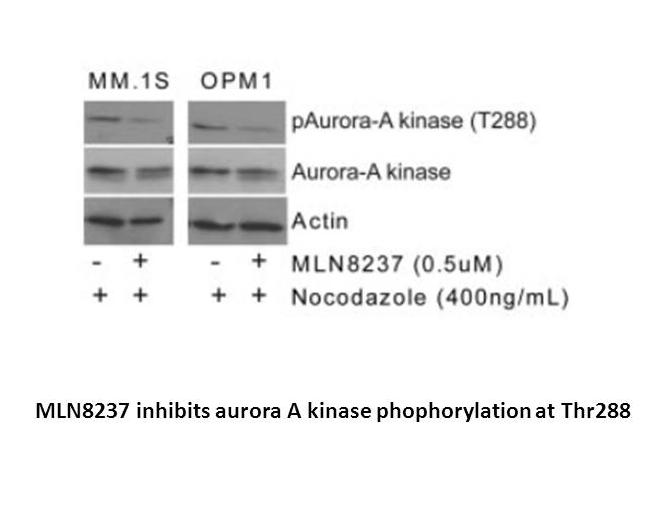 Related Biological Data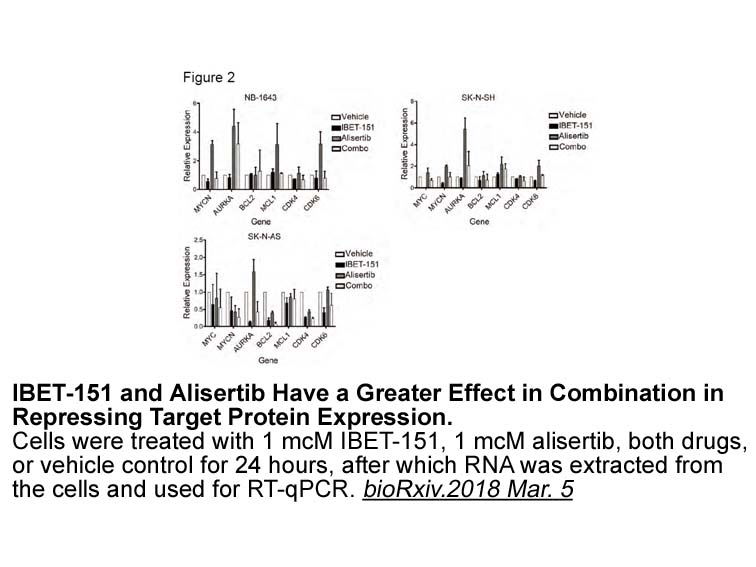 Related Biological Data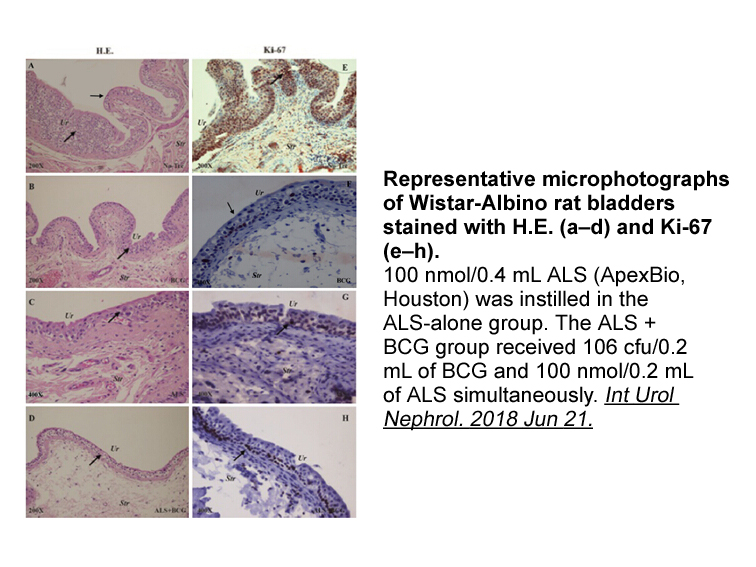 Related Biological Data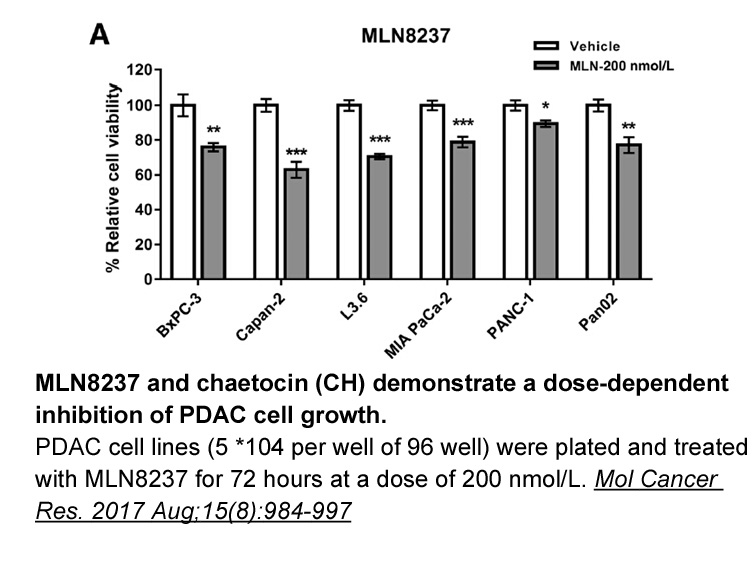 Related Biological Data