Background
RVX-208 is a potent inhibitor of bromodomain with IC50 values of 0.51 and 87 μM for BD2 and BD1, respectively [1].
Bromodomains (BRDs) are protein-interaction modules that bind to ε-N-acetylated lysine-containing proteins. BRDs act as effector domains of chromatin-modifying enzymes, transcriptional regulators and chromatin modulators [1].
RVX-208 is a potent second BET bromodomains inhibitor. RVX-208 exhibited affinity with KD values of 0.194 and 4.06 for BD2 and BD1, respectively. RVX-208 bound to the acetyl-lysine binding pocket in a peptide-competitive way [1]. In HepG2 cells, RVX-208 induced messenger ribonucleic acid and protein synthesis of apolipoprotein (apo)A-I [2]. RVX-208 induced ApoA-I mRNA mediated by BRD4 [3].
In African green monkeys, RVX-208 increased serum HDL-C and apoA-I levels by 97% and 60%, respectively. Also, RVX-208 increased the levels of pre-β1-LpA-I, α1-LpA-I HDL-subparticles, adenosine triphosphate binding cassette G1, adenosine triphosphate binding cassette AI and cholesterol efflux [2]. In hyperlipidemic apoE(-/-) mice, RVX-208 (150?mg/kg) significantly inhibited aortic lesion. Also, RVX-208 increased HDL-C and reduced LDL-C and proinflammatory cytokines [4].
References:
[1]. Picaud S, Wells C, Felletar I, et al. RVX-208, an inhibitor of BET transcriptional regulators with selectivity for the second bromodomain. Proc Natl Acad Sci U S A, 2013, 110(49): 19754-19759.
[2]. Bailey D, Jahagirdar R, Gordon A, et al. RVX-208: a small molecule that increases apolipoprotein A-I and high-density lipoprotein cholesterol in vitro and in vivo. J Am Coll Cardiol, 2010, 55(23): 2580-2589.
[3]. McLure KG, Gesner EM, Tsujikawa L, et al. RVX-208, an inducer of ApoA-I in humans, is a BET bromodomain antagonist. PLoS One, 2013, 8(12): e83190.
[4]. Jahagirdar R, Zhang H, Azhar S, et al. A novel BET bromodomain inhibitor, RVX-208, shows reduction of atherosclerosis in hyperlipidemic ApoE deficient mice. Atherosclerosis, 2014, 236(1): 91-100.
Product Citation
Chemical Properties
| | |
| --- | --- |
| Physical Appearance | A solid |
| Storage | Store at -20°C |
| M.Wt | 370.4 |
| Cas No. | 1044870-39-4 |
| Formula | C20H22N2O5 |
| Solubility | insoluble in H2O; ≥18.52 mg/mL in DMSO; ≥2.48 mg/mL in EtOH with gentle warming and ultrasonic |
| Chemical Name | 2-[4-(2-hydroxyethoxy)-3,5-dimethylphenyl]-5,7-dimethoxy-1H-quinazolin-4-one |
| SDF | Download SDF |
| Canonical SMILES | CC1=CC(=CC(=C1OCCO)C)C2=NC(=O)C3=C(C=C(C=C3N2)OC)OC |
| Shipping Condition | Evaluation sample solution: ship with blue ice. All other available sizes: ship with RT, or blue ice upon request. |
| General tips | For obtaining a higher solubility, please warm the tube at 37°C and shake it in the ultrasonic bath for a while. Stock solution can be stored below -20°C for several months. |
Protocol
Kinase experiment [1]:

Competitive Histone Displacement Assay (AlphaScreen Assay)

Experiments are run on a PHERAstar FS plate reader using an AlphaScreen 680 excitation/570 emission filter set. IC50 values are calculated in Prism 5 after normalization against corresponding DMSO controls. Assays are performed according to the manufacturer's protocol with minor modifications.

Cell experiment [1, 2]:

Cell lines

Human liver carcinoma HepG2 cells

Preparation method

The solubility of this compound in DMSO is >10 mM. General tips for obtaining a higher concentration: Please warm the tube at 37℃ for 10 minutes and/or shake it in the ultrasonic bath for a while. Stock solution can be stored below -20℃ for several months.

Reacting condition

5 μmol/L for 4 h; or 0 to 60 μmol/l for 12, 24, and 48 h

Applications

HepG2 cells treated with RVX-208 (5 μM) for 4 h only modestly affected BET-dependent gene transcription. Moreover, RVX-208 increased apolipoprotein (apo)A-I and high-density lipoprotein cholesterol (HDL-C) levels in HepG2 cells.

Animal experiment [2]:

Animal models

Na?ve adult male African Green monkeys (AGMs) model

Dosage form

60 mg/kg, oral gavage, once daily for 63 days

Applications

RVX-208 induced elevation of serum apoA-I and HDL-C levels (60% and 97%, respectively) and enhanced cholesterol efflux in vivo.

Other notes

Please test the solubility of all compounds indoor, and the actual solubility may slightly differ with the theoretical value. This is caused by an experimental system error and it is normal.

References:

1. Picaud, S., Wells, C., Felletar, I., Brotherton, D., Martin, S., Savitsky, P., Diez-Dacal, B., Philpott, M., Bountra, C., Lingard, H., Fedorov, O., Muller, S., Brennan, P. E., Knapp, S. and Filippakopoulos, P. (2013) RVX-208, an inhibitor of BET transcriptional regulators with selectivity for the second bromodomain. Proc Natl Acad Sci U S A. 110, 19754-19759

2. Bailey, D., Jahagirdar, R., Gordon, A., Hafiane, A., Campbell, S., Chatur, S., Wagner, G. S., Hansen, H. C., Chiacchia, F. S., Johansson, J., Krimbou, L., Wong, N. C. and Genest, J. (2010) RVX-208: a small molecule that increases apolipoprotein A-I and high-density lipoprotein cholesterol in vitro and in vivo. J Am Coll Cardiol. 55, 2580-2589
Biological Activity
Description
RVX-208 is a potent inhibitor of BET bromodomain with IC50 value of 0.51 μM for BD2.
Targets
BD2
IC50
0.51 μM
Quality Control
Quality Control & MSDS
View current batch:
Chemical structure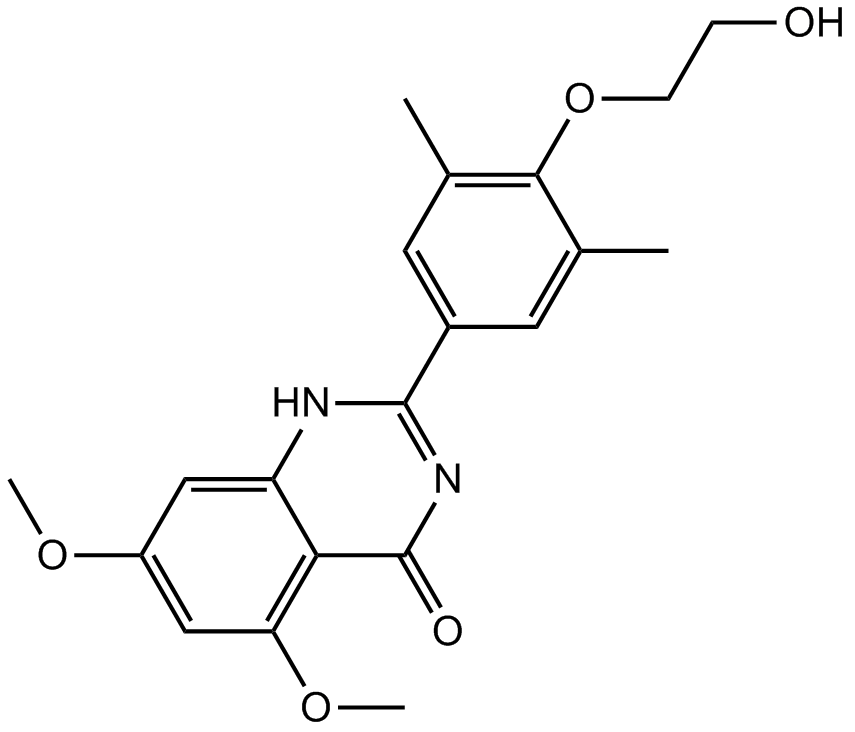 Related Biological Data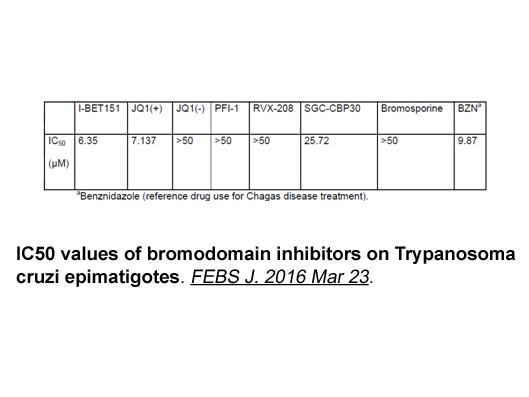 Related Biological Data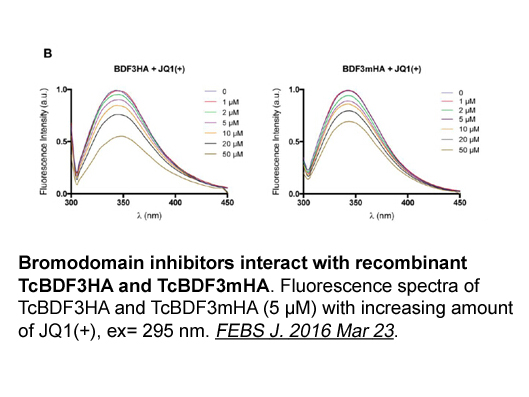 Related Biological Data