Related Biochemicals
Related Antibodies
| | |
| --- | --- |
| E 64d | Cell-permeable, irreversible cysteine protease inhibitor |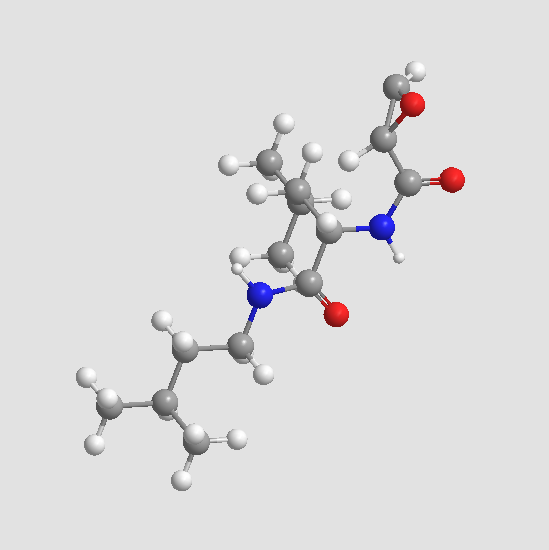 Sample solution is provided at 25 µL, 10mM.
Quality Control
Quality Control & MSDS
View current batch:
Chemical structure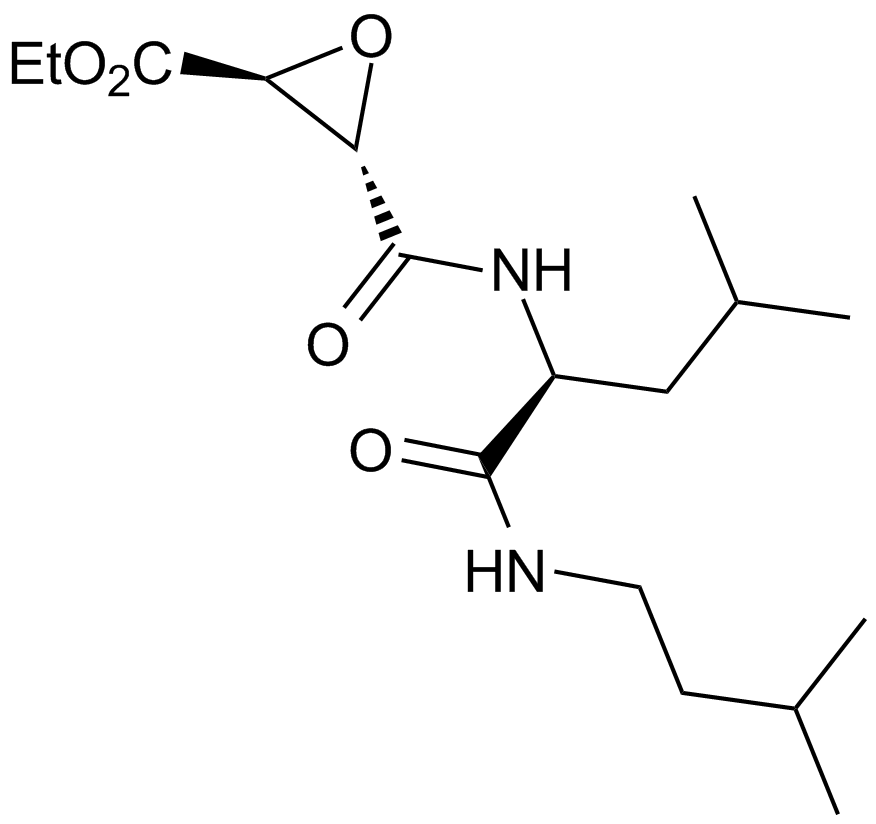 Biological Activity
E-64d, a synthetic analog of E-64 and ethyl ester of E-64c, is an irreversible, membrane-permeable inhibitor of lysosomal and cytosolic cysteine proteases. E-64d inhibits calpain and the cysteine proteases cathepsins F, K, B, H, and L.
Targets
cathepsins F
cathepsins K
cathepsins B
cathepsins H
cathepsins L
IC50
Chemical Properties
Cas No.
88321-09-9
SDF
Download SDF
Chemical Name
ethyl (2S,3S)-3-[[(2S)-4-methyl-1-(3-methylbutylamino)-1-oxopentan-2-yl]carbamoyl]oxirane-2-carboxylate
Canonical SMILES
CCOC(=O)C1C(O1)C(=O)NC(CC(C)C)C(=O)NCCC(C)C
Formula
C17H30N2O5
M.Wt

342.43

Solubility
Soluble in DMSO
Storage
Store at -20°C
Shipping Condition:
Evaluation sample solution : ship with blue ice
All other available size: ship with RT , or blue ice upon request
View Related Products By Research Topics
Background
E-64d, a membrane permeant derivative of E-64c, a thiol protease inhibitor1, was tested for ability to inhibit calpain activity in intact platelets.
E-64c or E-64d also inhibited (lanes 3-8), demonstrating their effect on calpain. When the platelets were incubated with these inhibitors for I0 min and were then washed to remove extracellular inhibitor before lysis, neither E-64c nor leupeptin inhibited proteolysis, but E-64d did inhibit. E-64d was able to penetrate the platelet and was thus not removed by washing.E-64c failed to inhibit proteolysis in intact platelets, but E-64d, the permeant inhibitor, did inhibit intracellular proteolysis.E-64c and E-64d were each able to inhibit the protease activity in lysed platelets. This protease activity has been attributed to calpain by its absolute dependence on Ca 2+and by inhibition by known inhibitors of calpain. E-64d is able to enter the intact platelet: i) after washing to remove extracellular inhibitor, there was no protease activity detected after platelet lysis, and ii) activation of platelets preincubated with E-64d, but not E-64c, resulted in inhibition of proteolysis by calpain activated in intact platelets by A23187 plus calcium.
Reference:
1. M. Tamai, K. Matsumoto, S. Omura, I. Koyama, Y. Ozawa, K. Hanada J. Pharmacobio-Dyn., 9 (1986), pp. 672–677
2. E. B. McGowan, E. Becker, and T. C. Detwiler, INHIBITION OF CALPAIN IN INTACT PLATELETS BY THE THIOL PROTEASE INHIBITOR E-64d. BIOCHEMICAL AND BIOPHYSICAL RESEARCH COMMUNICATIONS , Vol. 158, No. 2, 1989