Lapatinib
EGFR/HER2 inhibitor,potent,selective and reversible
Sample solution is provided at 25 µL, 10mM.
Related Compound Libraries
Quality Control
Quality Control & MSDS
View current batch:
Chemical structure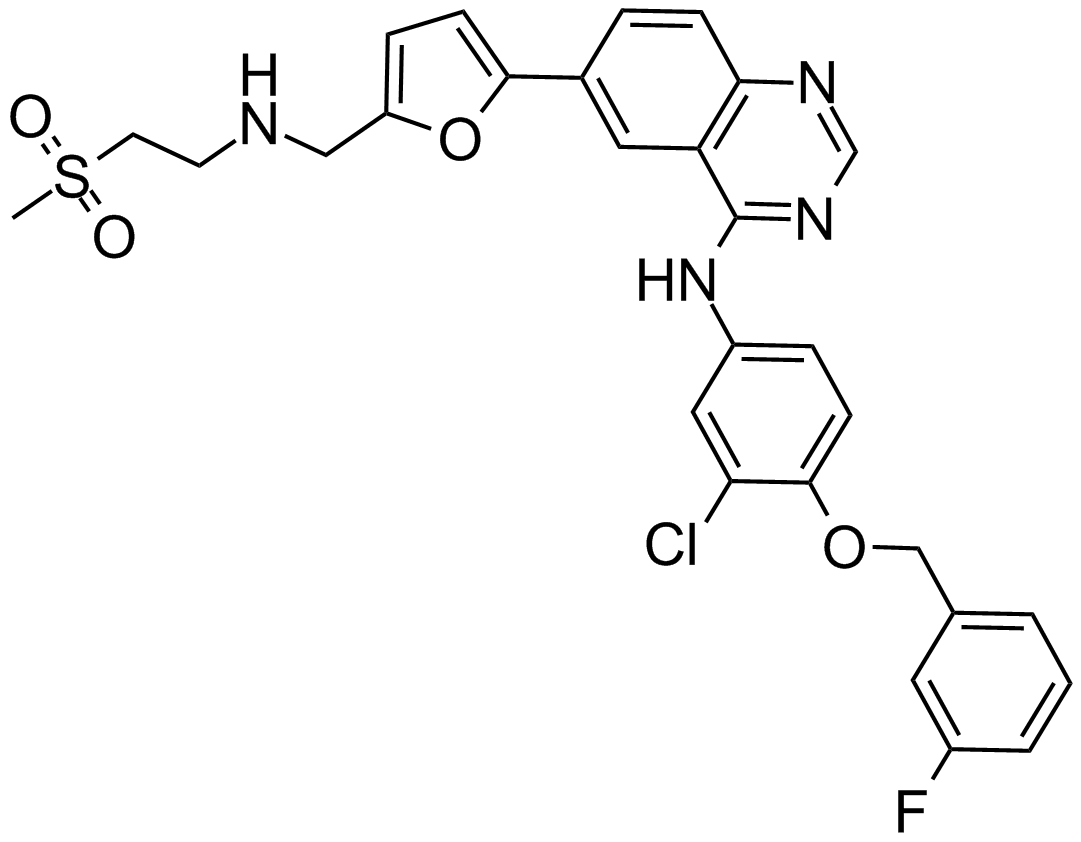 Related Biological Data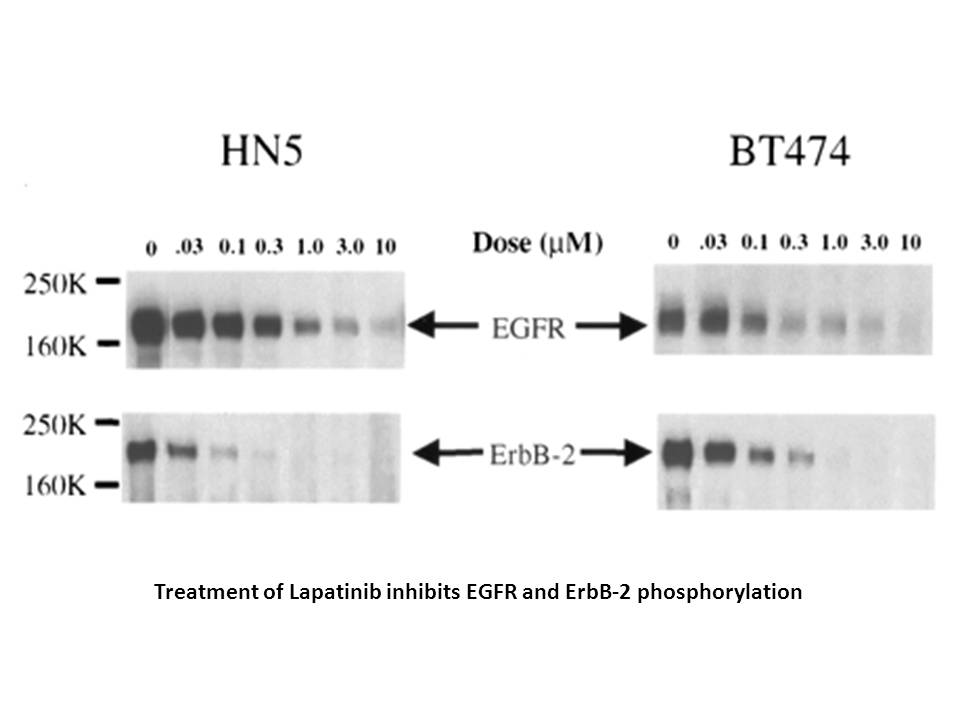 Related Biological Data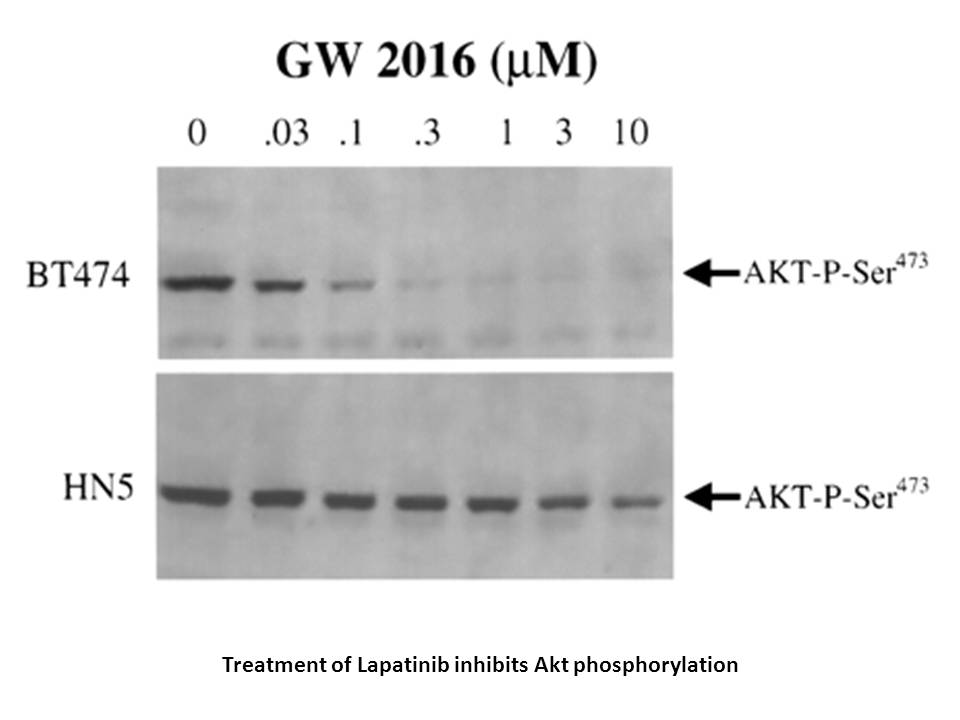 Related Biological Data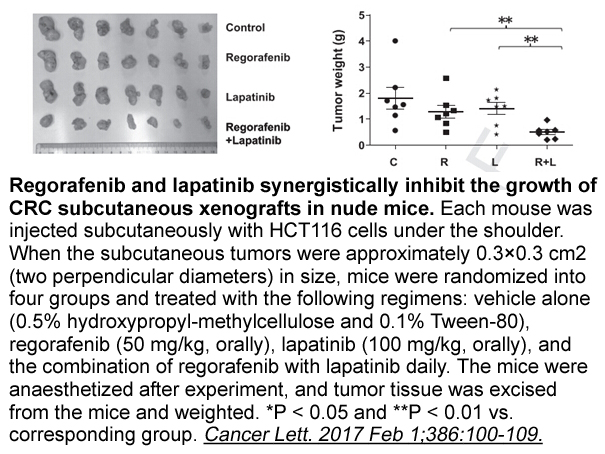 Biological Activity
Description
Lapatinib is a potent inhibitor of EGFR and ErbB2 with IC50 of 10.8 and 9.2 nM, respectively.
Targets
EGFR
ErbB2
IC50
10.8 nM
9.2 nM
Protocol
Kinase experiment [1]:

Binding assays

The intracellular kinase domains of EGFR, ErbB-2, and ErbB4 were purified from a baculovirus expression system. EGFR, ErbB-2, and ErbB-4 reactions were performed in 96-well polystyrene round-bottomed plates in a final volume of 45 μl. Reaction mixtures contained 50 mM 4-morpholinepropanesulfonic acid (pH 7.5), 2 mM MnCl2, 10 μM ATP, 1 μCi of [γ-33P] ATP/reaction, 50 μM Peptide A [Biotin-(amino hexonoic acid)-EEEEYFELVAKKK-CONH2; Quality Controlled Biochemicals, Inc.], 1 mM dithiothreitol, and 1 μl of DMSO containing serial dilutions of GW2016 beginning at 10 μM. The reaction was initiated by adding the indicated purified type-1 receptor intracellular domain. The amount of enzyme added was 1 pmol/reaction (20 nM). Reactions were terminated after 10 min at 23°C by adding 45 μl of 0.5% phosphoric acid in water. The terminated reaction mix (75 μl) was transferred to phosphocellulose filter plates. The plates were filtered and washed three times with 200 μl of 0.5% phosphoric acid. Scintillation cocktail (50 μl ) was added to each well, and the assay was quantified by counting in a Packard Topcount.

Cell experiment [1]:

Cell lines

EGFR-overexpressing cell lines HN5 and A-431; the ErbB-2-overexpressing cell lines BT474, N87 (20), and CaLu-3; and tumor cell lines expressing low levels of EGFR and ErbB-2, MCF-7, and T47D

Preparation method

The solubility of this compound in DMSO is >29.1mg/mL. General tips for obtaining a higher concentration: Please warm the tube at 37 ℃ for 10 minutes and/or shake it in the ultrasonic bath for a while. Stock solution can be stored below -20℃ for several months.

Reacting condition

30 μM, 3 days

Applications

GW2016 (30 μM) resulted in complete inhibition of outgrowth of the HN5 cell population. GW2016 (>3.3 μM) inhibited the outgrowth by 50%. GW2016 (0.37 μM) significantly inhibited the outgrowth by 20%. GW2016 (1 μM) completely inhibited the outgrowth of the BT474 cells, with ~60% inhibition of outgrowth occurring at 0.37 μM. In the EGFR-overexpressing cell line HN5, treatment with GW2016 (1 and 10 μM) resulted in induction of G1 arrest. GW2016 (10 μM for 72 h) slightly increased the number of cells with sub-2N DNA content. In the BT474 cells, a large increase in the number of events with sub-2N DNA was observed after 72 h of treatment with GW2016.

Animal experiment [1]:

Animal models

BT474 and HN5 human tumor-bearing mice

Dosage form

Oral administration, 30 and 100 mg/kg, twice daily for 21 days

Application

Lapatinib (100 mg/kg) completely inhibited tumor growth.

Other notes

Please test the solubility of all compounds indoor, and the actual solubility may slightly differ with the theoretical value. This is caused by an experimental system error and it is normal.

References:

[1]. Rusnak D W, Lackey K, Affleck K, et al. The effects of the novel, reversible epidermal growth factor receptor/ErbB-2 tyrosine kinase inhibitor, GW2016, on the growth of human normal and tumor-derived cell lines in vitro and in vivo[J]. Molecular cancer therapeutics, 2001, 1(2): 85-94.
Chemical Properties
Cas No.
231277-92-2
SDF
Download SDF
Synonyms
Tykerb;GW572016;GW-572016;GW 572016, Lapatinib tosilate hydrate
Chemical Name
N-[3-chloro-4-[(3-fluorophenyl)methoxy]phenyl]-6-[5-[(2-methylsulfonylethylamino)methyl]furan-2-yl]quinazolin-4-amine
Canonical SMILES
CS(=O)(=O)CCNCC1=CC=C(O1)C2=CC3=C(C=C2)N=CN=C3NC4=CC(=C(C=C4)OCC5=CC(=CC=C5)F)Cl
Formula
C29H26ClFN4O4S
M.Wt

581.06

Solubility
>29.1mg/mL in DMSO
Storage
Store at -20°C
General tips
For obtaining a higher solubility , please warm the tube at 37 ℃ and shake it in the ultrasonic bath for a while.Stock solution can be stored below -20℃ for several months.
Shipping Condition
Evaluation sample solution : ship with blue ice
All other available size: ship with RT , or blue ice upon request
Background
Lapatinib (also known as GW572016), a member of the 4-anilinoquinazoline class of kinase inhibitors, is a potent, reversible and selective small-molecule inhibitor of both epidermal growth factor receptor (EGFR) and human epidermal growth factor receptor 2 (HER-2) tyrosine kinases that inhibits recombinant EGFR and HER-2 tyrosine kinases in cell-free biochemical kinase assays with values of 50% inhibition concentration IC50 of 10.8 nmol/L and 9.3 nmol/L respectively. Lapatinib interferes with the adenosine triphosphate binding in the tyrosine kinases domains of both EGFR and HER-2 resulting in the inhibition of auto-phosphorylation and resultant downstream signaling activities (such as cellular proliferation and survival).
Reference
Alison Reid, Laura Vidal, Heather Shaw and Johann de Bono. Dual inhibition of ErbB1 (EGFR/HER1) and ErbB2 (HER2/neu). European Journal of Cancer 43 (2007) 481-489
Norio Kondo, Mamoru Tsukuda, Yukari Ishiguro, Machiko Kimura, Kyoko Fujita, Atsuko Sakakibara, Hideaki Takahashi, Gabor Toth and Hideki Matsuda. Antitumor effects of lapatinib (GW572016), a dual inhibitor of EGFR and HER-2, in combination with cisplatin or paclitaxel on head and neck squamous cell carcinoma. Oncology Reports 23: 957-963, 2010
Zev A. Wainberg, Adrian Anghel, Amrita J. Desai, Raul Ayala, Tong Luo, Brent Safran, Marlena S. Fejzo, J. Randolph Hecht, Denni J. Slamon and Richard S. Finn. Lapatinib, a dual EGFR and HER2 kinase inhibitor, selectively inhibits HER2-amplified human gastric cancer cells and is synergistic with trastuzumab in vitro and in vivo. Clin Cancer Res 2010; 16(5): 1509-1519