Background
Fibroblast Growth Factor-19 (FGF-19) is a member of the FGF family and is a high-affinity heparin-dependent ligand for FGFR4 expressed during brain development and embryogenesis. The FGF family plays central roles in cell growth, cell migration, embryonic development, morphogenesis, metabolic regulation, tissue repair, tumor growth and invasion.
The Human FGF-19 cDNA encodes a 251 aa precursor protein with a 22 aa signal peptide and a 229 aa secreted mature protein with no potential N-linked glycosylation sites. Recombinant human FGF-19 is a 21.8 kDa protein containing 195 amino acid residues.
Biological Activity
Determined by a cell proliferation assay using balb/c 3T3 cells.
ED50
50-200 ng/ml.
Quality Control
Quality Control & DataSheet
View current batch:
Purity: ≥95%, by SDS-PAGE and HPLC.
Endotoxin Level:< 0.1 ng/μg
Related Biological Data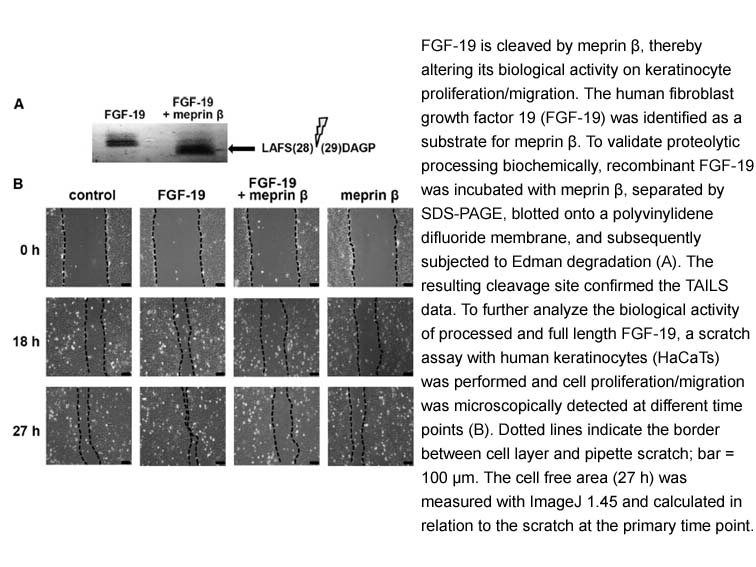 Related Biological Data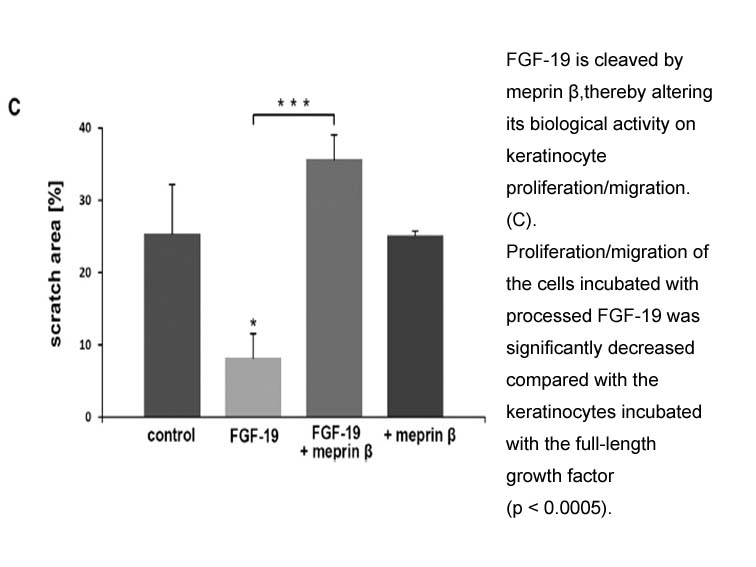 Description
Gene ID:
9965
Accession #:
NM_005117
Alternate Names:
human FGF-19, h-FGF-19, rh-FGF-19, recombinant human FGF-19, recombinant FGF-9, FGF, FGF-19, FGF 19, FGF19.
Source:
Escherichia Coli.
M.Wt:
21.8 kDa
Appearance:
Lyophilized protein
Storage:
Store at -20°C
Formulation:
Lyophilized without additives. The protein may appear as a haze or film, which you may not see at the bottom of the vial.
Solubility:
Reconstitute in water to a concentration of 0.1-1.0 mg/ml. This solution can then be diluted into other aqueous buffers and stored at 4°C for 1 week or -20°C for future use.
Shipping Condition:
Blue ice.
Handling:
Centrifuge the vial prior to opening.
Usage:
For Research Use Only! Not to be used in humans.