Background
Everolimus, also known as RAD001, is a potent and orally bio-available inhibitor of mammalian target of rapamycin (mTOR), a key component of active PI3K/Akt pathway in human cancers. It binds to intracellular receptor FKBP12 in the mTOR pathway with high affinity forming an everolimus-FKBP12 complex. The complex further binds to mTOR resulting in reducing the activity of the downstream effectors S6 ribsomal protein kinase (S6K1) and translational repressor protein eukaryotic elongation factor 4E-binding protein (4EBP). Besides its immunosuppressive activity for the prevention of organ transplant rejection, everolimus exhibits antineoplastic activity and is currently used to treat renal cell cancer and other tumors.
Reference
G Anandappa, AE Hollingdale, and TG Eisen. Everolimus – a new approach in the treatment of renal cell carcinoma. Cancer Management and Research 2010:2 61-70
Laura Elibenschutz, Delia Colombo, and Caterina Catricala. Everolimus for compassionate use in multiple basal cell carcinomas. Case Reports in Dermatological Medicine 2013
Raffaele Pezzani, Beatrice Rubin, Marco Redaelli, Claudia Radu, Susi Barollo, Maria Verena Cicala, Monica Salva, Caterina Mian, Carla Mucignat-Caretta, Paolo Simioni, Maurizio Iacobone and Franco Mantero. The antiproliferative effects of ouabain and everolimus on adrenocortical tumor cells. Endocrine journal, 2013
Product Citation
Chemical Properties
Protocol
Cell experiment: [1]

Cell lines

The pancreatic tumor cell line Panc-1 and the small cell lung cancer cell line ScLc.

Preparation method

The solubility of this compound in DMSO is >10 mM. General tips for obtaining a higher concentration: Please warm the tube at 37°C for 10 minutes and/or shake it in the ultrasonic bath for a while.Stock solution can be stored below -20°C for several months.

Reaction Conditions

IC50: 50 μg/mL (Panc-1); 5 μg/mL (ScLc), 24h

Applications

Everolimus exerted antiproliferation activity. It dose-dependently inhibited BrdU incorporation in Panc-1 and ScLc with IC50 values of 50 μg/mL and 5 μg/mL, respectively. Both are high concentrations that would not be possible in humans. Therapeutic serum levels of everolimus range between 0.005 and 0.01 μg/mL.

Animal experiment : [2]

Animal models

TgMISIIR-TAg-DR26 mice model of ovarian cancer

Dosage form

RAD001 was formulatedat 2% (w/v) in a microemulsion vehicle and was diluted in double-distilled water just before administration by gavage. Mice were treated with placebo (control) or 5 mg/kg of RAD001 twice weekly started from age of 5 weeks and continued to 20 weeks. Mice treated with placebo or RAD001 were scanned by MRM.

Applications

RAD001 suppressed tumorigenesis. Body weights of RAD001-treated mice were ~10% lower than in placebo treated mice.

Other notes

Please test the solubility of all compounds indoor, and the actual solubility may slightly differ with the theoretical value. This is caused by an experimental system error and it is normal.

References:

[1] Stracke S, Ramudo L, Keller F, et al. Antiproliferative and overadditive effects of everolimus and mycophenolate mofetil in pancreas and lung cancer cells in vitro. Transplantation proceedings. Elsevier, 2006, 38(3): 766-770.

[2] Mabuchi S, Altomare D A, Connolly D C, et al. RAD001 (Everolimus) delays tumor onset and progression in a transgenic mouse model of ovarian cancer. Cancer Research, 2007, 67(6): 2408-2413.
Biological Activity
Description
Everolimus (RAD001) is an inhibitor of mTOR for FKBP12 with IC50 of 1.6-2.4 nM.
Targets
mTOR (FKBP12)
IC50
1.6-2.4 nM
Quality Control
Quality Control & MSDS
View current batch:
Chemical structure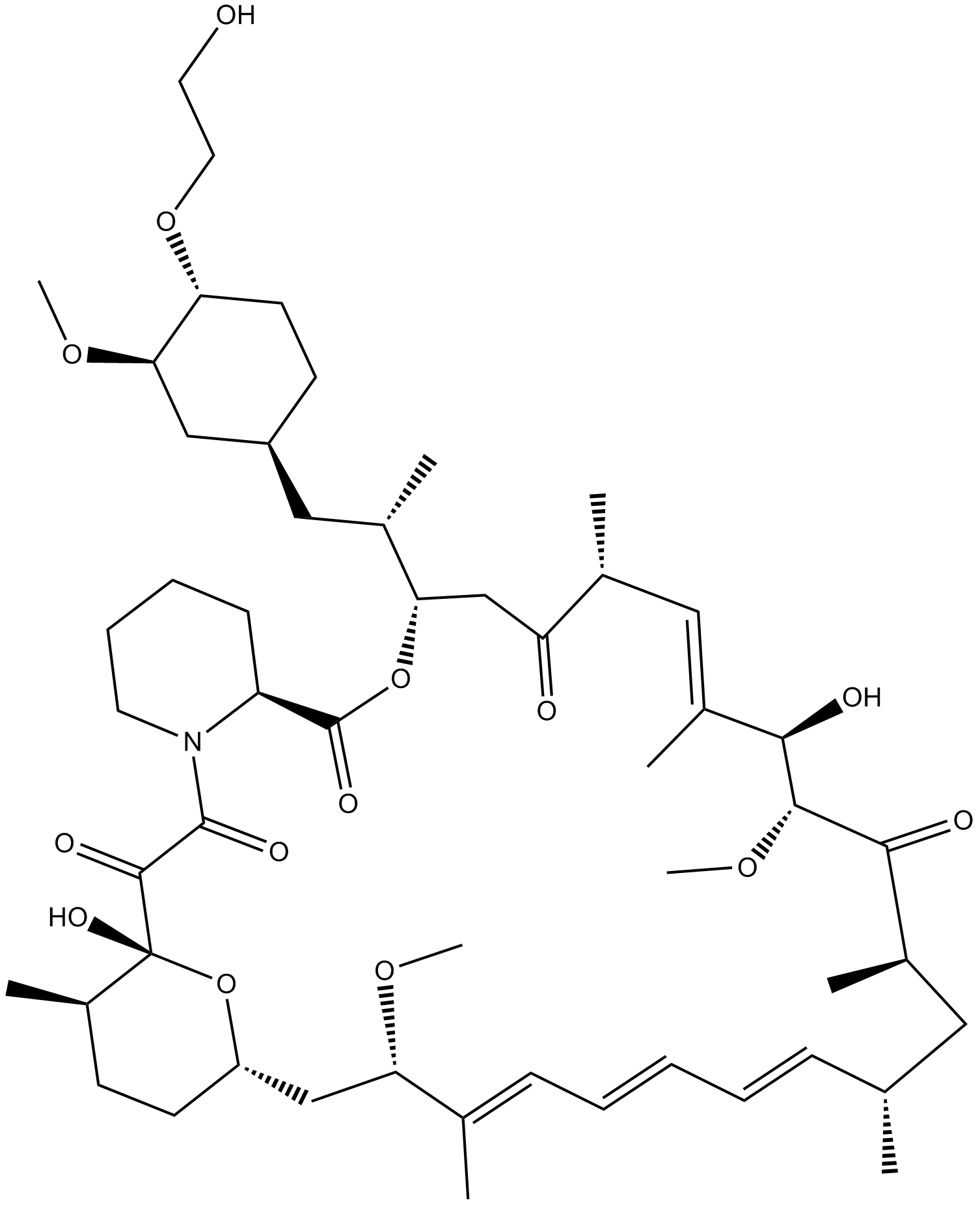 Related Biological Data
Related Biological Data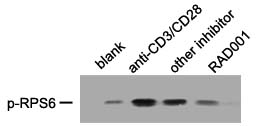 RAD001 significantly inhibited the phosphorylation of RPS6 which is the downstream target of mTOR.
Method:western blot; Cell Lines:primary mouse T lymphocytes; Concentration:10 nM; Incubation Time:24 h.
Related Biological Data
Related Biological Data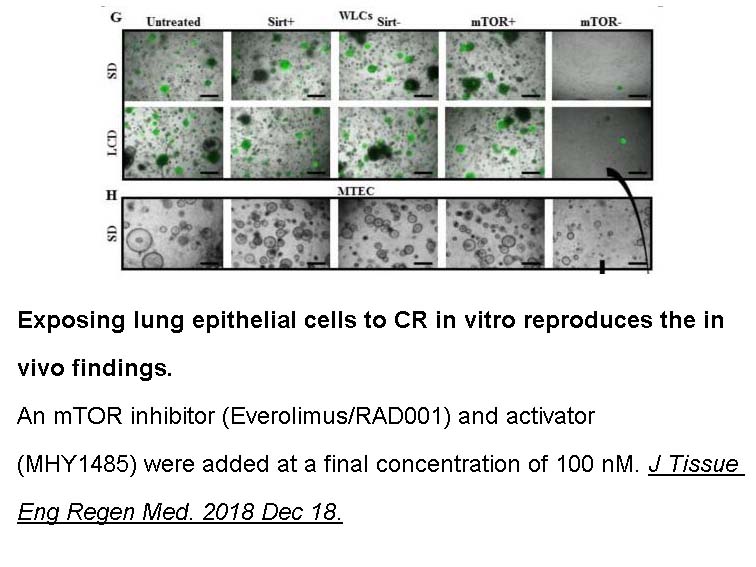 Related Biological Data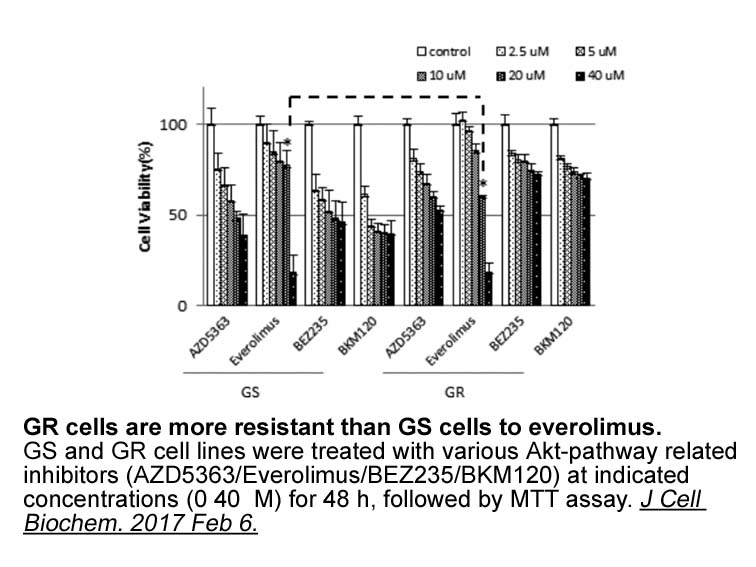 Related Biological Data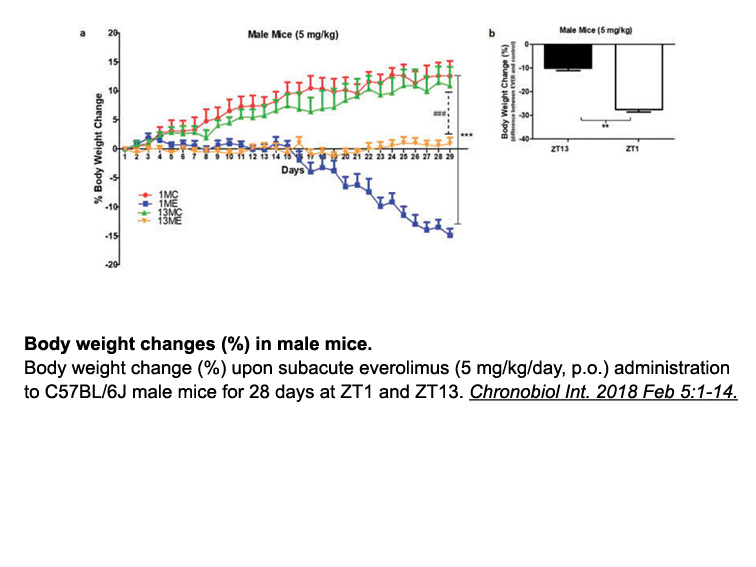 Related Biological Data