Background
PI-103 is a potent and selective inhibitor of class I PI3K, mTOR and DNA-PK with IC50 values of 2, 3, 3, 15, 30 and 23 nM for p110α, p110β, p110δ, p110γ, mTOR and DNA-PK, respectively [1].
PI-103 showed potent antiproliferation activities in various cancer cell lines such as prostate, ovary and glioblastoma. It exerted GI50 values of 0.14, 0.06, 0.13, 0.10, 0.12 and 0.08 μM in U87MG, IGROV-1, DETROIT-562, PC3, SKOV-3 and HUVEC cells, respectively. In U87MG cells, 2 hour-treatment of PI-103 caused inhibition effects on various phosphorylated protein biomarkers of PI3K pathway with IC50 values of 15, 36, 111, 106 and 105 nM for p-AKTSer473, p-AKTThr308, p-GSK3βSer9, p-p70S6KThr421/Ser424 and p-S6RPSer235/Ser236, respectively [1].
References:
[1] Raynaud F I, Eccles S A, Patel S, et al. Biological properties of potent inhibitors of class I phosphatidylinositide 3-kinases: from PI-103 through PI-540, PI-620 to the oral agent GDC-0941. Molecular cancer therapeutics, 2009, 8(7): 1725-1738.

Product Citation
Chemical Properties
| | |
| --- | --- |
| Physical Appearance | A solid |
| Storage | Store at -20°C |
| M.Wt | 348.36 |
| Cas No. | 371935-74-9 |
| Formula | C19H16N4O3 |
| Solubility | ≥21.9 mg/mL in DMSO; insoluble in H2O; insoluble in EtOH |
| Chemical Name | 3-(4-morpholin-4-ylpyrido[2,3]furo[2,4-b]pyrimidin-2-yl)phenol |
| SDF | Download SDF |
| Canonical SMILES | C1COCCN1C2=NC(=NC3=C2OC4=C3C=CC=N4)C5=CC(=CC=C5)O |
| Shipping Condition | Ship with blue ice, or upon other requests. |
| General tips | For obtaining a higher solubility, please warm the tube at 37°C and shake it in the ultrasonic bath for a while. We do not recommend long-term storage for the solution, please use it up soon. |
Protocol
Cell experiment: [1]

Cell lines

A549 and H460 cells

Preparation method

The solubility of this compound in DMSO is >10 mM. General tips for obtaining a higher concentration: Please warm the tube at 37 °C for 10 minutes and/or shake it in the ultrasonic bath for a while.Stock solution can be stored below -20°C for several months.

Reaction Conditions

72 hours, 2 μM for A549 cells 0.5 μM for H460 cells

Applications

Incubation of A549 cells with 2 μM PI-103 for 72 h induced an ~60% reduction in cell number. In contrast to A549 cells, H460 cells were highly sensitive to low-dose PI-103. Treatment of H460 cells with 0.5 μM PI-103 for 72 h resulted in ~60% inhibition. Results showed that exposure of A549 and H460 cells to PI-103 with the indicated concentrations for 72 h induced growth inhibition in a dose-dependent manner.

Animal experiment: [2]

Animal models

FVB/N wild type mice injected with 37-31E-F3 cells

Dosage form

Intraperitoneal injection, 10 mg/kg, daily

Applications

PI-103 treatment promoted a significant in vivo tumor growth compared with the DMSO treated mice. It was effective by partially inhibiting the Akt and S6 ribosomal protein phosphorylation. Tumors from PI-103-treated mice showed higher levels of cyclin D1 and more proliferating cells as indicated by the number of Ki67 positive cells. PI-103-treated tumors had the lowest apoptotic rate.

Other notes

Please test the solubility of all compounds indoor, and the actual solubility may slightly differ with the theoretical value. This is caused by an experimental system error and it is normal.

References:

[1] Zou Z Q, Zhang X H, Wang F, et al. A novel dual PI3Kalpha/mTOR inhibitor PI-103 with high antitumor activity in non-small cell lung cancer cells. Int J Mol Med, 2009, 24(1): 97-101.

[2] López‐Fauqued M, Gil R, Grueso J, et al. The dual PI3K/mTOR inhibitor PI‐103 promotes immunosuppression, in vivo tumor growth and increases survival of sorafenib-treated melanoma cells. International journal of cancer, 2010, 126(7): 1549-1561.
Biological Activity
Description
PI-103 is a multi-targeted inhibitor of PI3K for p110α/β/δ/γ with IC50 of 2 nM/3 nM/3 nM/15 nM, less potent to mTOR/DNA-PK with IC50 of 30 nM/23 nM.
Targets
p110α
p110β
p110δ
p110γ
mTOR
DNA-PK
IC50
2 nM
3 nM
3 nM
15 nM
30 nM
23 nM
Quality Control
Quality Control & MSDS
View current batch:
Chemical structure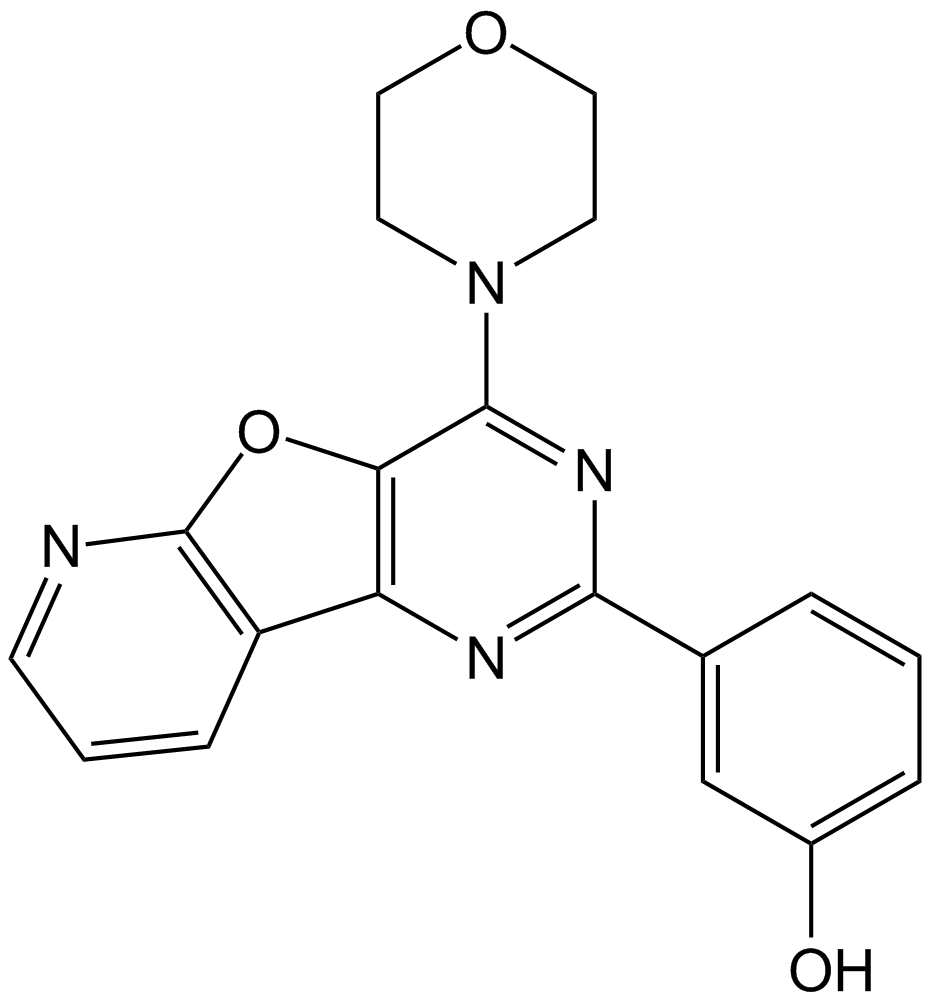 Related Biological Data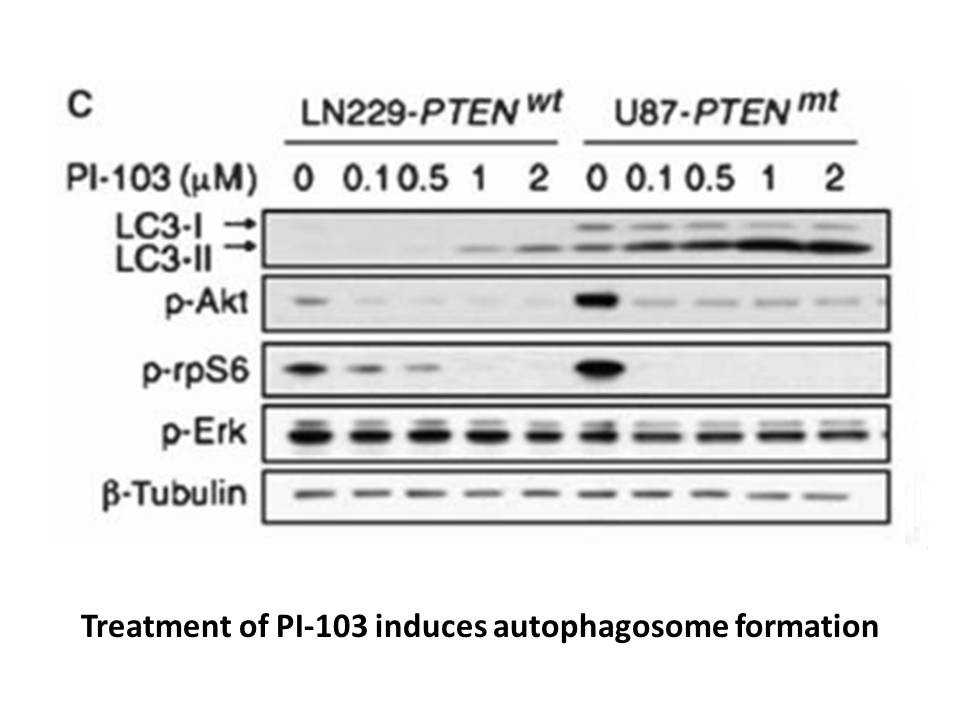 Related Biological Data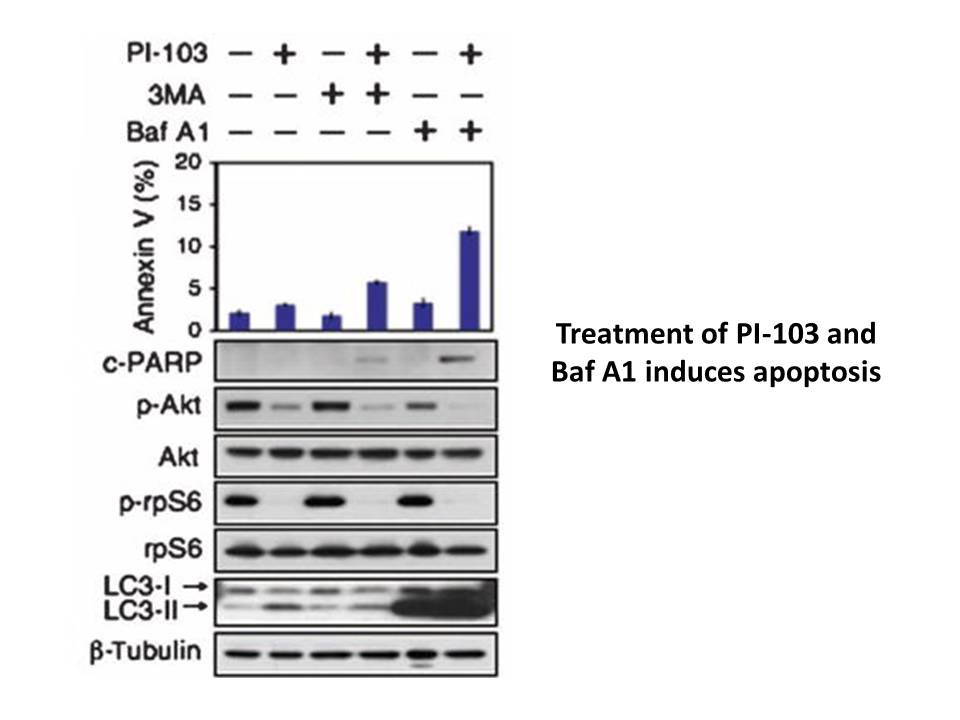 Related Biological Data