Background
CAL-101 (Idelalisib, GS-1101), is a p110δ selective phosphatidylinositol-3-kinase inhibitor in a kinome-wide screen using purified enzymes and in cell-based PI3K isoform-specific assays. Phosphatidylinositol-3-kinase p110δ serves as a central integration point for signaling from cell surface receptors known to promote malignant B-cell proliferation and survival. CAL-101 can block constitutive phosphatidylinositol-3-kinase signaling, resulting in reduced phosphorylation of Akt and other downstream effect factors, an increase in poly(ADP-ribose) polymerase and caspase cleavage and an induction of apoptosis. These effects have been observed across a broad range of immature and mature B-cell malignancies. In addition, CAL-101 abrogated protection from spontaneous apoptosis induced by B cell–activating factors CD40L, TNF-α, and fibronectin.
Reference
Brian J. Lannutti, Sarah A. Meadows, Sarah E. M. Herman, Adam Kashishian, Bart Steiner, Amy J. Johnson, John C. Byrd, Jeffrey W. Tyner, Marc M. Loriaux, Mike Deininger, Brian J. Druker, Kamal D. Puri, Roger G. Ulrich, and Neill A. Giese. CAL-101, a p110δ selective phosphatidylinositol-3-kinase inhibitor for the treatment of B-cell malignancies, inhibits PI3K signaling and cellular viability. Blood. 2011; 117(2): 591 – 594.
Sarah E. M. Herman, Amber L. Gordon, Amy J. Wagner, Nyla A. Heerema, Weiqiang Zhao, Joseph M. Flynn, Jeffrey Jones, Leslie Andritsos, Kamal D. Puri, Brian J. Lannutti, Neill A. Giese, Xiaoli Zhang, Lai Wei, John C. Byrd,  Amy J. Johnson. Phosphatidylinositol 3-kinase-δ inhibitor CAL-101 shows promising preclinical activity in chronic lymphocytic leukemia by antagonizing intrinsic and extrinsic cellular survival signals. Blood. 2010; 116(12): 2078 – 88.
Product Citation
Chemical Properties
| | |
| --- | --- |
| Physical Appearance | A solid |
| Storage | Store at -20°C |
| M.Wt | 415.43 |
| Cas No. | 870281-82-6 |
| Formula | C22H18FN7O |
| Synonyms | CAL-101,CAL101,Idelalisib,GS-1101,GS1101 |
| Solubility | ≥80.2 mg/mL in DMSO, <2.09 mg/mL in H2O, ≥2.1 mg/mL in EtOH with ultrasonic and warming |
| Chemical Name | 5-fluoro-3-phenyl-2-[(1S)-1-(7H-purin-6-ylamino)propyl]quinazolin-4-one |
| SDF | Download SDF |
| Canonical SMILES | CCC(C1=NC2=C(C(=CC=C2)F)C(=O)N1C3=CC=CC=C3)NC4=NC=NC5=C4NC=N5 |
| Shipping Condition | Evaluation sample solution : ship with blue ice.All other available size: ship with RT , or blue ice upon request |
| General tips | For obtaining a higher solubility , please warm the tube at 37 ℃ and shake it in the ultrasonic bath for a while.Stock solution can be stored below -20℃ for several months. |
Protocol
Cell experiment: [1]

Cell lines

CD19/CD5-positive CLL cells (> 90%)

Preparation method

The solubility of this compound in DMSO is >10 mM. General tips for obtaining a higher concentration: Please warm the tube at 37 °C for 10 minutes and/or shake it in the ultrasonic bath for a while.Stock solution can be stored below -20°C for several months.

Reaction Conditions

< 5 μM: dose-dependently inhibits the pro-survival effect of anti-IgM= 5 μM, 24h: inhibits 2.6% activity of anti-IgM> 5 μM, 72h: maximally reduces CLL cell viability

Applications

CAL-101 abrogated the pro-survival effect of anti-IgM in a dose-dependent fashion at lower dose levels (< 5 μM). CAL-101 treatment at concentrations of > 5 μM was maximally effective over the 72-hour time course in reducing CLL cell viability. At the 5 μM concentration, CAL-101 significantly decreased the mean ( SEM) pro-survival effect of anti-IgM to 92.7% ( 2.6%) after 24 hours.

Animal experiment : [2]

Animal models

NOD-SCID-γ-null (NSG) mice well-engrafted with de novo (n = 3) or relapsed (n = 1) childhood Ph-like ALL specimens with JAK2 mutations and/or CRLF2 alterations.

Dosage form

30 mg/kg/day, 3 days, oral gavage

Applications

CAL101 treatments demonstrated potent in vivo inhibition of relevant phosphoproteins, including phosphorylated (p) PI3K, mTOR, S6, and AktS473. Increased phosphorylation of other measured proteins was not observed, suggesting that proximal inhibition effectively abrogated aberrant PI3K pathway signal transduction with minimal compensatory signaling upregulation.

Other notes

Please test the solubility of all compounds indoor, and the actual solubility may slightly differ with the theoretical value. This is caused by an experimental system error and it is normal.

References:

[1] Hoellenriegel J, Meadows S A, Sivina M, et al. The phosphoinositide 3′-kinase delta inhibitor, CAL-101, inhibits B-cell receptor signaling and chemokine networks in chronic lymphocytic leukemia. Blood, 2011, 118(13): 3603-3612.

[2] Li Y, Ryan T, Vincent T, et al. In vivo efficacy of PI3K pathway signaling inhibition for Philadelphia chromosome-like acute lymphoblastic leukemia. Blood, 2013, 122(21): 2672-2672.
Biological Activity
Description
CAL-101 (Idelalisib, GS-1101) is a selective inhibitor of p110δ with IC50 of 2.5 nM.
Targets
p110δ
IC50
2.5 nM
Quality Control
Quality Control & MSDS
View current batch:
Chemical structure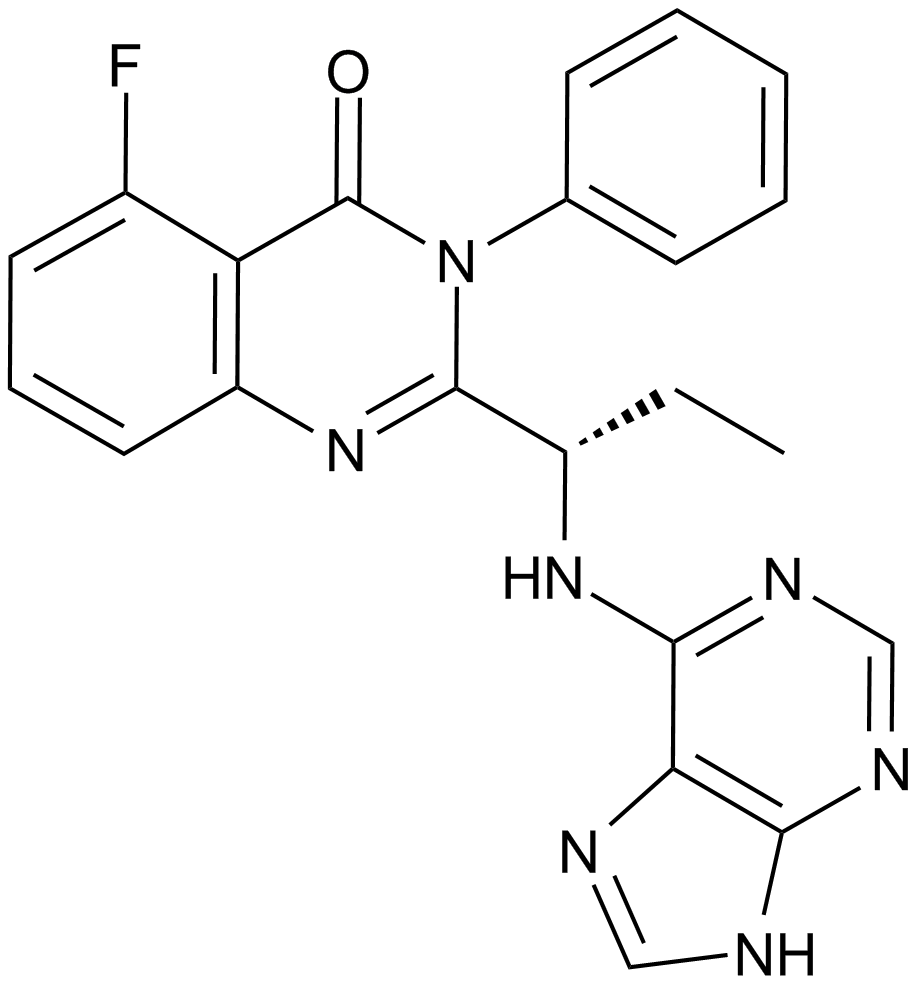 Related Biological Data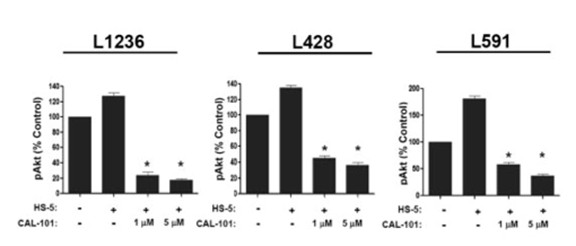 Related Biological Data
Related Biological Data