KU-60019
ATM kinase inhibitor,potent and selective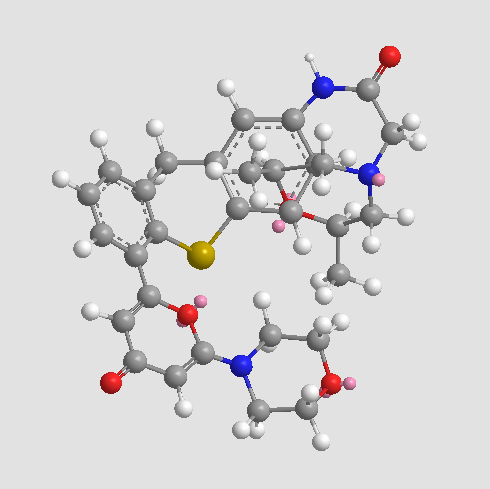 Sample solution is provided at 25 µL, 10mM.
Publications citing ApexBio Products
Related Compound Libraries
Quality Control
Quality Control & MSDS
View current batch:
Chemical structure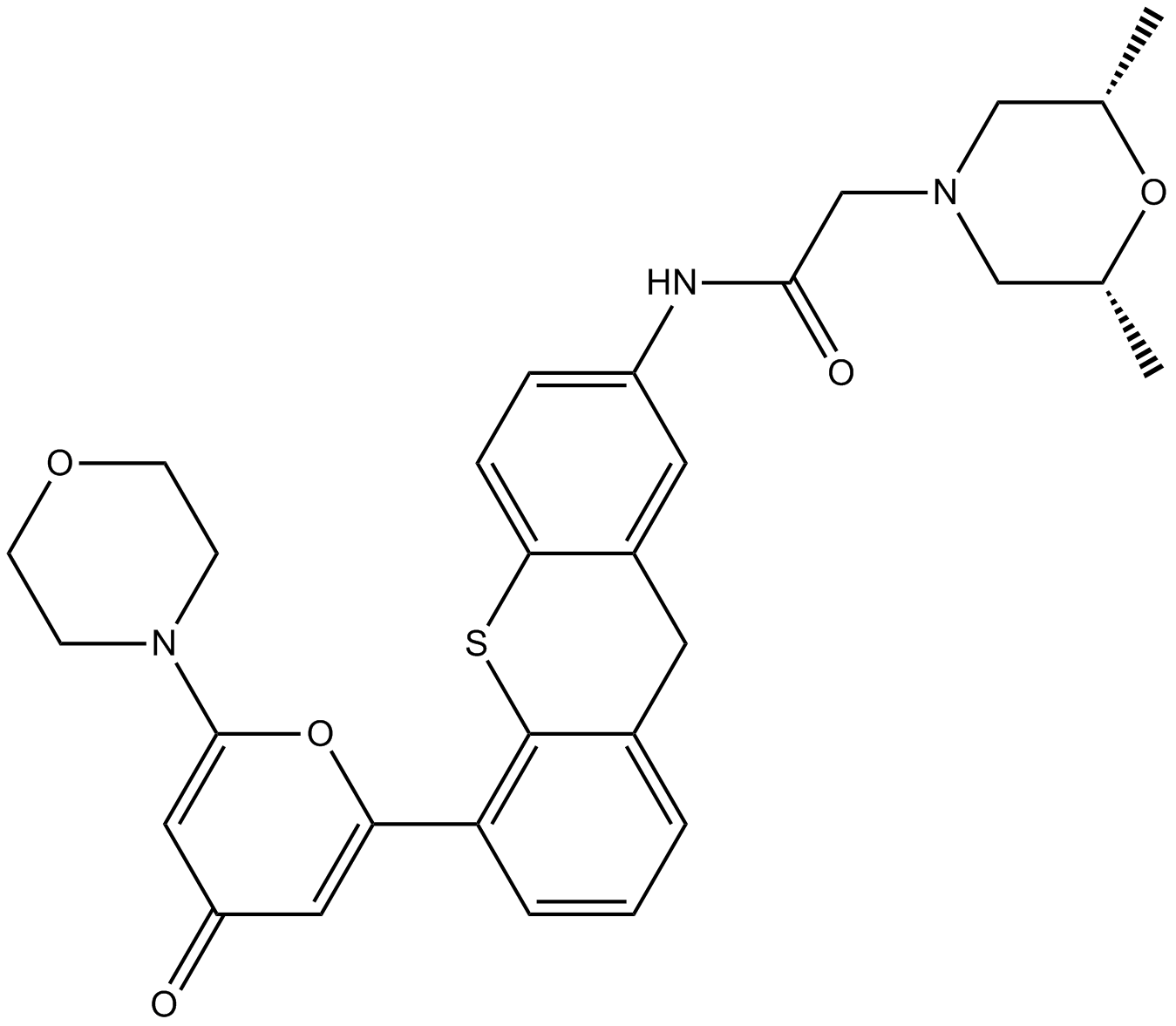 Related Biological Data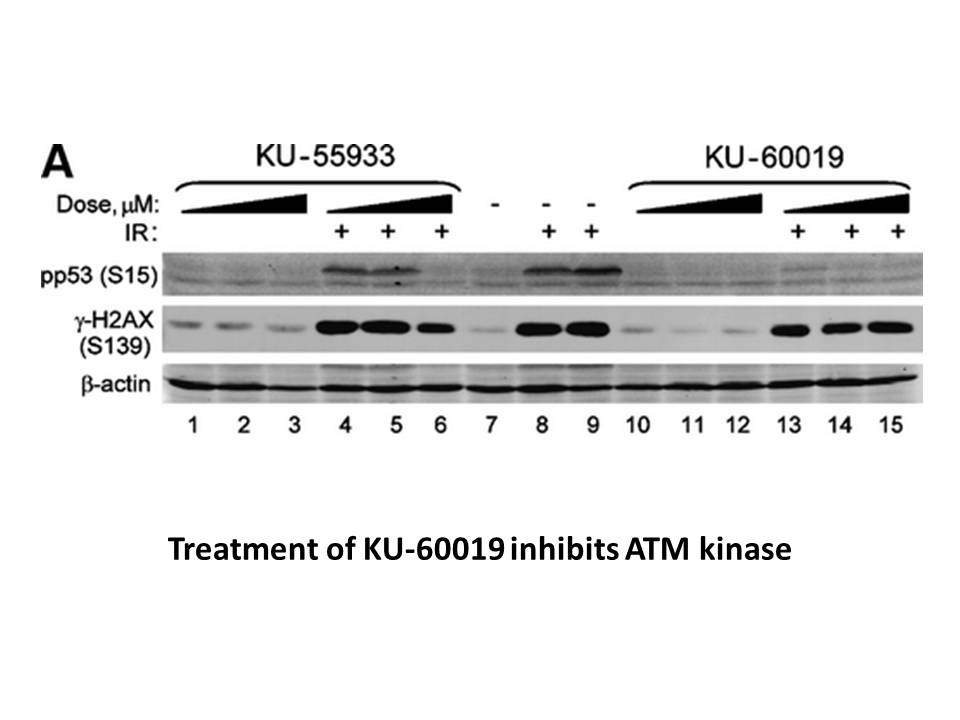 Related Biological Data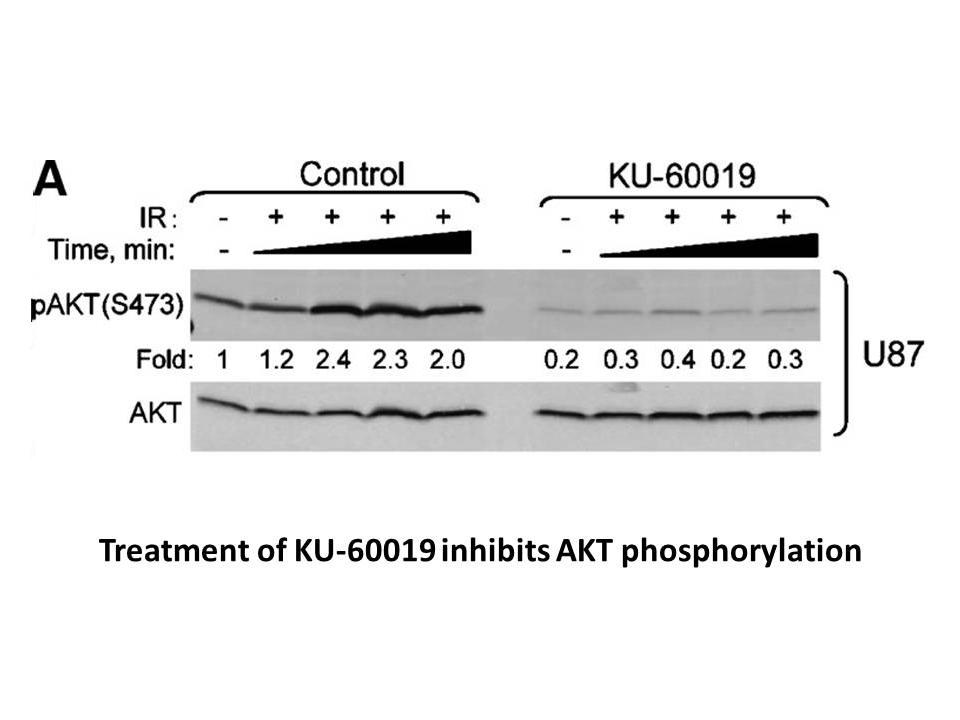 Biological Activity
Description
KU-60019 is an improved analogue of KU-55933 with IC50 of 6.3 nM for ATM, 270- and 1600-fold more selective for ATM than DNA-PK and ATR.
Targets
ATM
IC50
6.3 nM
Chemical Properties
Cas No.
925701-49-1
SDF
Download SDF
Synonyms
KU60019;KU 60019
Chemical Name
2-[(2S,6R)-2,6-dimethylmorpholin-4-yl]-N-[5-(6-morpholin-4-yl-4-oxopyran-2-yl)-9H-thioxanthen-2-yl]acetamide
Canonical SMILES
CC1CN(CC(O1)C)CC(=O)NC2=CC3=C(C=C2)SC4=C(C=CC=C4C3)C5=CC(=O)C=C(O5)N6CCOCC6
Formula
C30H33N3O5S
M.Wt

547.68

Solubility
>27.4mg/mL in DMSO
Storage
Store at -20°C
General tips
N/A
Shipping Condition
N/A
Background
KU-60019 is a selective inhibitor of the Ataxia telangiectasia (A-T) mutated (ATM) protein with an IC50 value of 6.3 nM. In literature report, KU-60019 radiosensitizes h-TERT-immortalized normal fibroblasts but not A-T fibroblasts, suggesting it is a specific ATM kinase radiosensitizer [1].
KU-60019 can reduce radiation-induced S473 AKT phosphorylation in human glioma cell lines that are p53 wild type (U87) and p53 mutant (U1242). However, the suppression of AKT does not enhance radiosensitization of KU-60019 [1].
KU-60019 has been reported to inhibit cell migration and invasion in human glioma cells U87 and U1242 in a dose-dependent manner. Besides, KU-60019, to some extent, has also been shown to suppress the growth of U1242 cells [1].
References:
[1] Golding SE1, Rosenberg E, Valerie N, Hussaini I, Frigerio M, Cockcroft XF, Chong WY, Hummersone M, Rigoreau L, Menear KA, O'Connor MJ,Povirk LF, van Meter T, Valerie K. Improved ATM kinase inhibitor KU-60019 radiosensitizes glioma cells, compromises insulin, AKT and ERK prosurvival signaling, and inhibits migration and invasion. Mol Cancer Ther. 2009 Oct;8(10):2894-902.