Fluorescein TSA Fluorescence System Kit
used for signal amplification of in situ hybridization (ISH), immunohistochemistry (IHC), immunocytochemistry (ICC) and other related experiments
Quality Control
Quality Control & DataSheet
View current batch:
Related Biological Data
Protocol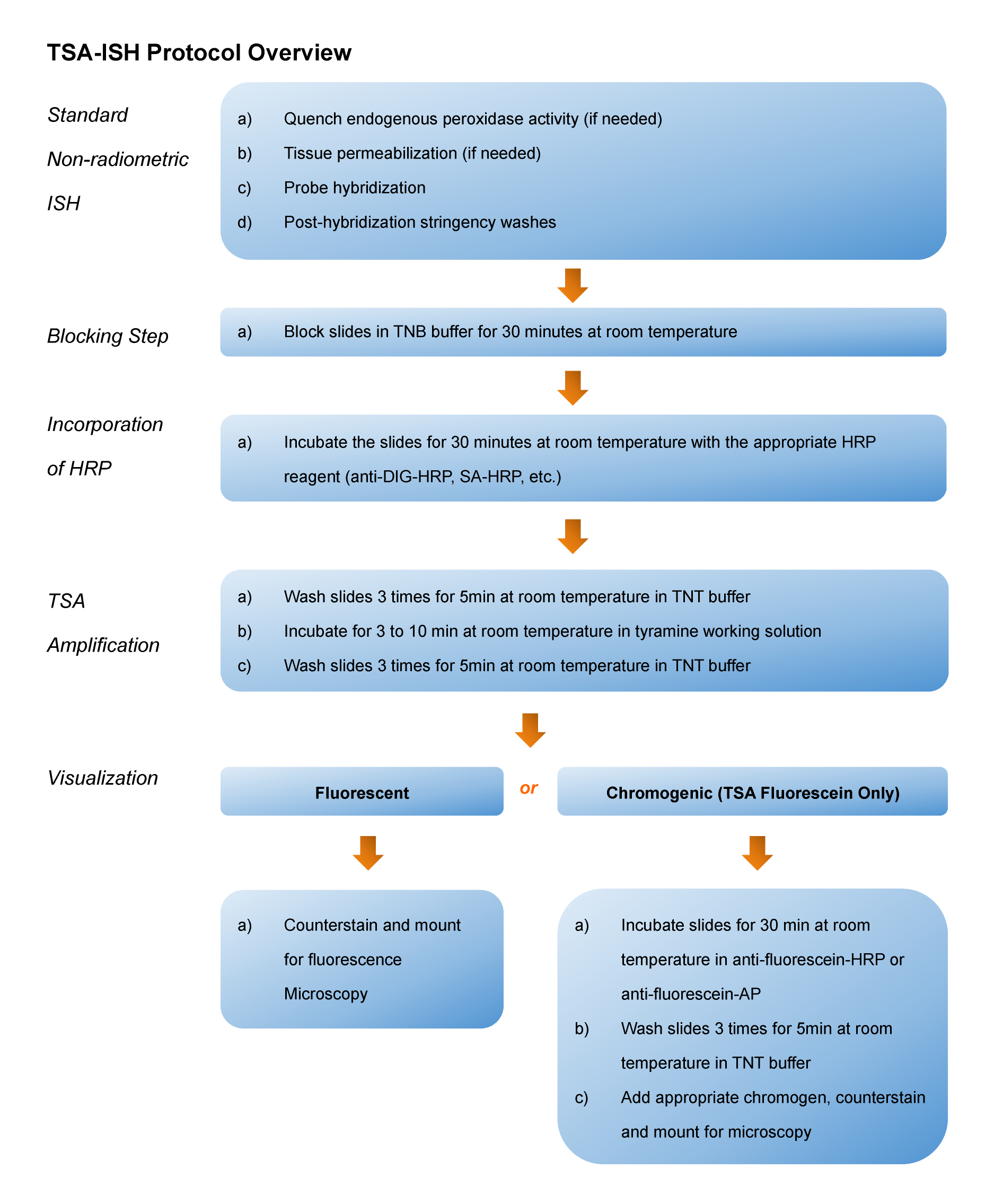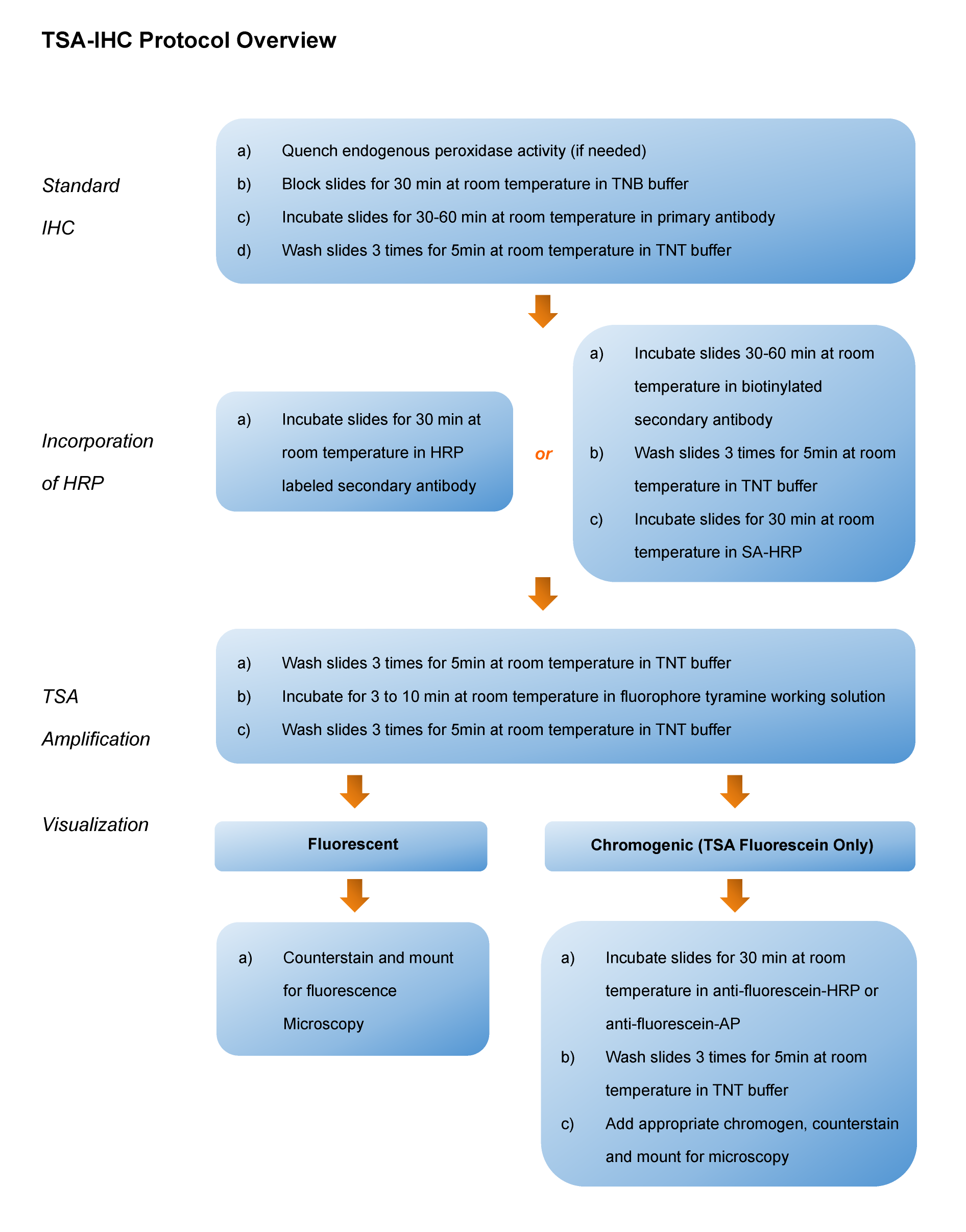 Components and Storage
Complete Kit
100-300 slides
200-600 slides
1X Amplification Diluent
30 mL
60 mL
Fluorescein Tyramide (dry, dissolve in 60 uL DMSO)
1 tube
2 tubes
Blocking Reagent
6 g
12 g

Store Fluorescein Tyramide in the dark at -20°C and keep 1X Amplification Diluent and Blocking Reagent in the dark at 4°C.Store for six months.
Description
Tyramine Signal Amplification (TSA) from APExBIO technology increases sensitivity by a factor of 100 and enables detection of low-abundance targets in fluorescent immunocytochemistry (ICC), immunohistochemistry (IHC) and in situ hybridization (FISH) applications.
The TSA Fluorescence Kit uses horseradish peroxidase (HRP) to directly catalyze the covalent deposition of the fluorophore adjacent to the immobilized enzyme. The labeling process is so fast (less than ten minutes) and the deposition label can be viewed directly under standard or confocal microscopy. TSA fluorescein can also be used in combination with anti-fluorescein.
TSA technology is used for bright field microscopy of enzyme conjugates and suitable chromogenic substrates. The use of TSA reagents results in a significant increase in sensitivity compared to standard assays while maintaining stable specificity and resolution. In addition, TSA reagents can significantly reduce the consumption of primary antibodies or probes. The fluorescent labeling signal of this kit (K1050) is fluorescein, which can be detected the signal by microscopy at the excitation and emission wavelengths (494 nm/517 nm).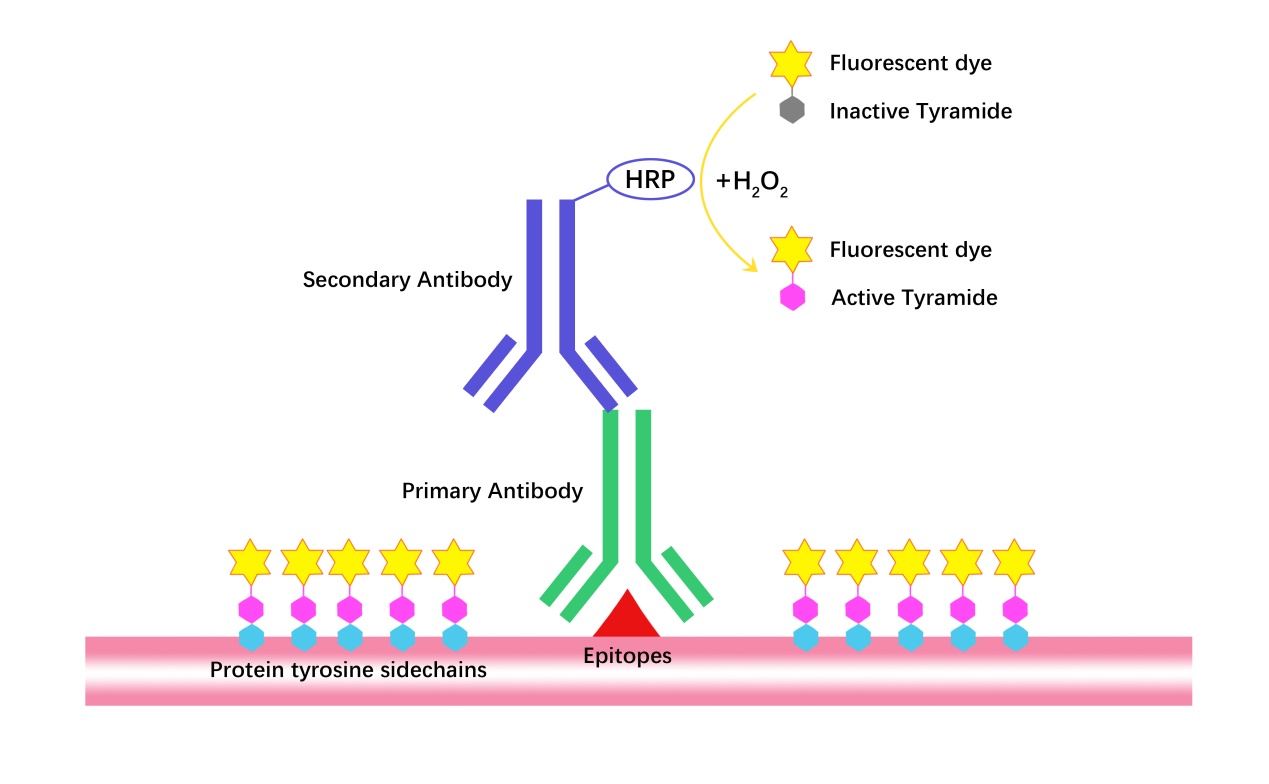 Schematic diagram of tyramine signal amplification system
Label the cell or tissue sample with the primary and secondary antibodies using conventional methods. The horseradish peroxidase (HRP) conjugated to the second antibody catalyzes the conversion of the labeled tyramide to a reactive radical, and the tyramide radical is covalently bound to a nearby tyrosine residue to provide a high-density label.