Background
SKLB610 is a selective inhibitor of VEGFR with IC50 value of 2.2 μM [1].
VEGFR (vascular endothelial growth factor receptor) are receptors for VEGF and plays an important role in stimulating cellular response by cooperating with VEGF. It has been reported that VEGFR abnormally expressed in a variety of cancers and its inhibitors has been regarded as a promising strategy in clinic [1, 2].
SKLB610 is a potent VEGF induced VEGF2 phosphorylation inhibitor. When tested with a panel of human cancer cell lines, SKLB610 inhibited cell proliferation with IC50 value ranges from 2.2 μM to 25.6 μM. In HUVECs, SKLB610 showed inhibition on VEGF-stimulated cell proliferation as well as VEGFR2 phosphorylation, inhibited cell capillary tube formation in a dose-dependent manner [1]. The solubility of SKLB610 in water, Ethanol, Ethyl acetate, 0.5% Tween 80 and Nanosuspension is 0.34 μg/ml, 16500 μg/ml, 380μg/ml, 23μg/ml and 103μg/ml [2, 3].
In mouse model with HCT116 subcutaneous xenograft, administration of SKLB610 (12.5 mg/kg, 25 mg/kg and 50 mg/kg) for 10 days markedly delayed tumor growth in a concentration dependent manner. Further, after 30 days treatment SKLB610significantly suppressed tumor volume as 77.1 % at the dose of 50 mg/kg [1].
References:
[1]. Cao, Z.X., et al., SKLB610: a novel potential inhibitor of vascular endothelial growth factor receptor tyrosine kinases inhibits angiogenesis and tumor growth in vivo. Cell Physiol Biochem, 2011. 27(5): p. 565-74.
[2]. Luo, X., et al., Pharmacokinetic studies of a novel multikinase inhibitor for treating cancer by HPLC-UV. J Chromatogr Sci, 2013. 51(1): p. 17-20.
[3]. Huang, Y., et al., The preparation and evaluation of water-soluble SKLB610 nanosuspensions with improved bioavailability. AAPS PharmSciTech, 2013. 14(3): p. 1236-43.
Chemical Properties
| | |
| --- | --- |
| Physical Appearance | A solid |
| Storage | Store at 4°C |
| M.Wt | 415.11 |
| Cas No. | 1125780-41-7 |
| Formula | C21H16F3N3O3 |
| Synonyms | SKLB610; SKLB 610; SKLB-610 |
| Solubility | insoluble in H2O; ≥20.75 mg/mL in DMSO; ≥23 mg/mL in EtOH with ultrasonic |
| Chemical Name | N-methyl-4-(4-(3-(trifluoromethyl)benzamido)phenoxy)picolinamide |
| SDF | Download SDF |
| Canonical SMILES | FC(F)(F)C1=CC=CC(C(NC2=CC=C(OC3=CC=NC(C(NC)=O)=C3)C=C2)=O)=C1 |
| Shipping Condition | Ship with blue ice, or upon other requests. |
| General tips | For obtaining a higher solubility, please warm the tube at 37°C and shake it in the ultrasonic bath for a while. We do not recommend long-term storage for the solution, please use it up soon. |
Biological Activity
Description
SKLB610 is a novel multi-targeted inhibitor of angiogenesis-related tyrosine kinase.
Targets
FGFR
IC50
Quality Control
Quality Control & MSDS
View current batch:
Chemical structure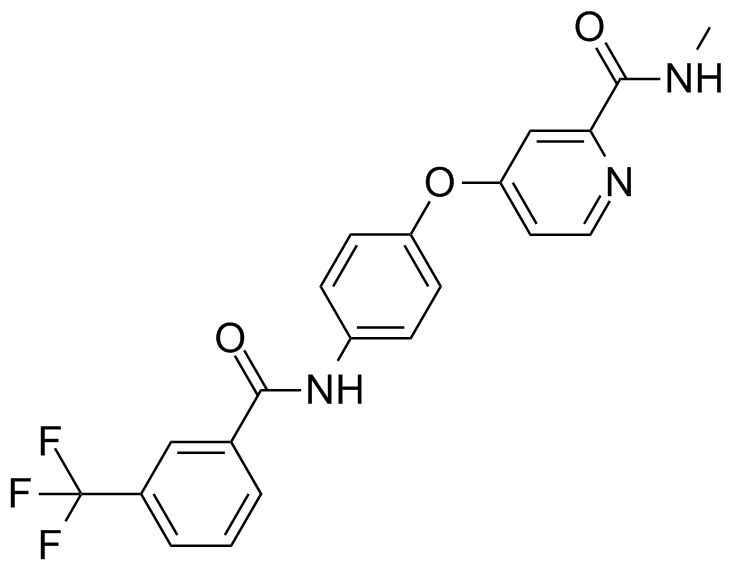 Related Biological Data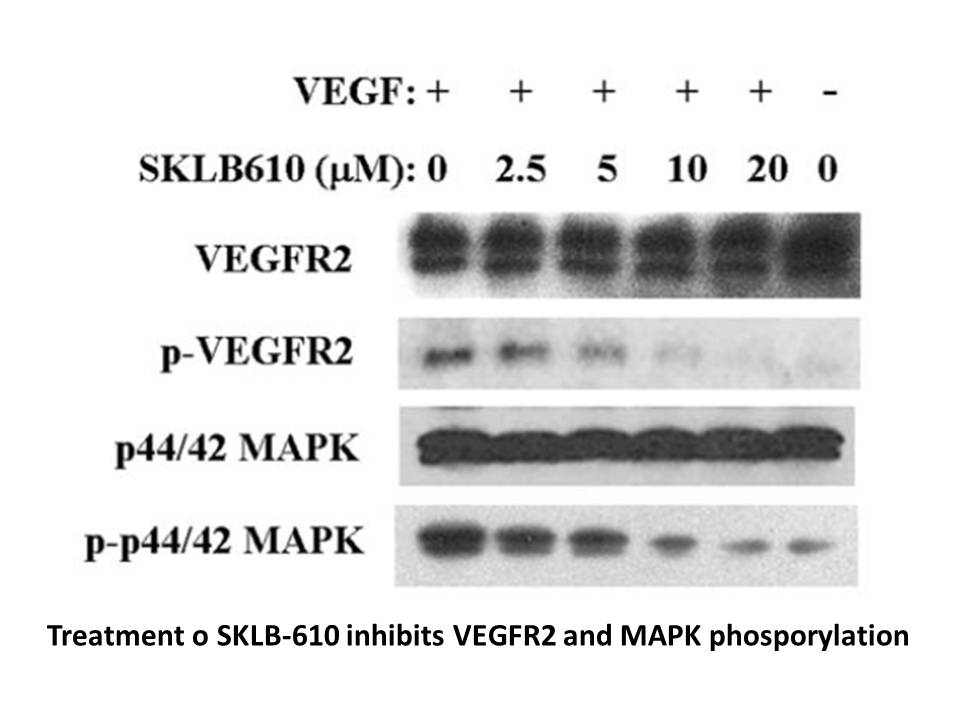 Related Biological Data