Background
U-73122 is a potent phospholipase C (PLC) inhibitor with IC50 value of ~6 μM [1]. 
PLC is a class of membrane-associated enzymes that catalyzes the hydrolysis of a membrane phospholipid, phosphatidylinositol 4,5-bisphosphate (PIP2), to produce two intracellular messengers, diacylglycerol and inositol-triphosphate, which, in turn, mediate the activation of protein kinase C (PKC) and intracellular Ca2+ release, respectively. It plays an important role in various signal transduction pathways [1]. 
U-73122 significantly inhibited recombinant human PLC-β2 with IC50 value of ~6 μM, while showing little effect on PLC-β1, PLC-β3 or PLC-β4. In human neutrophils, U-73122 reduced interleukin-8 and leukotriene B4-induced Ca2+ flux and chemotaxis with IC50 values of ~6 μM and ~5 μM, respectively [1]. 
In rats, U-73122 (30 mg/kg, i.p.) inhibited hind paw swelling by 65% and 80% at 1 h and 3 h post-carrageenan challenge. Moreover, pretreatment of U-73122 (1 mg/kg, 3 mg/kg and 10 mg/kg, respectively, i.v.) effectively suppressed TPA-induced mouse ear edema in a dose-dependent manner [1]. 
Reference:
[1]. Hou C, Kirchner T, Singer M, et al. In vivo activity of a phospholipase C inhibitor, 1-(6-((17beta-3-methoxyestra-1,3,5(10)-trien-17-yl)amino)hexyl)-1H-pyrrole-2,5-dione (U73122), in acute and chronic inflammatory reactions. Journal of Pharmacology and Experimental Therapeutics, 2004, 309(2): 697-704.
Product Citation
Chemical Properties
| | |
| --- | --- |
| Physical Appearance | A solid |
| Storage | Store at -20°C |
| M.Wt | 464.64 |
| Cas No. | 112648-68-7 |
| Formula | C29H40N2O3 |
| Solubility | ≥5.67mg/mL in DMSO with gentle warming,insoluble in H2O, ≥15.5mg/mL in EtOH with ultrasonic and warming |
| Chemical Name | 1-[6-[[(8R,9S,13S,14S,17S)-3-methoxy-13-methyl-6,7,8,9,11,12,14,15,16,17-decahydrocyclopenta[a]phenanthren-17-yl]amino]hexyl]pyrrole-2,5-dione |
| SDF | Download SDF |
| Canonical SMILES | CC12CCC3C(C1CCC2NCCCCCCN4C(=O)C=CC4=O)CCC5=C3C=CC(=C5)OC |
| Shipping Condition | Evaluation sample solution: ship with blue ice. All other available sizes: ship with RT, or blue ice upon request. |
| General tips | For obtaining a higher solubility, please warm the tube at 37°C and shake it in the ultrasonic bath for a while. Stock solution can be stored below -20°C for several months. |
Quality Control
Quality Control & MSDS
View current batch:
Chemical structure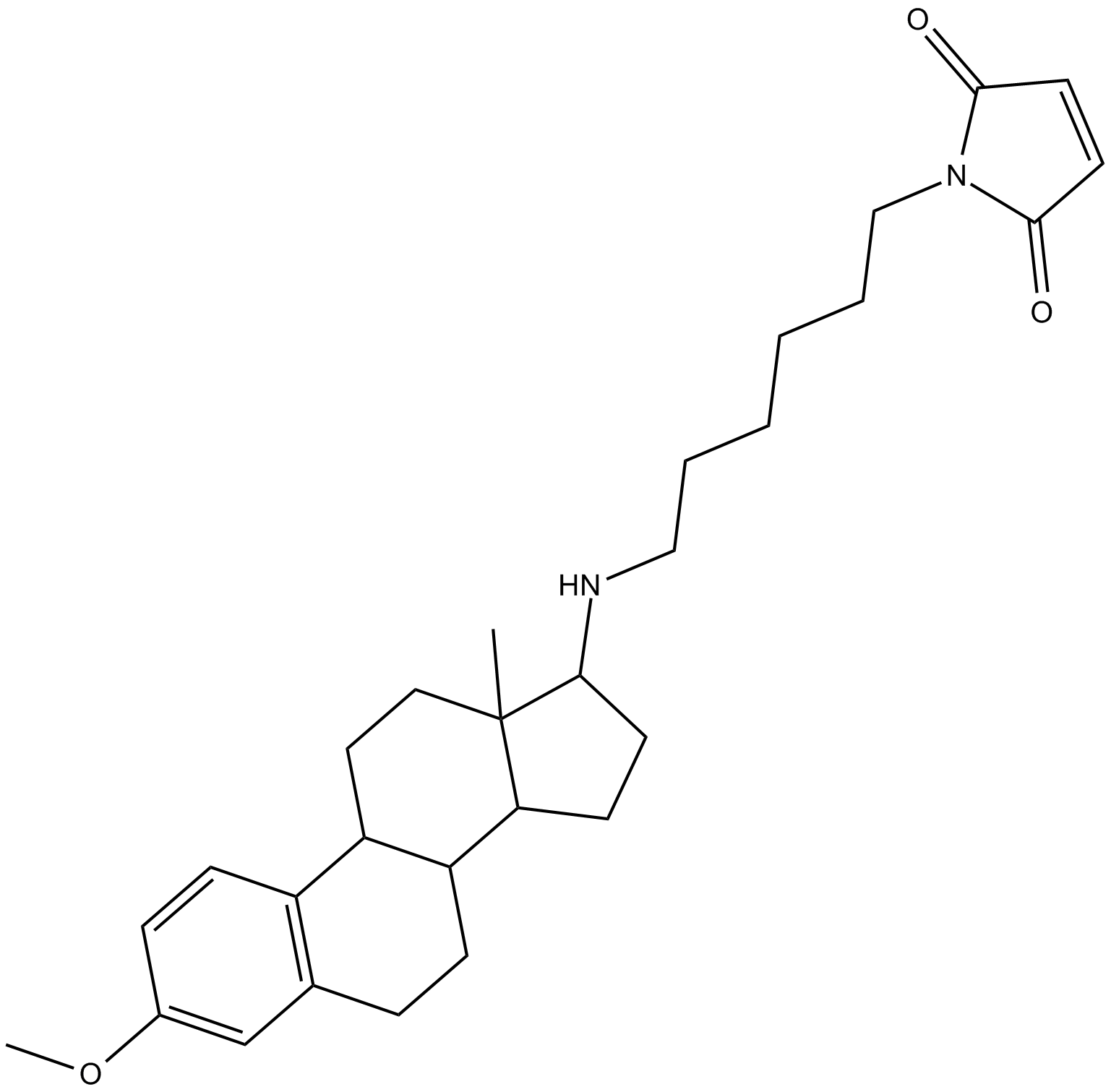 Related Biological Data