Background
AZD6738 is a selective ATR (Ataxia Telangiectasia and RAD3-related) inhibitor, with an IC50 of approximately 30 uM to resting CLL cells [1] [2].
ATR is a PI3K-related kinase. It is involved in the repair of DNA damage. During cell division, it is recruited and activated at sites of single strand DNA breaks to help initiate DNA repair [1].
γH2AX acts as a biomarker of DNA damage. In an in vitro model capable of reproducing, over 70 hours after the initiation of the treatment with AZD6738, the γH2AX signal was sustained [1]. Stalled replication forks may collapse the formation of DNA double stranded breaks and the activation of the ataxia telangiectasia mutated (ATM) kinase. As a single agent across cancer cell line panels, AZD6738 is active. In cell lines lacking ATM-pathway, the sensitivity of AZD6738 was enhanced [3].
In ATM-deficient but not ATM-proficient in vivo models, treatment with AZD6738 alone significantly inhibited the activity of tumors in equivalent, tolerated doses. Ionizing radiation (IR) is a DNA damaging inducing agent. When AZD6738 and IR were used together, regression or anti-tumor growth inhibitory activity was observed. In tumor tissue, AZD6738 is associated with a persistent γH2AX staining increase. In normal gut tissue or bone marrow, treatment with AZD6738 only transiently increased the γH2AX staining [3].
References:
[1].  Choi MY, Fecteau JF, Brown J, et al. Induction of proliferation sensitizes chronic lymphocytic leukemia cells to apoptosis mediated by the ATR inhibitor AZD6738. Cancer Research, 2014, 74(19 Supplement): 5485-5485.
[2].  Checkley S, MacCallum L, Yates J, et al. Bridging the gap between in vitro and in vivo: Dose and schedule predictions for the ATR inhibitor AZD6738. Scientific reports, 2015, 5.
[3].  Guichard SM, Brown E, Odedra R, et al. The pre-clinical in vitro and in vivo activity of AZD6738: A potent and selective inhibitor of ATR kinase. Cancer Research, 2013, 73(8 Supplement): 3343-3343.
Product Citation
Chemical Properties
| | |
| --- | --- |
| Physical Appearance | A crystalline solid |
| Storage | Store at -20°C |
| M.Wt | 412.51 |
| Cas No. | 1352226-88-0 |
| Formula | C20H24N6O2S |
| Solubility | ≥82 mg/mL in DMSO, ≥82.4 mg/mL in EtOH,insoluble in H2O |
| Chemical Name | (R)-3-methyl-4-(6-(1-((R)-S-methylsulfonimidoyl)cyclopropyl)-2-(1H-pyrrolo[2,3-b]pyridin-4-yl)pyrimidin-4-yl)morpholine |
| SDF | Download SDF |
| Canonical SMILES | C[[email protected]]1N(C2=NC(C3=C4C(NC=C4)=NC=C3)=NC(C5([[email protected]](=O)(C)=N)CC5)=C2)CCOC1 |
| Shipping Condition | Evaluation sample solution: ship with blue ice. All other available sizes: ship with RT, or blue ice upon request. |
| General tips | For obtaining a higher solubility, please warm the tube at 37°C and shake it in the ultrasonic bath for a while. Stock solution can be stored below -20°C for several months. |
Quality Control
Quality Control & MSDS
View current batch:
Chemical structure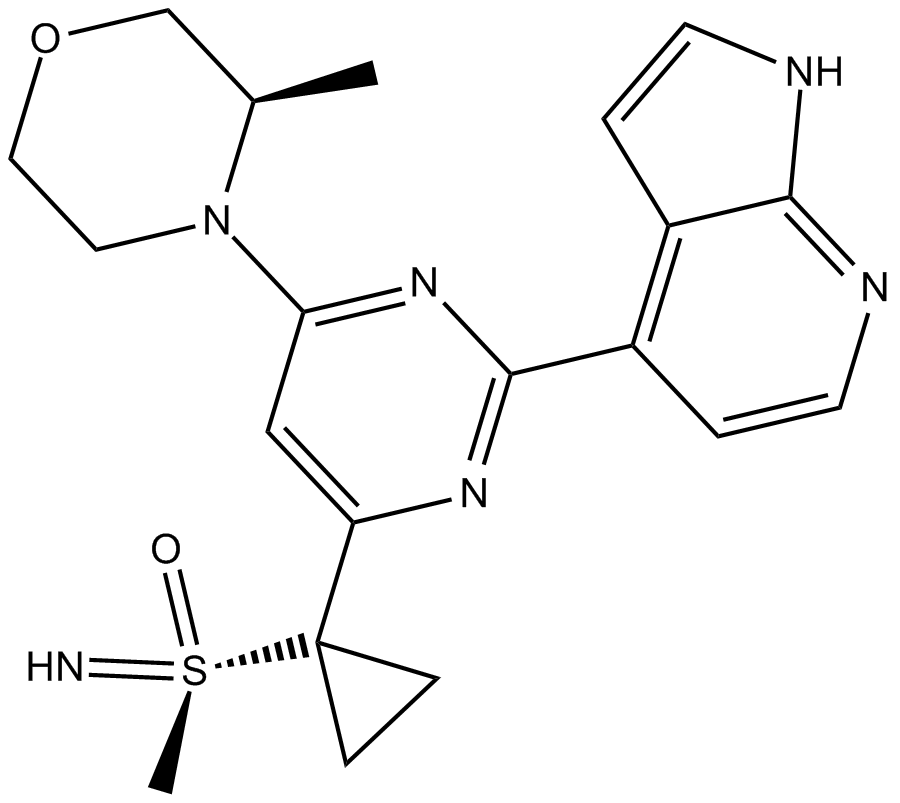 Related Biological Data