Background
Anisomycin is a specific agonist of JNK with a concentration of 25 ng/ml [1].
JNK is short for c-Jun N-terminal kinase which reported as a proapoptotic kinase and plays an important role in many cellular events, such as cell cycle, proliferation, apoptosis and cell stress. It is also reported that JNK plays a pivotal role in the cell apoptosis induced by UV and activated JNK pathway could enhance TNF-α mediated apoptosis thus often regarded as a potent target in clinic [2] [3].
Anisomycin is a potent JNK agonist. When tested with hormone refractory cell line DU 145(highly resist to Fas mediated apoptosis), 250 ng/ml anisomysin treatment induced DU145 cells apoptosis together with Fas (200 ng/ml) via activating JNK [4]. In HL-60 cells, treatment of anisomysin activated JNK pathway activity which further induced cell apoptosis [5]. When tested with primary murine embryonic fibroblasts, anisomycin treatment stimulated cell apoptosis via activating JNK expression [6].
References:
[1]. Jiang, J., et al., Spermassociated antigen 9 promotes astrocytoma cell invasion through the upregulation of podocalyxin. Mol Med Rep, 2014. 10(1): p. 417-22.
[2]. Lin, A., Activation of the JNK signaling pathway: breaking the brake on apoptosis. Bioessays, 2003. 25(1): p. 17-24.
[3]. Liu, J. and A. Lin, Role of JNK activation in apoptosis: a double-edged sword. Cell Res, 2005. 15(1): p. 36-42.
[4]. Curtin, J.F. and T.G. Cotter, Anisomycin activates JNK and sensitises DU 145 prostate carcinoma cells to Fas mediated apoptosis. Br J Cancer, 2002. 87(10): p. 1188-94.
[5]. Stadheim, T.A. and G.L. Kucera, c-Jun N-terminal kinase/stress-activated protein kinase (JNK/SAPK) is required for mitoxantrone- and anisomycin-induced apoptosis in HL-60 cells. Leuk Res, 2002. 26(1): p. 55-65.
[6]. Tournier, C., et al., Requirement of JNK for stress-induced activation of the cytochrome c-mediated death pathway. Science, 2000. 288(5467): p. 870-4.
Product Citation
Chemical Properties
| | |
| --- | --- |
| Physical Appearance | A solid |
| Storage | Store at -20°C |
| M.Wt | 265.31 |
| Cas No. | 22862-76-6 |
| Formula | C14H19NO4 |
| Solubility | ≥26.5mg/mL in DMSO |
| Chemical Name | (2R,3S,4S)-4-hydroxy-2-(4-methoxybenzyl)pyrrolidin-3-yl acetate |
| SDF | Download SDF |
| Canonical SMILES | O[[email protected]@H]1[[email protected]]([[email protected]@H](CC(C=C2)=CC=C2OC)NC1)OC(C)=O |
| Shipping Condition | Evaluation sample solution: ship with blue ice. All other available sizes: ship with RT, or blue ice upon request. |
| General tips | For obtaining a higher solubility, please warm the tube at 37°C and shake it in the ultrasonic bath for a while. Stock solution can be stored below -20°C for several months. |
Quality Control
Quality Control & MSDS
View current batch:
Chemical structure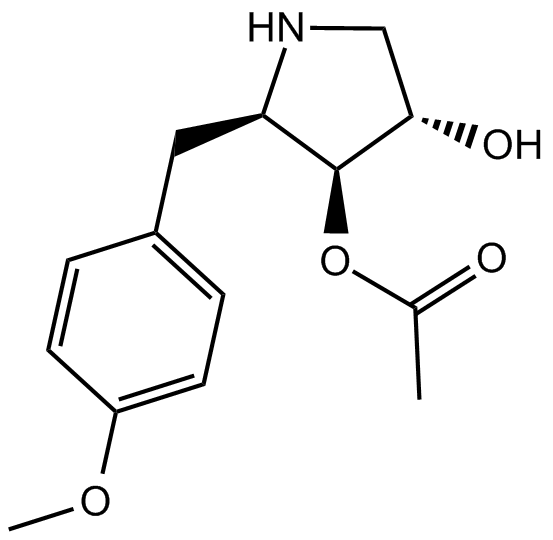 Related Biological Data