Background
TCS HDAC6 20b is a potent and selective inhibitor of histone deacetylase 6 (HADC6) [1].
Histone deacetylases (HADC) are a series of enzymes that remove acetyl groups from an ε-N-acetyl lysine amino acid on a histone and make the histones to wrap the DNA more tightly, which prevent transcription. Mutation of HADC6 is associated with Alzheimer's disease.
In HCT116 cells, TCS HDAC6 20b increased ɑ-tubulin acetylation in a dose-dependent way without a significant increase in acetylated histone H4, which indicated that TCS HDAC6 20b selectively inhibit HDAC6 [1]. Treatment human colon cancer HCT116 cells with TCS HDAC6 20b (5 μM) and paclitaxel (PTX) (0.03 μM) inhibited cells growth by approximately 50%, which suggested that TCS HDAC6 20b has potential as drug candidates when used with PTX. In estrogen receptor ɑ (ERɑ) -positive breast cancer MCF-7 cells, treatment with 17β-estradiol (E2) (1 nM) increased cell growth by 40%, which was significantly blocked by TCS HDAC6 20b [2].
References:
[1].  Suzuki T, Kouketsu A, Itoh Y, et al. Highly potent and selective histone deacetylase 6 inhibitors designed based on a small-molecular substrate. J Med Chem, 2006, 49(16): 4809-4812.
[2].  Itoh Y, Suzuki T, Kouketsu A, et al. Design, synthesis, structure--selectivity relationship, and effect on human cancer cells of a novel series of histone deacetylase 6-selective inhibitors. J Med Chem, 2007, 50(22): 5425-5438.
Product Citation
Chemical Properties
| | |
| --- | --- |
| Physical Appearance | White Oily foam |
| Storage | Store at -20°C |
| M.Wt | 480.7 |
| Cas No. | 956154-63-5 |
| Formula | C26H44N2O4S |
| Solubility | Soluble in DMSO |
| Chemical Name | S-((S)-7-((3R,5R,7R)-adamantan-1-ylamino)-6-((tert-butoxycarbonyl)amino)-7-oxoheptyl) 2-methylpropanethioate |
| SDF | Download SDF |
| Canonical SMILES | CC(C(SCCCCC[[email protected]](NC(OC(C)(C)C)=O)C(NC1(C[[email protected]](C2)C3)C[[email protected]]3C[[email protected]]2C1)=O)=O)C |
| Shipping Condition | Evaluation sample solution : ship with blue ice.All other available size: ship with RT , or blue ice upon request |
| General tips | For obtaining a higher solubility , please warm the tube at 37 ℃ and shake it in the ultrasonic bath for a while.Stock solution can be stored below -20℃ for several months. |
Quality Control
Quality Control & MSDS
View current batch:
Chemical structure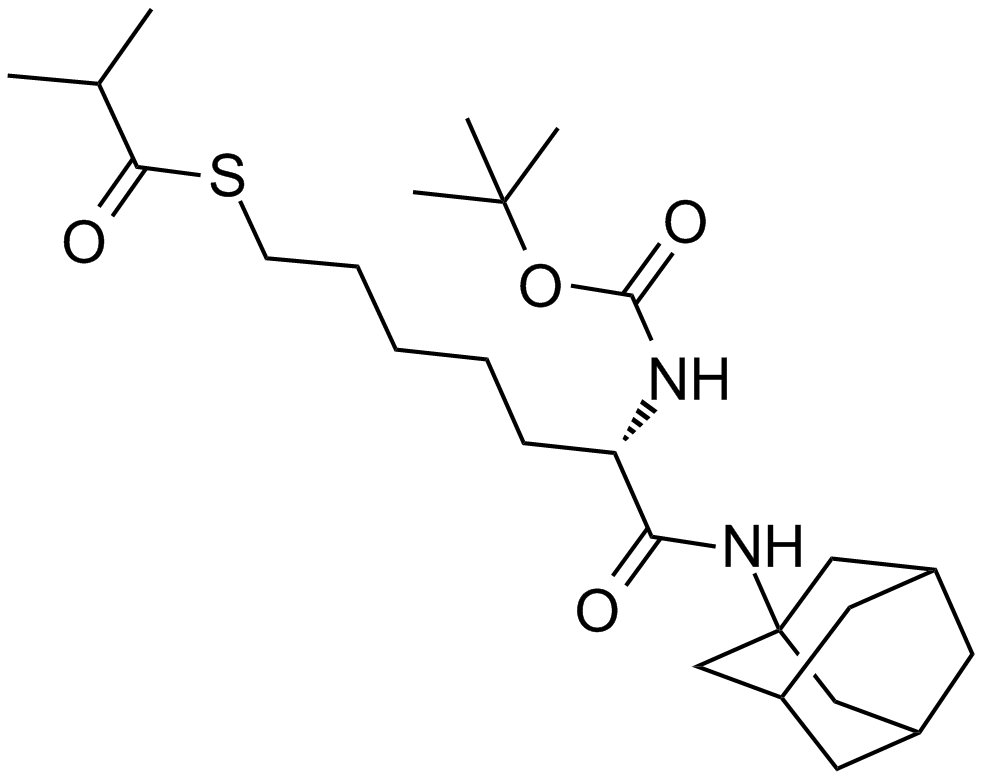 Related Biological Data