Sample solution is provided at 25 µL, 10mM.
Publications citing ApexBio Products
Quality Control
Quality Control & MSDS
View current batch:
Chemical structure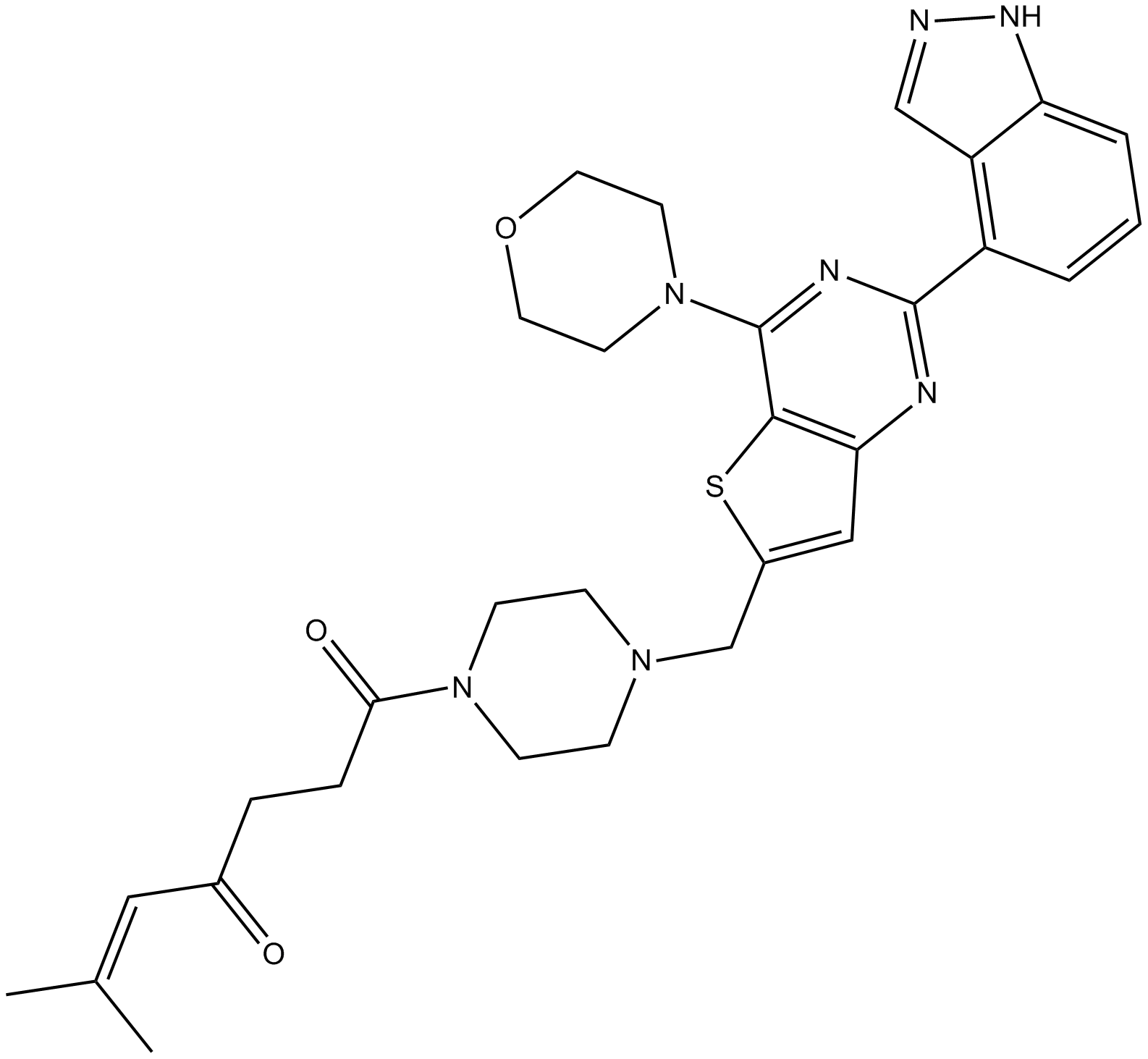 Chemical Properties
Cas No.
1276105-89-5
SDF
Download SDF
Chemical Name
1-(4-((2-(1H-indazol-4-yl)-4-morpholinothieno[3,2-d]pyrimidin-6-yl)methyl)piperazin-1-yl)-6-methylhept-5-ene-1,4-dione
Canonical SMILES
C/C(C)=C\C(CCC(N1CCN(CC(S2)=CC3=C2C(N4CCOCC4)=NC(C5=C6C=NNC6=CC=C5)=N3)CC1)=O)=O
Formula
C30H35N7O3S
M.Wt

573.71

Solubility
Soluble in DMSO
Storage
Store at -20°C
General tips
N/A
Shipping Condition
N/A
Background
CNX1351 is a potent and selective inhibitor of PI3Kα with IC50 value of 6.8 nM [1] [2].
Phosphoinositide 3-kinases (PI3Ks) are a family of lipid kinases that phosphorylating the 3'-hydroxyl group of phosphatidylinositol-4,5-bisphosphate (PIP2) to produce phosphatidylinositol-3,4,5-trisphosphate (PIP3). PI3Ks plays important roles in cell proliferation, survival, differentiation and metabolism [1] [2].
CNX1351 is a specific and covalent PI3Kα inhibitor. CNX1351 time-dependently and irreversibly inhibited PI3Kα, PI3Kβ, PI3Kγ and PI3Kδ with IC50 values of 6.8, 166.0, 240.3 and 3020.0 nM, respectively. In SKOV3 ovarian cancer cells with a mutation in PIK3CA that resulted in a constitutively activated PI3Kα, CNX1351 inhibited PI3K signaling with EC50 values of 10-100 nM. In MCF-7 breast cancer cells (E545K) and SKOV3 ovarian cancer cells (H1047R) with different PIK3CA activating mutations, CNX1351 inhibited cell growth with GI50 values of 55 and 78 nM, respectively [1].
In nude mice, CNX1351 (100 mg/kg ip) irreversibly bonded to p110α and inhibited P-AktSer473 expression [1].
References:
[1]. Nacht M, Qiao L, Sheets MP, et al. Discovery of a potent and isoform-selective targeted covalent inhibitor of the lipid kinase PI3Kα. J Med Chem, 2013, 56(3): 712-721.
[2]. Jeong Y, Kwon D, Hong S. Selective and potent small-molecule inhibitors of PI3Ks. Future Med Chem, 2014, 6(7): 737-756.