Background
Caspases activation is curial in apoptosis. Using Fluorescein Caspase-8 Staining Kit is an easy and sensitive way of detecting activated caspase-8 in living cells. This assay uses the caspase-8 inhibitor, IEVD-FMK, coupled to FITC (FITC-IEVD-FMK) as a marker. In apoptotic cells, the cell permeable and nontoxic FITC-IEVD-FMK irreversibly binds to activated caspase-8.
Features & Properties
| | |
| --- | --- |
| Features | Simple one-step procedure; Takes only 1-2 hours; Fast and convenient; The FITC label allows for direct detection of activated caspases in apoptotic cells. |
| Shipping | Gel pack. |
| Storage Conditions | Store at -20°C. |
Quality Control
Quality Control & DataSheet
View current batch:
Related Biological Data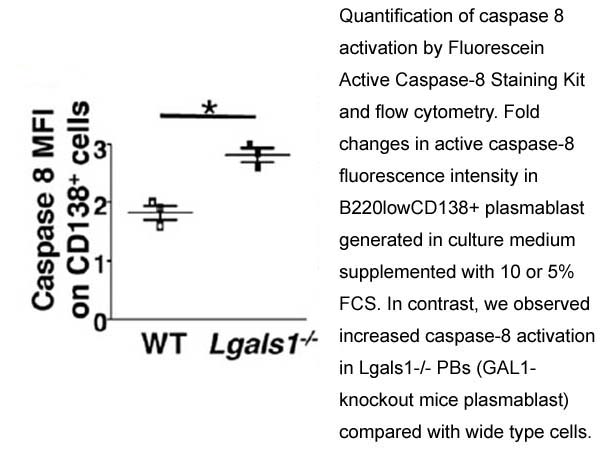 Related Biological Data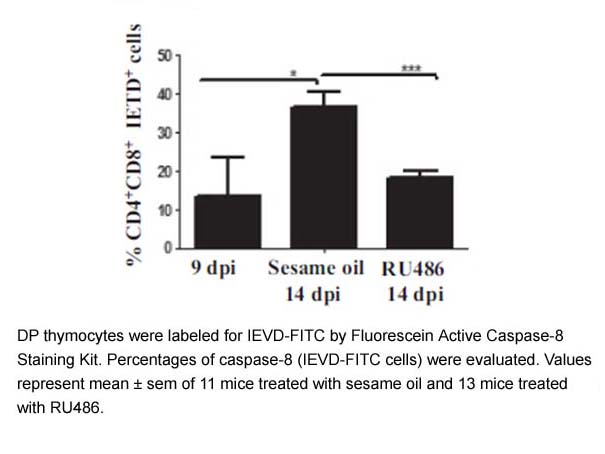 Storage
Store at -20°C.
Overview
| | |
| --- | --- |
| Kit components | FITC-IETD-FMK, Wash Buffer, Z-VAD-FMK |