Background
Mitochondria is the cell power centrals and have a significant role in the energy production. Apoptosis is induced upon damages of mitochondria.
MPT pore or MPTP (mitochondrial permeability transition pore) is a nonspecific channel. It formed by inner and out mitochondrial membranes components and mediates in the releases of mitochondrial components in cell death. MPTP's switch between open and closed states in healthy cells, but during cell death, it significantly change the mitochondria permeability. Cytochrome c release and loss of mitochondrial membrane potential are subsequent to continuous pore activation. Mitochondrial Permeability Transition Pore Assay Kit gives a direct method of measuring cell death by measuring MPTP opening rather than relying on mitochondrial membrane potential alone.
Features & Properties
| | |
| --- | --- |
| Features | Simple procedure. Fast, convenient and sensitive. The assay provides a direct method of measuring mitochondrial permeability transition pore activation as an early marker of apoptosis. |
| Shipping | Gel pack |
| Storage Conditions | Store at -20°C. |
Quality Control
Quality Control & DataSheet
View current batch:
Related Biological Data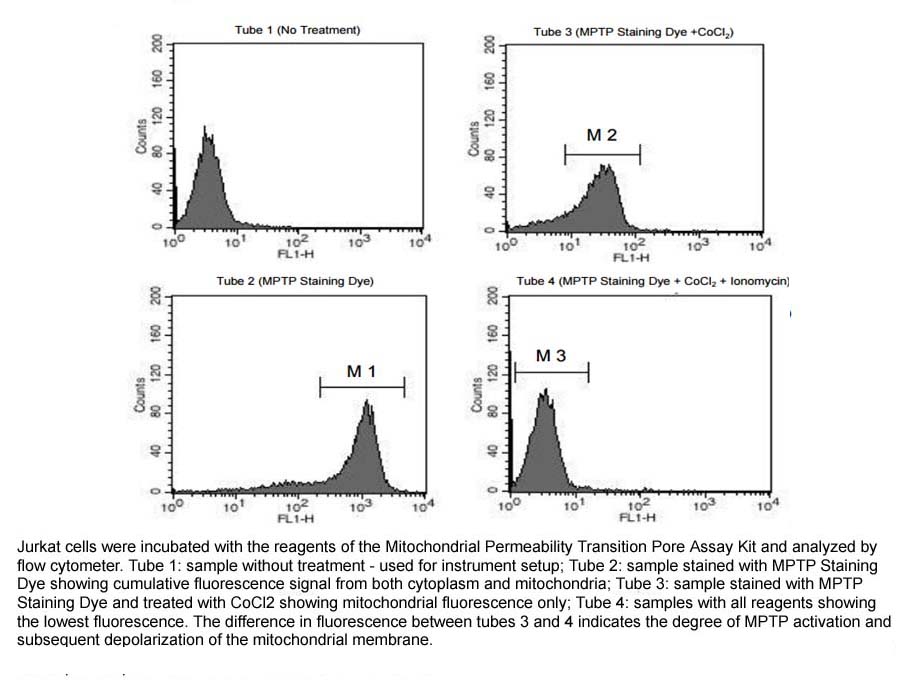 Storage
Store at -20°C.
Overview
| | |
| --- | --- |
| Kit components | MPTP Staining Dye CoCl2 Ionomycin MPTP Wash Buffer |