Background
Granzyme B (GZMB, EC number 3.4.21.79) or Granzyme-2 is a serine protease located in the granules of activated cytotoxic T cells and Natural Killer cells. After target cell contact, Granzyme B is directionally exocytosed and enters the target cell which is facilitated by perforin. Granzyme B shows distinctive substrate specificity that prefers an aspartic acid residue at the P1 site of its substrates. It mediates and promotes different pro-caspases thus activating apoptosis in the target cells. This Granzyme B Activity Assay Kit can be used in different biological samples, it hydrolyzes the specific substrate to release the quench of fluorescent group, which can be detected fluorometrically at Ex/Em = 380/500 nm.
Features & Properties
| | |
| --- | --- |
| Features | Simple and Sensitive. Rapid and convenient. Kit contains all necessary reagents for measuring Granzyme B Activity. |
| Shipping | Gel pack |
| Storage Conditions | Store at -20°C. |
Quality Control
Quality Control & DataSheet
View current batch:
Related Biological Data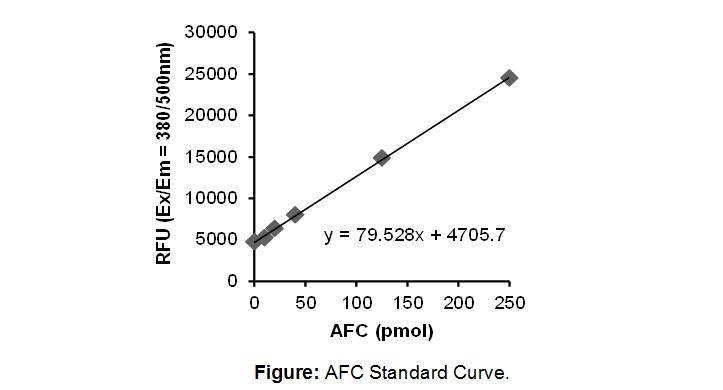 Subtract 0 Standard reading from all readings. Plot the AFC Standard Curve. Calculate the Granzyme B activity of the test sample: ∆RFU = R2 – R1. Apply ∆RFU to the AFC Standard Curve to get B pmol of AFC generated due to hydrolyzation of substrate by Granzyme B during the reaction time (∆T = T2 - T1).
Storage
Store at -20°C.
Overview
| | |
| --- | --- |
| Kit components | Granzyme B Assay Buffer Granzyme B Substrate Positive Control (Granzyme B Enzyme, human recombinant) AFC Standard (1 mM) |