Background
An epoxomicin derivate with potential antineoplastic activity. It irreversibly binds to and inhibits the chymotrypsin-like activity of the 20S proteasome, an enzyme responsible for degrading a large variety of cellular proteins. Inhibition of proteasome-mediated proteolysis results in an accumulation of polyubiquinated proteins, which may lead to cell cycle arrest, induction of apoptosis, and inhibition of tumor growth.
References:
1. Guido Cavaletti, et al., Leukemia & Lymphoma (2010), 51 (7), 1178-1187.
2. Girija Dasmahapatra, et al., Blood (2010), 115 (22), 4478-4487.
Product Citation
Chemical Properties
| | |
| --- | --- |
| Physical Appearance | A solid |
| Storage | Desiccate at -20°C |
| M.Wt | 719.91 |
| Cas No. | 868540-17-4 |
| Formula | C40H57N5O7 |
| Synonyms | PR 171, PR171, PR-171, Carfilzomib |
| Solubility | ≥35.99 mg/mL in DMSO; insoluble in H2O; ≥2.64 mg/mL in EtOH with gentle warming and ultrasonic |
| Chemical Name | (2S)-4-methyl-N-[(2S)-1-[[(2S)-4-methyl-1-[(2R)-2-methyloxiran-2-yl]-1-oxopentan-2-yl]amino]-1-oxo-3-phenylpropan-2-yl]-2-[[(2S)-2-[(2-morpholin-4-ylacetyl)amino]-4-phenylbutanoyl]amino]pentanamide |
| SDF | Download SDF |
| Canonical SMILES | CC(C)CC(C(=O)C1(CO1)C)NC(=O)C(CC2=CC=CC=C2)NC(=O)C(CC(C)C)NC(=O)C(CCC3=CC=CC=C3)NC(=O)CN4CCOCC4 |
| Shipping Condition | Ship with blue ice, or upon other requests. |
| General tips | For obtaining a higher solubility, please warm the tube at 37°C and shake it in the ultrasonic bath for a while. We do not recommend long-term storage for the solution, please use it up soon. |
Protocol
Cell experiment [1]:

Cell lines

HT-29 colorectal adenocarcinoma cells

Preparation method

The solubility of this compound in DMSO is >10 mM. General tips for obtaining a higher concentration: Please warm the tube at 37 °C for 10 minutes and/or shake it in the ultrasonic bath for a while.Stock solution can be stored below -20°C for several months.

Reaction Conditions

1 h; IC50=9 nM

Applications

Incubation of HT-29 colorectal adenocarcinoma cells with PR-171 for 1 h resulted in a dose-dependent inhibition of all three proteasome catalytic activities with the chymotrypsin-like activity exhibiting the greatest sensitivity (IC50=9 nM). The caspase-like and trypsin-like activities were inhibited to a greater extent in the cellular assay (IC50=150-200 nM) than in the isolated enzyme assay (IC50 >1 μM).

Animal experiment [1]:

Animal models

BNX mice

Dosage form

5 mg/kg delivered weekly; QDx2; intravenous injection

Applications

The antitumor activity of PR-171 was evaluated in BNX mice bearing established human tumor xenografts derived from three tumor cell lines: HT-29 (colorectal adenocarcinoma), RL (B cell lymphoma ), and HS-Sultan (Burkitt's lymphoma). All PR-171 dosing schedules (up to 5 mg/kg delivered weekly QDx2) were tolerated in the tumor-bearing animals, resulting in weight loss of

Other notes

Please test the solubility of all compounds indoor, and the actual solubility may slightly differ with the theoretical value. This is caused by an experimental system error and it is normal.

References:

[1] Demo S D, Kirk C J, Aujay M A, et al. Antitumor activity of PR-171, a novel irreversible inhibitor of the proteasome [J]. Cancer research, 2007, 67 (13): 6383-6391.
Biological Activity
Description
Carfilzomib (PR-171) is an irreversible inhibitor of proteasome with IC50 of <5 nM.
Targets
Proteasome
IC50
5 nM
Quality Control
Quality Control & MSDS
View current batch:
Chemical structure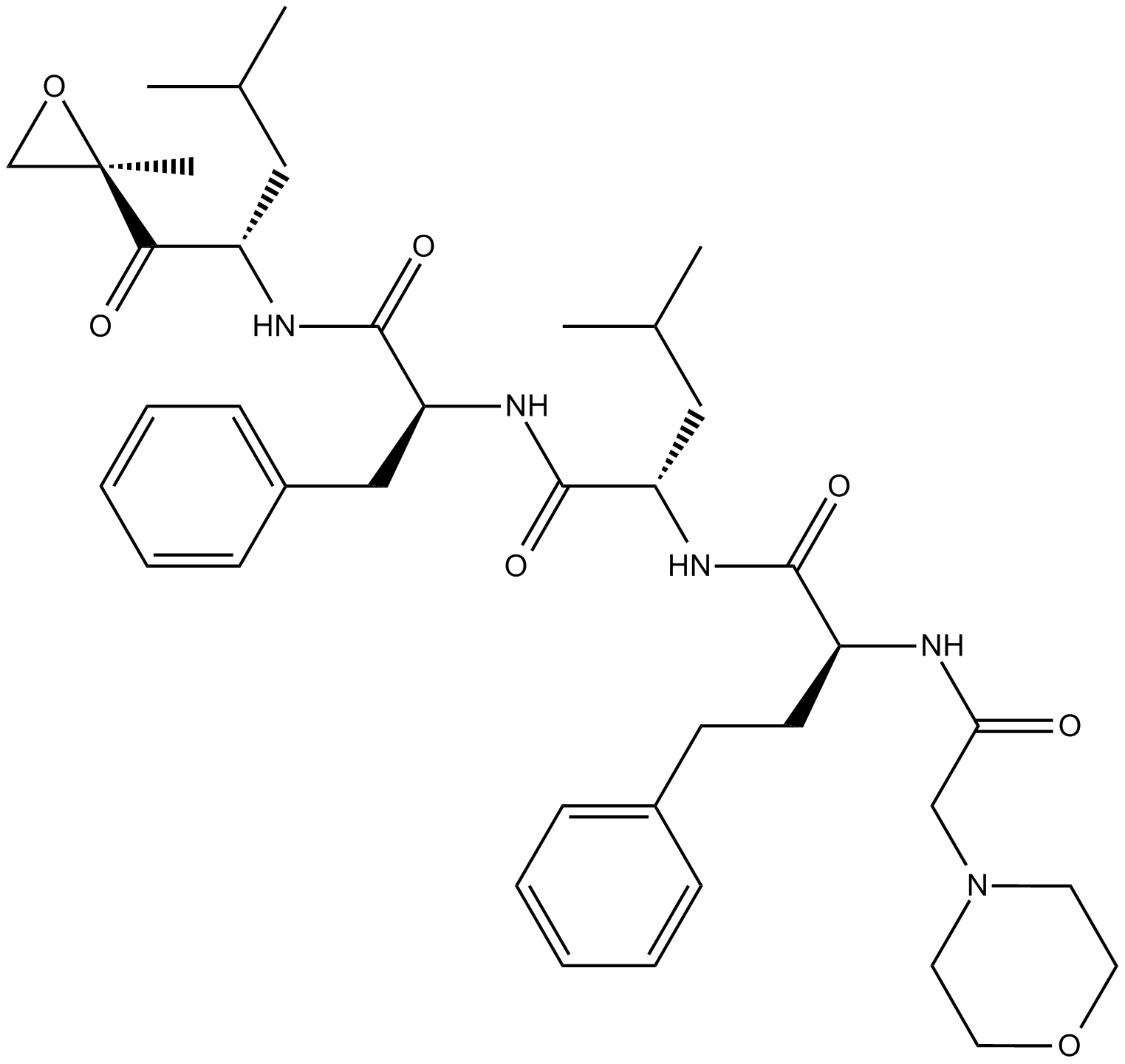 Related Biological Data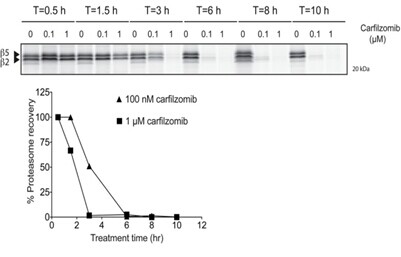 Synchronous trophozoites were treated with 100 nM or 1μ M carfilzomib for the indicated times followed by inhibitor wash out. Parasites were placed in fresh media, and proteasome activities of all samples were determined by MV151 labeling at 10 hr after inhibitor washout. Quantification of the putative β5 subunit labeling is shown in the graph below the gel image.
Related Biological Data
Related Biological Data
Related Biological Data
Related Biological Data
Related Biological Data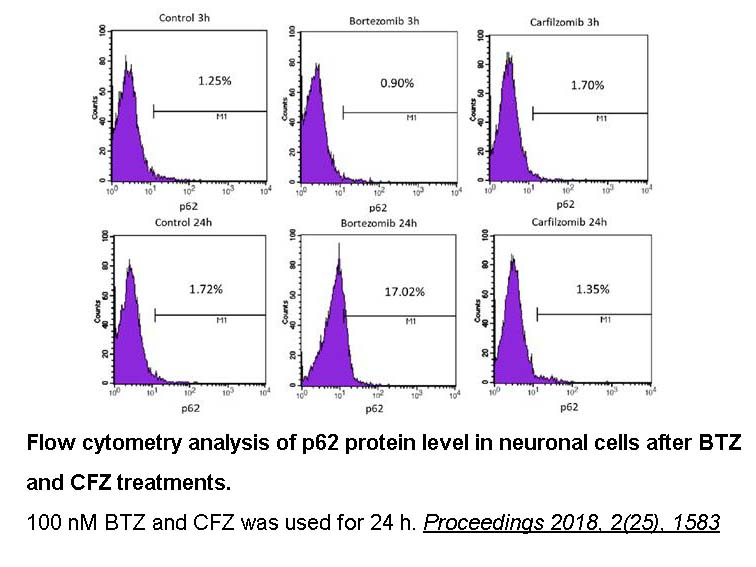 Related Biological Data